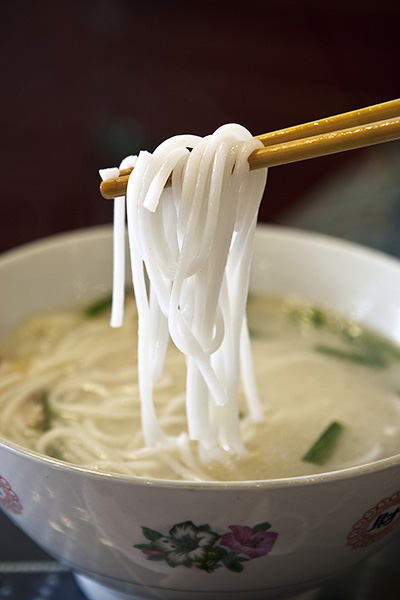 This Food Trip was brought to you by Grand Park Kunming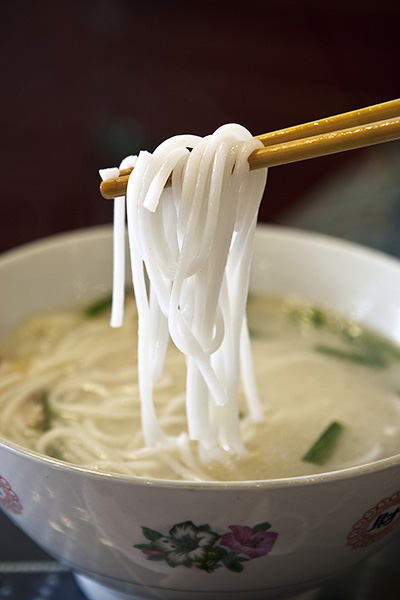 Guo Qiao Mi Xian
People call me a Food Critic, a term which I am quite uncomfortable with. I feel I am more of a Food Adventurer because what draws me to write this food blog is not so much to tell everyone whether the dishes of a certain restaurant are up to par but more of an exploration of food culture. Nowadays, food is a big part of my travel itinerary. I find that when you go on a food adventure, it doesn't matter if you are in a small obscure town in Malaysia or smack in the middle of Tokyo, there is always new foods to be discovered.
My latest Food Adventure brings me to the city of Kunming in Yunnan province of China. Kunming is a convenient 3.5 hour flight from Singapore and is best known as a golf destination and Shilin Stone Forest. The wonderful thing about Kunming is that it is located on a plateau at an altitude of 1300m, so the weather is like springtime all year round so the best golf courses in China are found there. Yunnan is also well known for its diverse tribal culture with 23 of the 56 ethnic groups calling the forests of Yunnan their home. Then of course there is the famous Pu Erh tea which harvested from thousand year old tea forests. There is so much to talk about, but my focus today is on the food, so let's start by talking about the most famous dish found in Kunming – Guo Qiao Mi Xian. (lit Cross Bridge Rice Strings)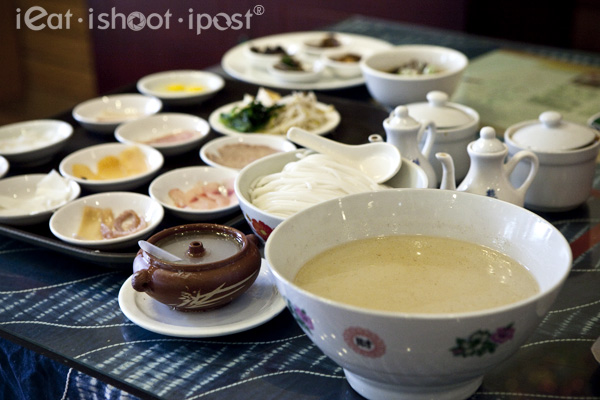 Guo Qiao Mi Xian- Superior Set – 30 Yuan ($6)
What the Kunming people call Mi Xian is what we in Singapore call Chor Bee Hoon. (Thick rice vermicelli) It is exactly the same thing and Guo Qiao Mi Xian is simply Chor Bee Hoon in Chicken Soup with thinly sliced slivers of meat and other stuff that you throw into the soup to cook. I am not kidding you when I say that it is THE food of Kunming. My local guide, Xiao Li, tells me that they can eat this for breakfast, lunch or dinner everyday!
There is of course a story about how Guo Qiao Mi Xian was invented, and, as most Chinese folklore goes, it involves a Scholar and his long suffering wife.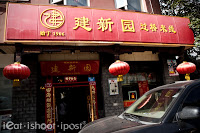 It all started a long long time ago in a small village in China…… A scholar was studying for his imperial exams in a small island found in the middle of a lake which was of course connected by a bridge. Being a scholar and not a foodie, he studied too much and ate too little. So his long suffering wife got worried that her macho husband was losing muscle tone and brought him food everyday. The inconsiderate man was so focussed on his study that he forgot to eat the food that was lovingly prepared by his wife, which subsequently got cold. But one day the wife came back to check on him and found that even though he hadn't eaten the chicken soup that she prepared for him, it was still warm because of a thick layer of oil on top of the soup! So she began to prepare this form of chicken soup with lots of chicken oil on top everyday for him. Needless to say, he passed his exams, but there are no records of whether he died of a heart attack early in life due to excessive consumption of chicken fat.
Guo Qiao Mi Xian was introduced to Kunming in the 1920s and you can find it in almost every street corner. One the the more popular chains is Jian Xin Yuan which was were our guide brought us which has many branches all over the city and it is one of the earliest stalls that started selling this dish.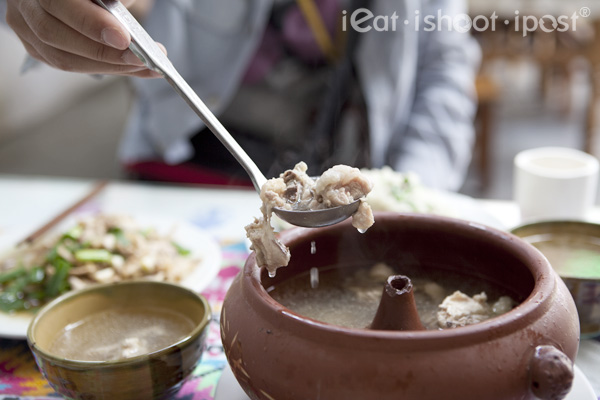 Qi Guo Ji (Steam Pot Chicken Soup)
Another dish which is very common is Qi Guo Ji or Steam Pot Chicken. There is of course another story connected to this dish and it goes something like this. Years ago the Emperor (Chinese stories are always about Scholars and Emperors) was feeling really sick and wanted something really good to eat. So he issued an Imperial edict that he will reward anyone who can come up with a dish that would heal his body and at the same time, satisfy his already overstimulated taste buds. To cut a long story short, (truth is, I forgot the rest of the details) the person who won the contest came up with this novel way of making soup with a specially made pot where the chicken and spices are first placed inside the pot without any water. The pot is then put over steaming water and the steam would travel up the spout into the enclosed pot and slowly extract the nutritious essence of the chicken. The emperor was of course really happy with the dish and gave it his imperial stamp of approval. (and probably got all the rest of his chefs beheaded for their incompetence – I have watch too many period dramas I think).
Now here is skinny. This is nothing more than a very nice chicken soup because my guide assures me that no one bothers doing it the traditional way anymore. So the pot is simply a vessel which the pre-prepared soup is served in. Maybe it would spend some time in the steamer but it is unlikely that you will get authentic Qi Guo Ji anywhere nowadays.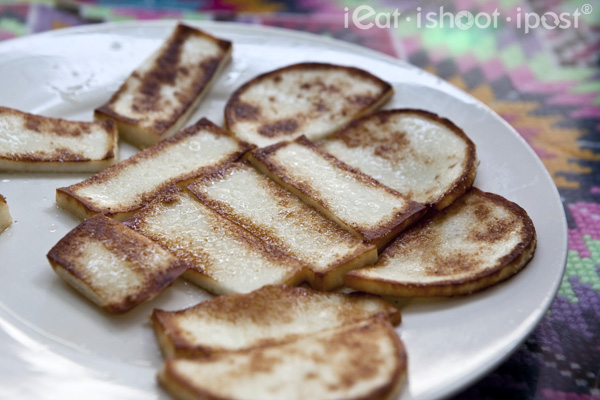 Fried Goat's Cheese
If you are one who goes for everything organic and natural, then Kunming is a great place to be. The surrounding mountains provide for many wierd and wonderful wild veggies which are hand picked by the gatherers there and sold in the markets. During our trip to Shilin, we stopped at one of these tribal restaurants for lunch and managed to try all sorts of veggies. But I have to honestly say that I haven't come across any that I can highly recommend you to try. Veggies are veggies are veggies. Whether wild or domesticated, they all taste pretty similar to me. The other thing you might want to try when you visit Shilin is the local goat cheese made by the farmers there. This cheese is simply fried and served with a sprinkling of salt and tastes very similar to Halumi cheese. This is one of the very few Chinese cheeses that are made and eaten in China.
On the way back from Shilin, you will pass a little village call Yiliang. This is the original birthplace of the Yiliang Roast Duck which is supposed to give Beijing Roast Duck a run for the money. What makes Yiliang Roast Duck so special is that they use a smaller breed of local ducks found in Yiliang itself. Unlike the fat duck that is usually served in Beijing, Yiliang Roast Duck is relatively lean with little fat under the skin. The roasting method is also different. The ducks are roasted in standing ovens over pine leaves. The ovens are actually quite similar to the ones our hawkers use for Char Siew.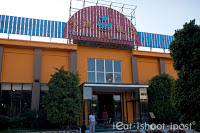 It is said that the founder of Yiliang Roast Duck had honed his skills by working in a Beijing Roast Duck restaurant for 8 years before coming back to his hometown of Yiliang.
When we finished our tour of Shilin and Jiu Xiang, it was a bit early for dinner, so we bypassed Yiliang on our way back to Kunming and had Yiliang Roast Duck at one of the many branches of Xue Cheng restaurant which serves Yiliang Roast Duck.
One of the best ways to experience the tribal cultures of Yunnan is to book yourselves tickets for Dynamic Yunnan. This show combines songs and dance from different tribes of Yunnan and showcases the different folklores of the tribes. It was entertaining enough such that my two kids could sit through the whole show.
A word from our Sponsors and how to win a holiday package for yourselves!
This trip to Kunming was kindly sponsored by Park Hotels Group as part of their Unlimited Discoveries campaign. Grand Park Kunming is ranked as one of the top business and leisure hotels in Kunming city. It is iconic landmark located along the picturesque Green Lake Park and provides easy access to many scenic destinations of the city.With 300 rooms and suites and meeting spaces for over 350 people, the hotel is only minutes away from the Central Business District and 20 minutes' drive from Kunming International Airport.
We found the hotel staff to be excellent, especially Thomas, the head of guest relations who is full of energy and speaks fluent English. We were told that it is one of only 6 hotels in Kunming that has been rated 5 stars. The rooms and facilities are well maintained, albeit, a little dated. (The Hotel is scheduled for renovations soon) By Singapore standards, it would be a very good 4 star Hotel. Green Lake Park is only 3 minutes away and I enjoyed my morning runs there, observing the locals playing badminton and doing Tai Chi. I must warn you that you will get tired easily as the air is thin (altitude 1300m), so don't flog yourself if you can't finish your 2.4km run in record time.
Unlimited Discoveries Campaign
Park Hotel Group launched Unlimited Discoveries, a 2-month long worldwide campaign in conjunction with its 50th anniversary this year.
50 lucky participants will stand a chance to win a 3D2N holiday package for two persons at 6 destinations located in Singapore, China, Hong Kong and Japan. Packages include return air-tickets, accommodations and admission charges for attractions in the selected itinerary. Participants can pre-select their ideal holiday package based on themes such as Adventure, Culture, Gourmet or Romance.
Simply share your most memorable moment on the Unlimited Discoveries website and be one of the 50 lucky winners. What's more, choose to upload your memorable photo with your entry and stand to win an additional SGD$5,000 in cash.
Participate in the Unlimited Discoveries campaign now here: http://www.unlimiteddiscoveries.com