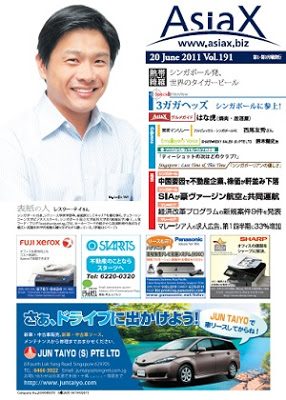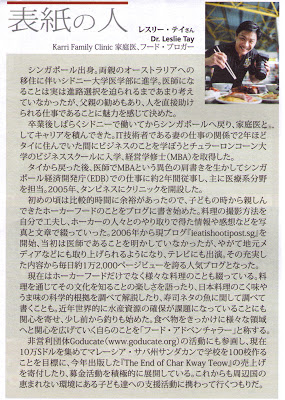 Click to enlarge
TFeatured in AsiaX – ieatishootipost
Translation:
Dr. Leslie Tay is from Singapore and graduated from MBBS University of Sydney. He has been pursuing his career in the field of family medicine, and he has also studied at Sasin GIBA for MBA and NUS for post grad diploma in Family Medicine. On his popular food blog "ieatishooipost.sg", he has been introducing various kinds of topics such as hawker foods, many kinds of cuisines and ingredients used in it sometimes with scientific basis. (See page 5 for details)
The cover page person
Dr. Leslie Tay
Family Doctor of Karri Family Clinic, Food Blogger
Dr. Leslie Tay is from Singapore, and did his medical degree at the University of Sydney when his parents emigrated to Australia. He had not decided to become a doctor until when he had to choose a course to attend a university, but he thought it must be great that he would be able to help people directly by his work as a doctor, and his father also recommended.
After graduating from MBBS University of Sydney, he worked there as a doctor for a while and returned to Singapore, then he started pursuing his carrier in the field of Family Medicine. When his wife, who is an IT engineer, got a job in Thailand, so he decided to study business and got his MBA from Sasin GIBA.
They came back to Singapore after staying in Thailand for two years, then he worked for EDB as he was then a doctor and an MBA holder, which was a very unique case. He was engaged in medical field and worked there for two years. In 2005, he opened his own clinic in Tampines.
At the beginning time, he wasn't as busy as he is, and he opened his blog and started writing about hawker foods which he had been so familiar since he had been a child. He contrived ways to take photos of dishes, communicated with the hawker people, and he wrote the frank review with nice photos and a full of information. He started his current blog "ieatishootipost.sg" in 2006. He didn't revealed that he was a doctor for a while, but his blog and himself were captured by some local media and he appeared on TV program. Now his blog is so popular that it gets about 12,000 page views per day.
He doesn't talk not only about hawker foods but also many kinds of cuisines. He tells a fun of knowing different cultures through their cuisine, and sometimes explains kokumi and umami in Japanese cuisine with scientific basis or Japanese fishes used for Sushi. He is also interested in issues of global aquatic resources, and he even started fishing recently. His interest in food was just a start, and he has been exploring many more areas. He calls himself as a "food adventurer."
He is also involved in the activities of non-profitable organization Goducate (www.goducate.org), and now they are moving ahead with a plan to raise a fund to S$100,000 and build 100 schools in Sandakan, Sabah, Malaysia. He has donated from the sales of his book "The End of Char Kway Teow" published this year, and has deployed fund raising activities for that plan. He will keep involving those kind of supporting activities to meet the needs of the children in impoverish countries around Singapore.