Having returned from KL recently I posed the question to our facebook fans on whether we could get a decent KL style Hokkien Mee in Singapore and the name Kong Kee came up a few times. So I had to go down and see for myself whether this KL Hokkien Mee could measure up with the one that I just had over at Restoran Ahwa. I guess the one question that I wanted to answer was, "Is this the real deal?" because I have been on the lookout for a decent KL Hokkien Mee since the very early days of the blog.

Now I think you will have to agree that the plate of noodles really does look pretty enticing. The slippery shiny black thick vermiform noodles sure already looks very different from many Singapore imitations. The restaurant owner, Jasmine happened to be around, so I asked her what makes her KL Hokkien Mee special.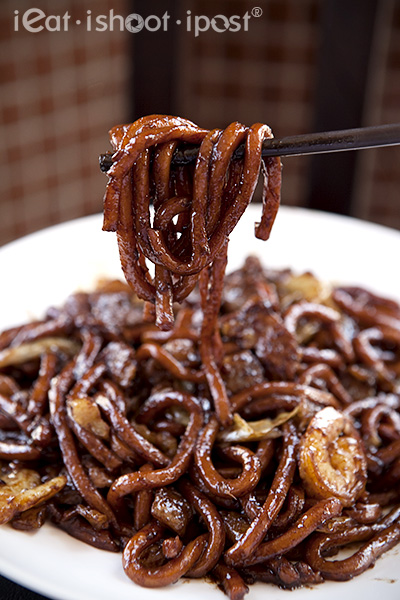 Her answer: "Everything is from KL! Noodles from KL, Dark Soy Sauce from KL, Chef from KL, even I was from KL!"
In fact, I just realised that what makes KL Hokkien Mee really KL Hokkien Mee are the noodles. The texture is very different from what we can get here. Jasmine tells me that she had tried many of the local suppliers but in the end, she had to import them directly from KL. She then proudly went to the kitchen to bring out a pack of the pale yellow noodles as well as a bottle of KL Dark Soy Sauce which I wasn't allowed to photograph. So far so good. But is the KL Hokkien Mee authentic?
In order to get an authoritative answer, I had the FoodCanon join me for lunch. He grew up in Petaling Jaya and so he must know KL Hokkien Mee much better than I do. I am glad to that we both concur that the KL Hokkien Mee here is as authentic as it gets. Of course, it still can't beat the old stall in Petaling Street, but it certainly can beat a lot of not so famous KL Hokkien Mee in KL. The texture of the noodles was exactly right and the bits of crunchy lard bits explode like umami bombs in your mouth! Certainly the best plate of KL Hokkien Mee I had so far in Singapore. 4.25/5
In my last trip I also discovered the Sang Har Meen at Restoran Green View and was so excited when I saw a big poster of this dish on the wall! So we ordered it without hesitation. Just like the one at Green View, the noodles here are wonton noodles that have been blanched before being pan fried to a crisp. The big headed giant fresh water prawns are full of roe and makes the sauce rather irresistibly good! If there is only one flaw, I would say that somehow the noodles at Green View has just got that extra cripy kee flavour which Kong Kee somehow did not manage to replicate. That being said, a few of our kakis have already been to Kong Kee and they all gave it their thumbs up! 4.5/5
Now the gravy for the Sang Har Meen is so good that it really does go with anything. So you can pour it over Hor Fun and it is good too. Best of all they managed to infuse the wonderful smokey wok fragrance into the Hor Fun. This would be one of the best plates of Hor Fun I have eaten for a while. 4.5/5
Ah, but I have kept the best for last. If you really want the best KL Hokkien Mee experience, then you should order the Sang Har KL Hokkien mee. OK granted it isn't classic KL Hokkien Mee, but when they braise the Sang Har together with the noodles, the noodles absorb that extra sweetness from the prawns and brings the dish to the next level. Good enough to quell that urge to travel all the way to KL. 4.5/5
Conclusion
So far, this is the closest you can get to real KL Hokkien Mee in Singapore. Several of our kakis have already visited and they all agree that it is authentic. The only thing missing is sparks flying off the charcoal stove by the side of the longkang (open drain). Here you can opt to enjoy KL Hokkien Mee in air con comfort or Al Fresco. Me, I would rather sit by the busy street in order to lace my noodles with the delicate bouquet of exhaust fumes. Somehow, that makes it feel more authentic!