Before I left for KL, I got an urgent SMS from a friend of mine who told me that I really must try the Sang Har Meen at this particular restaurant in KL. Being the Sua Gu (ignoranous) I am, I have never actually heard of Sang Har Meen! Apparently, it is another dish that is quite unique to KL which you can't really find in Singapore, at least not a good one.

So we found ourselves waiting outside Restoran Green View on the eve of Father's day, which wasn't the wisest thing to do since it seemed like almost everyone living in Petaling Jaya was there. In the end, we waited almost two and a half hours to eat our Sang Har Meen. We almost wanted to leave and our poor friend, Desmond was so embarrassed that he went to harass the manager a quite a few times to get them to hurry with the order. The only saving grace was that we realized we weren't the only ones hurling abuse at the manager. When the noodles finally arrived, I had to be really quick with the photo as everyone on the table were like a pack of hungry hyenas. The one thought we all had was "This better be worth the wait, OK?!"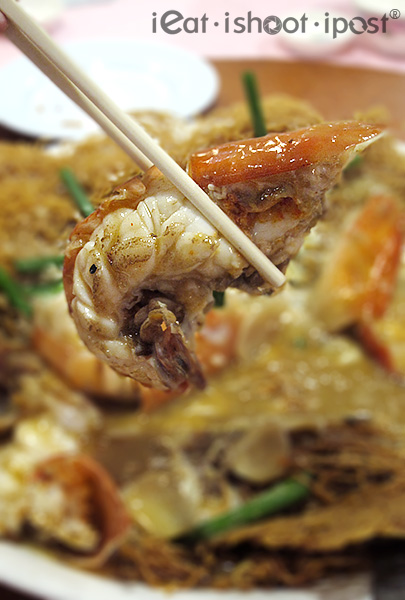 Thankfully the Sang Har Meen was really good and although we were still nursing the psychological wound from the long wait, the Sang Har Meen was good enough to soothe the mental anguish. The restaurant manager was also kind enough to come over to apologize for the wait which is how I managed to find out a few little secrets to this dish.
Firstly, the reason the gravy is so good is because they specially source for large freshwater prawns with lots of roe which is infuses the gravy with that wonderful umami. The most famous place for these prawns in Malaysia is Tanjung Tualang, but nowadays, they import them from Thailand as well as they don't have enough domestic supply. We Teochews call them "Dua Tou Heh" (lit big head prawns) because the head is almost the same size, if not bigger, than the body. That means you don't really get a lot of meat from the tail but there is a lot of head which is why it is great for this dish since the head contains all the yummy good stuff like the liver, brains and of course the roe which makes the gravy a cholesterol bomb!
Next, the noodles are prepared in two stages. These are your normal egg noodles that you use for wonton mee which has to be poached first in hot water before being pan fried to a crisp. The noodles still had a little bit of that "Kee" (Lye water) flavour which actually adds to the unique flavour of the dish. You will notice from the photo that unlike the Sang Meen sold in Singapore, the noodles are sort of flatten and matted together, almost like instant noodles. So you have bits where it is like a biscuit and other bits where they are more stringy, like noodles. Wish we could get it here in Singapore! 4.6/5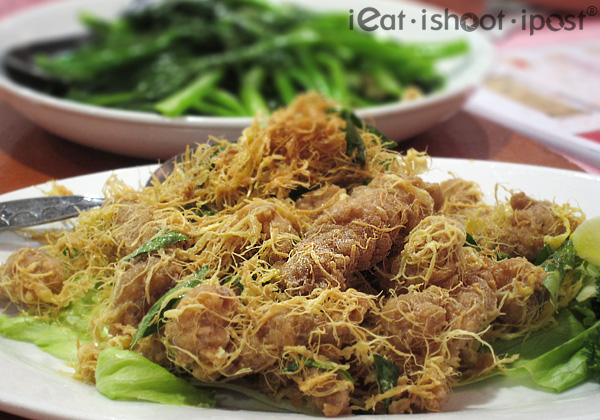 Salted Egg Mantis Shrimp
Aside from the Sang Har Meen, this place is quite famous for its crabs and almost every table had ordered crabs. We didn't order crabs that day, so I can't tell you how good they are. But from what most people tell me, the restaurant is famous for the Sang Har Meen which is the one dish you have to try. The rest of the dishes are good but not outstanding.
We ordered some salted egg mantis shrimp which I felt had too much batter that you can't really taste the mantis shrimp. It was still delicious, but a tad oily. 3.75/5
We also tried the Pomfret done two ways. One half is deep fried and the other half stir fried. As a Teochew, I really do believe that the best way to eat Pomfret (if it is fresh) is to steam it as that is when its unique texture is at its best. I have tasted a few deep fried pomfrets before but they were never as good as when it is steamed. 3.5/5
Conclusion
The Sang Har Meen is really worth the trip and the long wait but aside from that, the other dishes are pretty normal. I think their crabs would be good too, seeing how popular they are. How I wish they would open a branch here in Singapore.