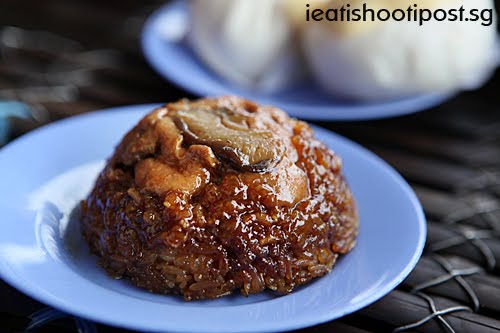 Lo Mai Kai
The best Lo Mai Kai I have ever eaten in my life was in Petaling Jaya. That was 7 years ago when I visited my cousin in KL. It was one of those moments of epiphany which one never forgets. It is too bad that I wasn't a blogger then, so I did not take note of the address of the place. Since then, I am been searching in vain for a Lo Mai Kai in Singapore that could come close but I think the problem is that no one actually uses pork lard anymore, so I have not found anything half as shiok.

When I made a trip up the KL the last time, I really wanted to track down that killer (in more ways than one) Lo Mai Kai. I remembered the taste very well, but the memory of the place was quite vague. I just knew that it was in a coffeeshop somewhere in Petaling Jaya.
As fate would have it, I bumped into my makan kaki, Jencooks the night before while eating the KL Hokkien Mee at Petaling St, so now at least I found a kaki to accompany me on the search for the Holy Grail of Lo Mai Kai. It's funny how such things happen. I hardly ever bump into Jencooks in Singapore but yet we managed to bump into each other in KL!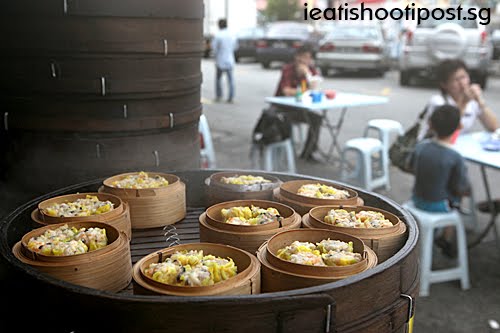 It seems that even my cousin had only a vague memory of where he brought me 7 years ago, but he said that the most famous Dim Sum place in Petaling Jaya is this place called Key Hiong which is next to the Badminton Hall. When we got there, the site of steaming bamboo baskets of dim sum convinced us that the 30 min taxi ride out of KL was indeed worth it. However, the place did not even look vaguely familiar. So I wasn't sure I was at the right place.
When I finally tried the Lo Mai Kai, it confirmed that this really wasn't the place that I had the Lo Mai Kai years back. Either that, or somehow the owners had decided to go the healthy route and stopped using Pork Lard to make their Lo Mai Kai. Don't get me wrong, the Lo Mai Kai is still very good and better than most that we get here in Singapore. The rice is soft and gooey and the flavour is very good, but it just lacked that certain shiokness that I remembered.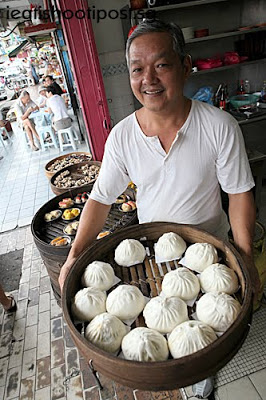 That aside, if you are in KL and looking for a place for breakfast, I think that this place is still worth checking out. It's the whole atmosphere of sitting in the carpark surrounded by towers of steaming bamboo baskets that makes the whole experience very memorable.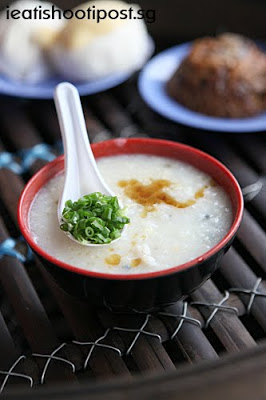 Most of the items are very nice. The big pau and char siew pau are certainly worth eating. They are famous for their char siew paus, but frankly I felt that it is quite similar to some of the best ones that we get here in Singapore. There were one or two items which I don't think you should bother with though, like the porridge and the steamed polo buns.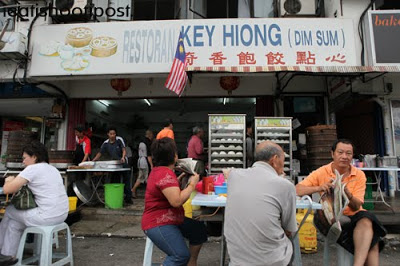 Conclusion
Sigh! I did not find the legendary Lo Mai Kai this time round. I wonder if the Lo Mai Kai I was looking for is still in existence or if it was simply the exaggerated memory of an impressionable mind. Do you all know of a legendary Lo Mai Kai in Petaling Jaya?