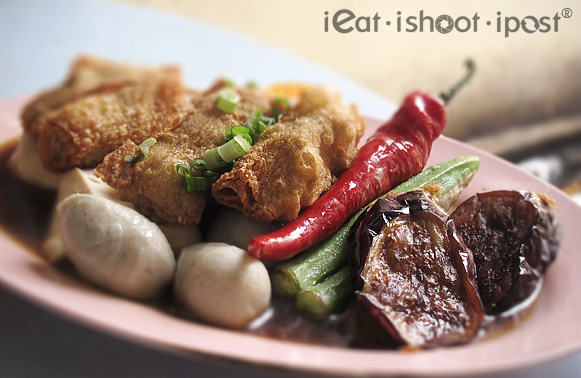 Ampang Yong Tau Foo
In Singapore you generally find three different styles of Yong Tau Foo. The most popular style and subsequently the style found in most food courts is the type where the different ingredients are filled with only fish paste. Then there is Hakka Yong Tau Foo and what sets them apart is the fact that the they use a mix of pork and fish as the filling. Then, there are a sprinkling of shops selling "Ampang" Yong Tau Foo which is deep fried and served in a platter with a light brown gravy.
So just what is "Ampang" Yong Tau Foo and which Yong Tau Foo is the original one introduced by the Hakka people?

The Hakka 客家人 (lit guest people) are a dialect group who migrated from Northern China down to the Southern China region where they remain as "guests", not having a permanent place to call home. Being Northerners, they are accustomed to having Pau (steamed buns) as a staple. But down South they are unable to get hold of wheatflour, so they ended up stuffing meat into beancurd instead. Thus was born the Yong Tau Foo. The traditional Hakka Yong Tau Foo is thus a very simple dish of stuffed Tofu which is first deep fried then braised. Along the way, other ingredients such as eggplant, bittergourd and chillies got stuffed with the same filling of minced pork, fish paste and salted fish. This being the case, the Ampang style Yong Tau Foo sounds like it is quite close to the traditional style in the sense that the items are fried and then a braising sauce is poured over the pieces.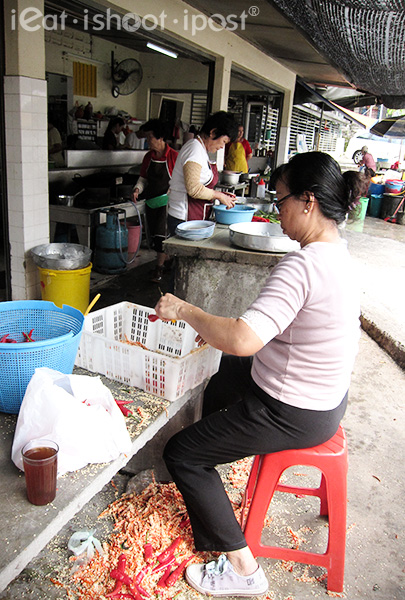 You realize of course that Ampang Yong Tau Foo is called Ampang Yong Tau Foo because it originated in a place called Ampang in Kuala Lumpur, right? Apparently it all started in the 60's with a stall called Chew Kuan. But their style of selling Hakka Yong Tau Foo grew so popular that it gave rise to other copy cat restaurants. Ironically, Chew Kuan is not longer around, but the other restaurants are. The most popular one being Foong Foong which in its own right has established itself as a Yong Tau Foo powerhouse, having been in business for over 30 years.
It was amazing the so the Yong Tau Foo "factory" in action. There were ladies, busily "Ngionging" (Niong – to fill, in Hakka) tofu and chillies. You place your order at the counter, the boss writes down your order in an old book, shouts your order and mysteriously a plate of Yong Tau Foo appears at your table. How does he do that without table numbers?
One thing I would say about the Yong Tau Foo is that they are very generous with the filling. Each one was bursting with the meat and fish paste. I wasn't quite bowled over my the filling though, as I was expecting the flavours to be more powerful. A good Yong Tau Foo filling should have a punchy umami coming from either salted fish, crispy fried sole fish or both. I couldn't detect much of the solefish and the texture was quite firm, rather than being tender and bouncy. Still, it is much better than the plain fish paste that we get at most stalls in Singapore.
The other thing about Ampang style Yong Tau Foo is the braising sauce. I wasn't really impressed with it either. It looked and tasted like just some gravy made with soya sauce. The taste wasn't distinct nor was it addictive. 4.25/5
Conclusion
It was a good Yong Tau Foo experience and I would probably go back to Ampang again just to eat Yong Tau Foo, but perhaps I would choose one of the other stalls next time. The Yong Tau Foo at Foong Foong is very good, but it still left me with the impression that it could, or should, be better.