With smart, holydrummer and iwatch_ueat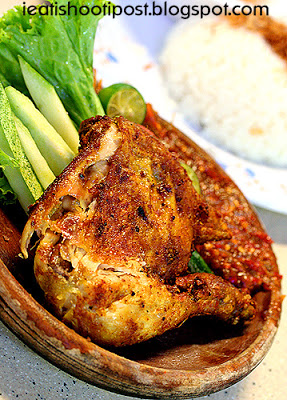 For those who go to Changi Village Hawker Centre but never bother to venture across to the market side….. well you have been missing out on quite a gem! Ok, I am really talking about the biggest Sua Gu (Mountain Tortoise) which is myself!
Ayam Penyet is the healther alternative to Nasi Lemak. The rice is made from Chicken stock instead of coconut and taste very much like Hainanese chicken rice, rice. The rice here is delicious. They use good quality jasmine rice, so that each grain is lovely, fluffy and flavoursome!
Penyet means to flatten. Each piece of chicken is deep fried then flattened with a wooden mallet. Poor chicken, kenna slaughtered, dismembered and dunked in hot oil still not enough, after that still kenna whacked some more! Si Gao Si Si (Dead, really really Dead) I love Indonesian/Malay style grilled chicken. The lovely lemongrass, tumeric, cumin and coriander spices really goes so well with chicken. Unfortunately, the chicken that day just missed that extra kick I was expecting. 4/5 In all fairness, smart who brought us there said that they were really much better the last few times he visited.
The chilli lovers will love the big dollop of chilli sauce they provide with the set. The chilli is roughly cut and stewed till soft and has a sweetish tangy taste. Very unique indeed!
Conclusion
If you have not tried this, you should. My gut feel is that the chicken might very well taste much better when I return. The good news is that they now have another stall over at the food centre side next to the famous Nasi Lemak stalls. But if you want to eat from the original stall, then you have to cross to the market side.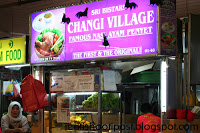 Acknowledgement: Another good recommendation by smart!