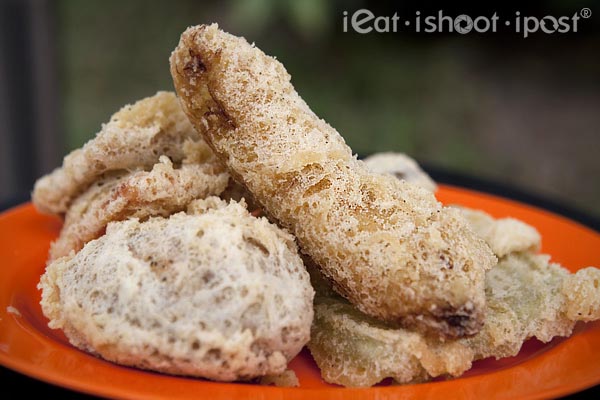 I had some pretty amazing Tempura during my trip to Tokyo and that got me trying to make some Tempura at home. For those of you who have ever tried making Tempura, you would know that is is not as easy as it looks. It's quite an art to get the batter to that crisp consistency. The ingredients are quite simple, it is supposed to be just plain flour, egg and ice cold water. But so far my batter hasn't turn out quite the way I want it. I ended up using some commercial Japanese Tempura flour in which you simply add water and its just like what we get outside! However, I am still determined to learn how to make the batter from scratch. Any Tempura chefs out there?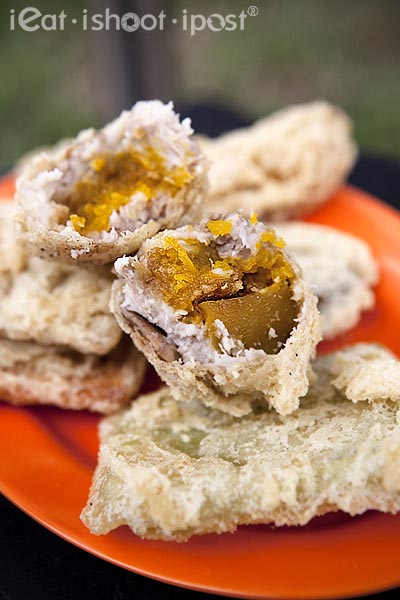 Anyway, we are not talking Tempura, but Goreng Pisang today.
I suspect that Goreng Pisang is not as popular as before as people try to avoid deep fried foods for health reasons. I feel it is yet another form of culinary prejudice as I don't think it has seemed to affect the sales of Tempura in Japanese restaurants. It's the same prejudice that gets people to shun Char Kway Teow but happily slurp up a whole bowl of Tonkotsu Ramen whose broth probably contains more pork fat than Char Kway Teow! Don't you think so?
It is as much an art to make an excellent Goreng Pisang as it is to make Tempura. Million Stars manages to get their batter to a thin and crisp consistency which is characteristic of the Chinese Style Goreng Pisang. I managed to get to speak to 70 year old Mr Chan who has just resumed working again after the renovation of Changi Village Food Centre and learnt a few secrets about the humble goreng pisang which I had never known before.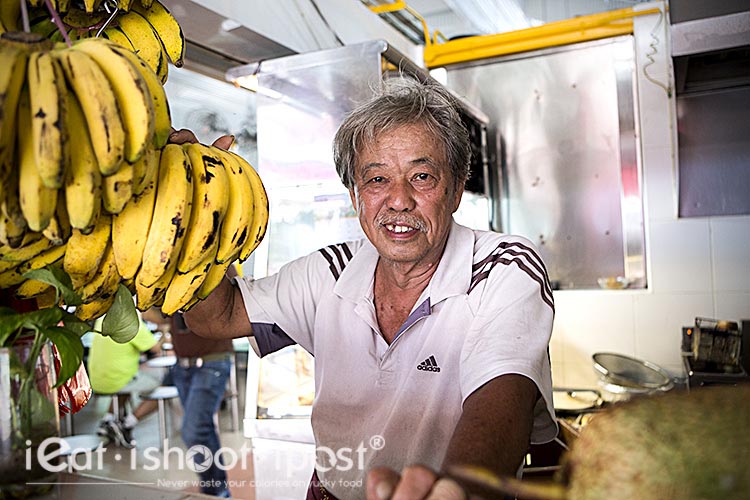 The most important thing about goreng pisang (fried banana) is, well, the pisang (banana) itself. You can of course buy other deep fried stuff like sweet potatoes, yam and jackfruit but this hawker dish is called goreng PISANG, so, naturally, you should be able to gauge the quality of the stall by the quality of the pisang.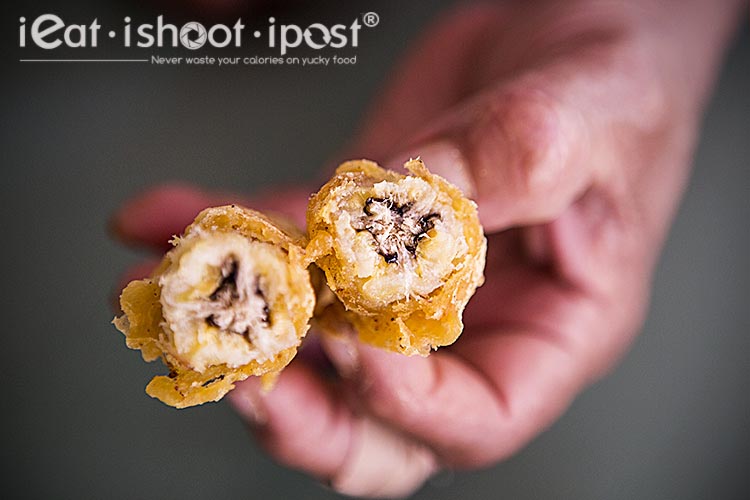 The preferred banana that the Chinese version of this dish requires is the pisang rajah which is one of those bananas that I used to eat a lot of as a kid which isn't quite as readily available nowadays. Mr Chan tells me that in order to get hold of the pisang rajah, he has to personally drive to a certain supplier three times a week to collect it himself. But that is not all. After collecting the pisang rajah, you still have to store it for at least five days for it to ripen properly before you can use it. This is the length of time it takes for the fruit to ripen to the state where the core of the pisang is black in colour. This is when the pisang rajah, when coated with a thin batter and fried will be at its sweetest and may even have an alcoholic buzz to it which is reminiscent of a sweet dessert wine! 4.25/5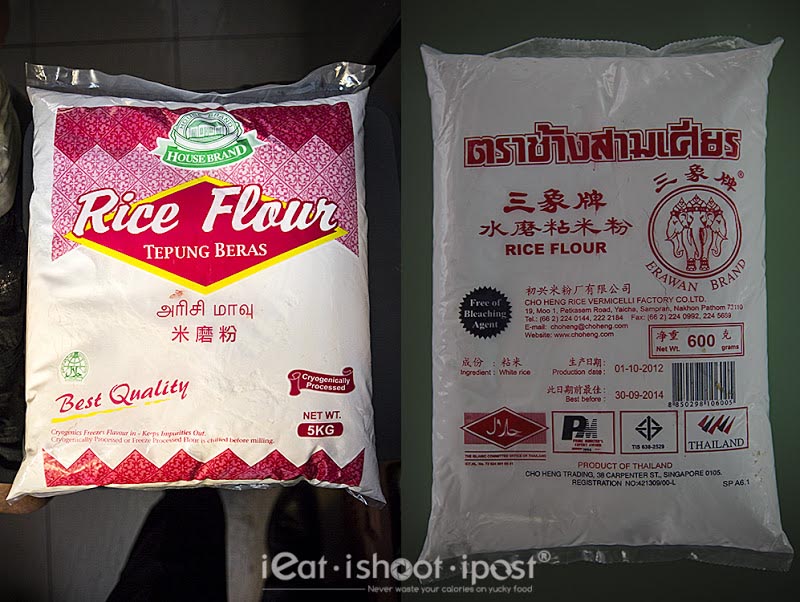 Mr Chan was kind enough to share with me his recipe for the batter. It is essentially made up of two types of rice flour. One is dry milled while the other one is wet milled. The dry milled rice flour is great for producing the crispy texture while the wet milled variety gives it a bit of a chewy bite. He uses a ratio of 5kg of dry milled to 1.2kg of wet milled rice flour, mixes it with water, a bit of salt and a raising agent. Like every kungfu master on TV, he stopped short of telling me about the type of raising agent that he uses! That, I guess, is to encourage the disciple to keep persisting on his own until he finally achieves his own enlightenment. By which time, the old master would have probably already died at the hands of the mortal enemy and so he has to exact revenge on the villain with his newly developed kungfu skills. Darn it, why doesn't the old master just teach the disciple in the first place so that he wouldn't have to die and both he and his disciple can live happily ever after?
But I digress…..
Aside from the usual yam, sweet potatoes and green bean fritters, this uncle has also come up with a few more interesting flavours which is worth a try. The yam and pumpkin fritter is like a deep fried Teochew Orh Nee (mashed yam with stewed pumpkin) and she also does another one where she stacks a slice of Nian Gao (sticky New Year glutinous rice cakes), yam and sweet potato together. I wonder if I could get him to do the Scottish classic fried Mars Bar? Would you be keen to try it?
Ah, I know what I should do! I should ask him to fry eggplant, carrots, pumpkin, mushrooms and shrimps so that he can sell a plate of Goreng Moriawase it for $20!
Conclusion
Culinary prejudice is what blinds us to the artisanal nature of our own Singaporean heritage cuisine while we embrace the gourmet cuisines of overseas! We won't give a second thought about spending $20 to eat a pasta carbonara while we shun a $3 plate of Char Kway Teow because of the lard. Guess what, they are both made with the rendered fat of a pig! So if you have no qualms about eating a whole plate of Tempura Moriawase, then I urge you to rediscover our very own Goreng Pisang, which is one of those dying arts because of our own double mindedness.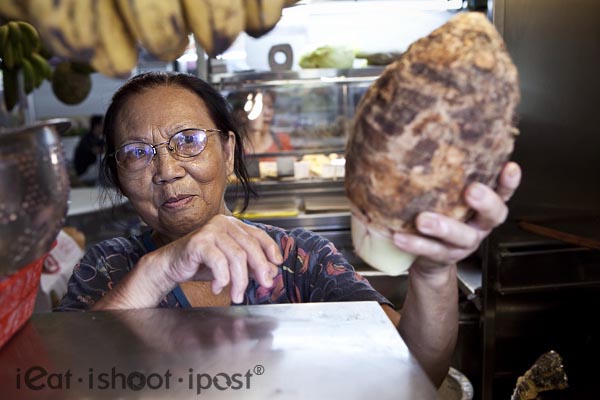 Post Script
I started writing this post last year just before Changi Village Food Centre closed. At the time, it was usually run by an elderly lady whom I am sure most of the fan of Million Star recognize. This is Mrs Chan who used to run the stall while Mr Chan had his siesta. It turns out that they can't stand each others guts any longer and she left to work somewhere else. But, they both still return home together and as far as I can tell, still very much husband and wife.
The grand opening of the new Changi Food Centre is this Saturday (9 Mar 2013) at 2pm! If you are free, why don't you go down and join in the festivities and rediscover the hawker gems there!