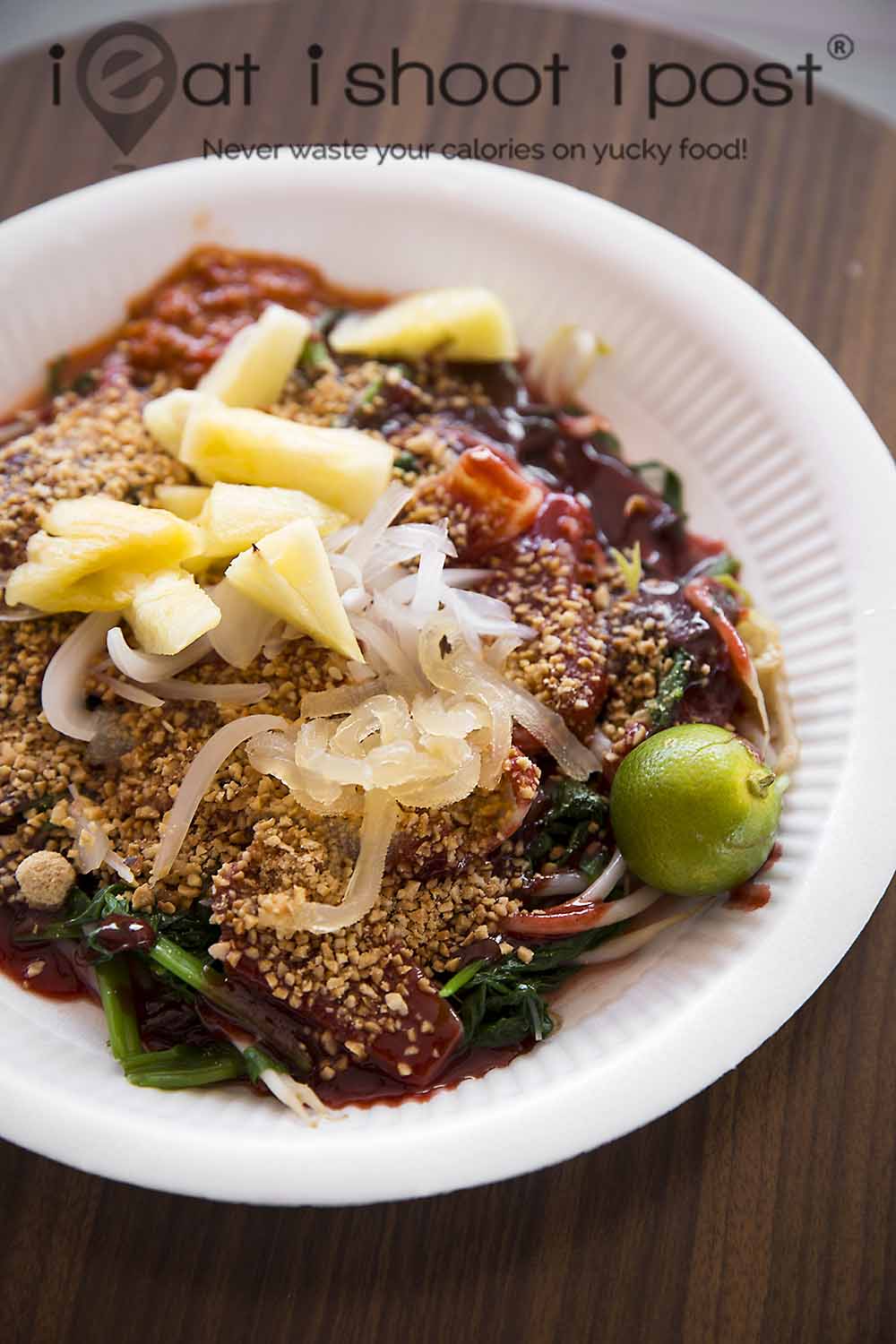 Satay Beehoon and cuttlefish kangkong belong to that category of hawker food which may be best described as "niche".  Some hawker dishes like chicken rice, roti prata and carrot cake are so much a part of the Singaporean identity that one really cannot be considered a true blue Singaporean if you have tried these dishes in your life. (Ok lah, vegans excepted) But I am very sure that there will be some readers here who have never eaten Satay Beehoon before, right?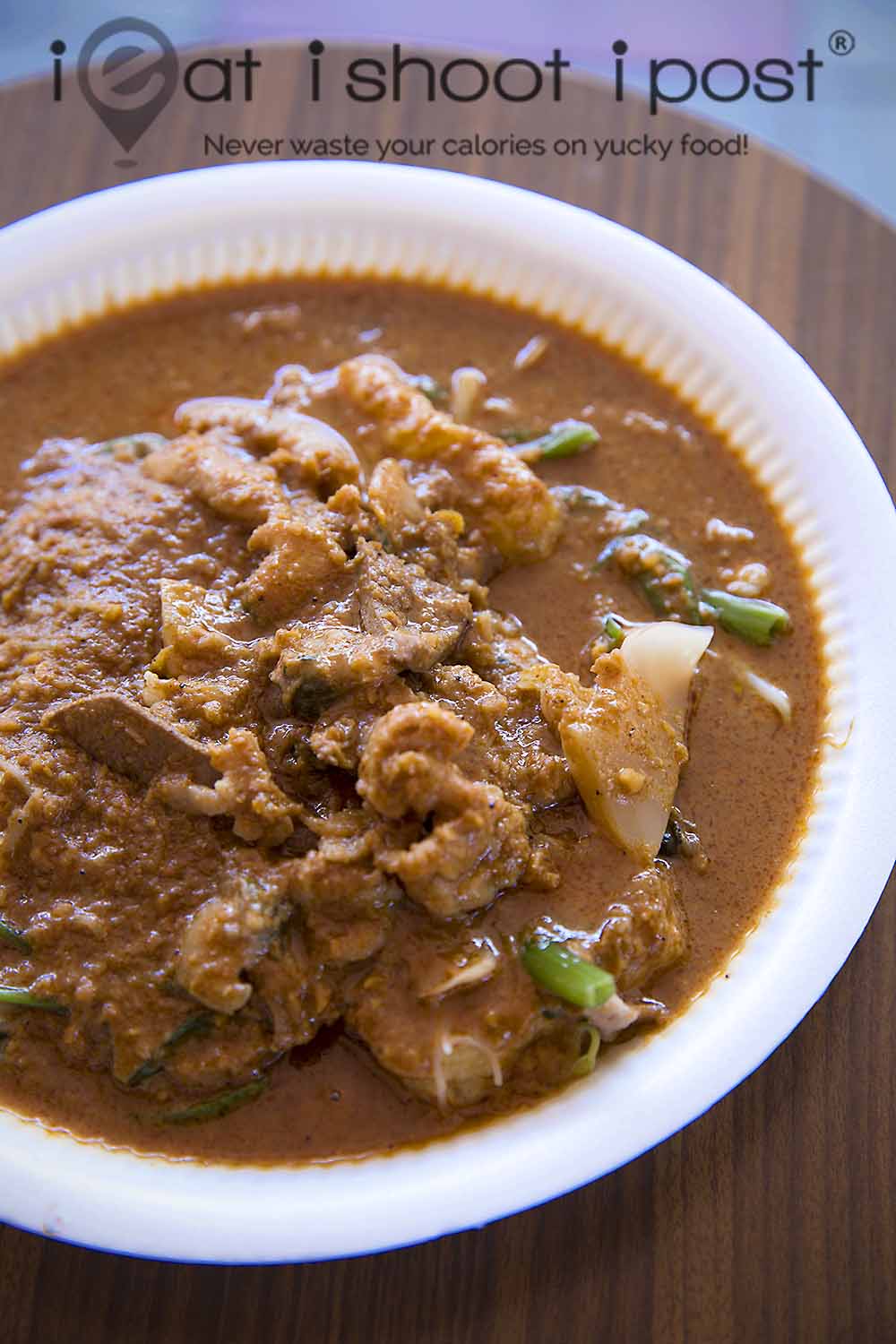 The origins of Satay Beehoon are rather sketchy.  All we know is that it is a Teochew dish and it has been around for a while.  We do know of satay beehoon stalls which can trace their history back to the 50's, but no one seems to have any idea of how it came to be.
It probably wasn't brought to Singapore by migrants from Chaoshan.  (That part of China where we Teochews came from) In fact, the opposite is true.  According to Wikipedia, migrants from Nanyang (South East Asia) actually brought back the idea of satay sauce which became what is now known as 沙茶醬 shāchá jiàng.  However, the Chinese version of the sauce doesn't contain peanuts but has dried shrimps instead.  I think they must have confused satay sauce with hae bee hiam, because the list of ingredients for 沙茶醬 bears closer resemblance to hae bee hiam which is a condiment made from fried shallots, garlic, chilli and dried shrimp.
So how did Satay Beehoon come to be?  Who is this mysterious Teochew man who came up with the idea of pouring satay sauce over beehoon, cockles and cuttlefish?  Why is this Teochew Ah Hia (Teochew man) even using satay sauce when satay is traditionally associated with the Hainanese?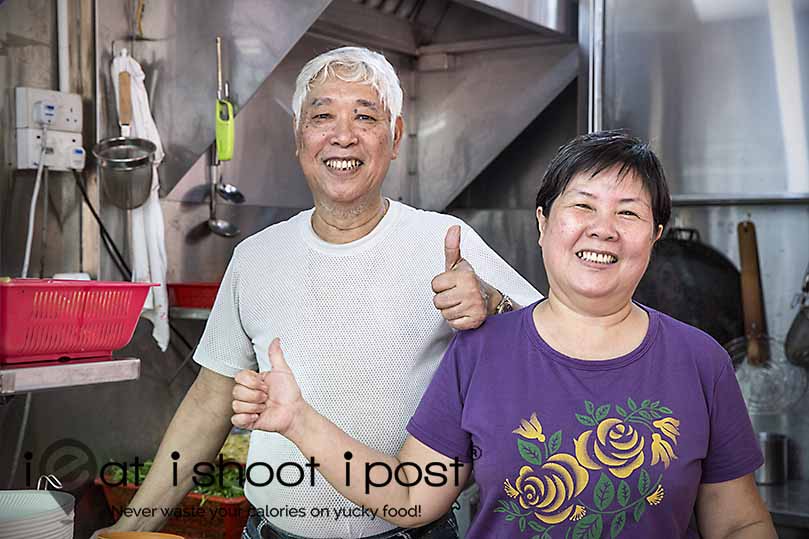 Here is my theory.  I think that Satay Bee Hoon probably evolved from cuttlefish kangkong.  The two dishes are quite similar and uses some common ingredients.  Perhaps there was a certain Teochew hawker selling cuttlefish kangkong who was located next to a Hainanese Satay Man and along came a customer who ordered both dishes and started to pour the satay sauce over his cuttlefish kangkong which slowly started a trend?  It's only my own theory, but it sounds quite plausible doesn't it?
Anyway, I was alerted to this dear old couple who is selling satay beehoon at Changi Village Food Centre.  My friend, who is a satay beehoon connoisseur, tells me that he has been going round Singapore tasting at all the satay beehoon stall until he finally found that old school flavour at this stall.
The couple has selling food at Changi Village since the food centre opened over 40 years ago.  They had been selling economic rice for over thirty years but recently changed to Satay Beehoon as it was less labour intensive.  The secret to their satay sauce is freshly ground spices and peanuts which they spend hours cooking over a slow fire.  Their satay sauce is less sweet than other places and is pretty potent, although my personal preference is for it to be a tad sweeter.  4.25/5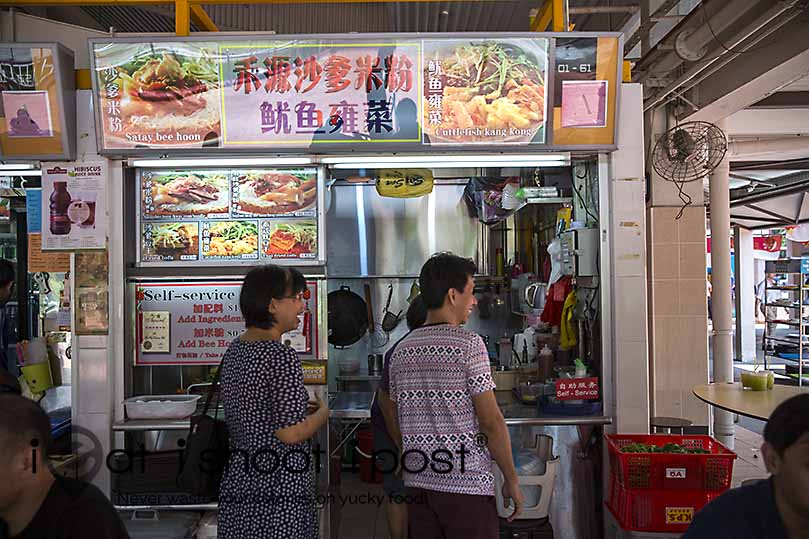 Conclusion
Old school satay bee hoon prepared by a Pioneer Generation couple!  If you are a fan of satay beehoon, it behooves you to make a pilgrimage to Changi Village to see if this will trigger a flashback to the 50's!