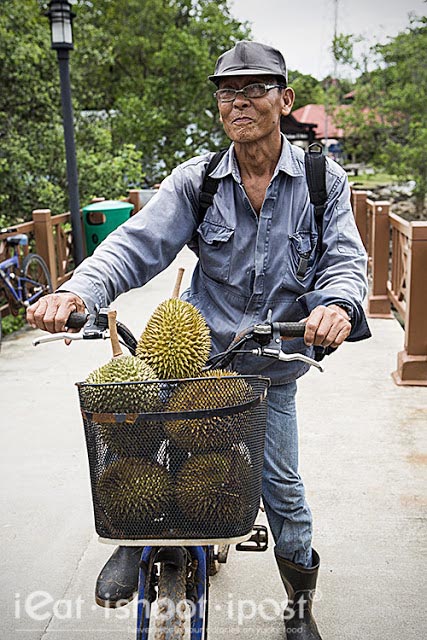 Pulau Ubin is a magical place.
Well, let me qualify that. It is a magical place if you are Singaporean but if you live in Malaysia, it probably looks like just another one of their small little kampung towns and you wouldn't even give a hoot about on your social media app.
When I was on my durian rampage last year writing my series of durian posts, I had wanted to visit Pulau Ubin to write about the durians there but I just missed the season. This time round, I just happened to visit Pulau Ubin and was very fortunate that I managed to get there when the durians were still falling off the trees.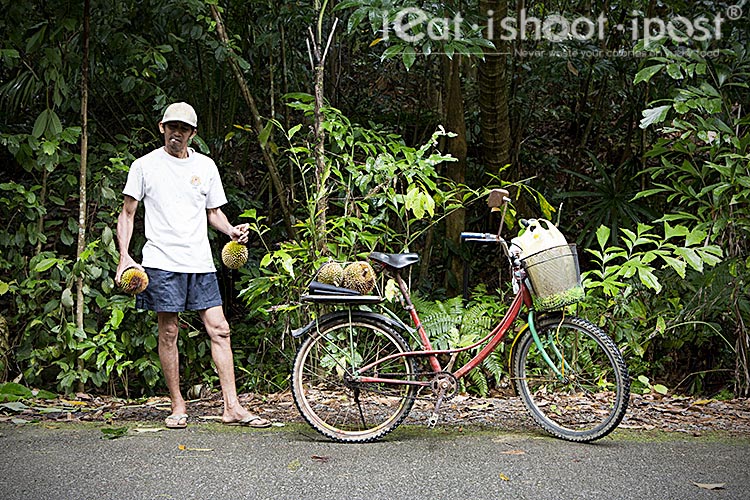 Pulau Ubin durians are very special as they are some of the last durians that you can find in Singapore which taste like the ones you ate when you were a kid. The durian trees there are old and most of them are wild. So you don't get your branded durians like Mao Shan Wang, Ang Hei, Dragon Phoenix etc etc. We call them "Kampung Durians" as they are a hodgepodge of uncultivated durians breeds. As Forrest Gump's mother said: "Life is like a box of chocolates….." You never know what you are going to get until you open that particular durian. And when it turns out to be really yummy and had shrunken seeds, it feels like you had hit the jackpot!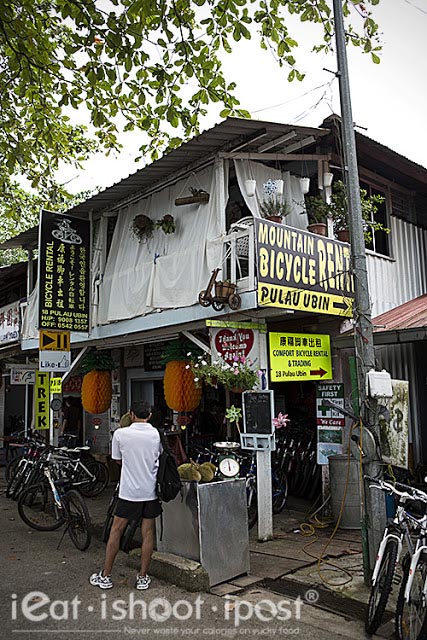 The durians in Pulau Ubin are free for the picking if you bother to camp there overnight. If you do, then this is when your reservist helmet can finally be put to good use. But for most of us lazy ones who wish to keep our helmets in pristine condition, there are professional durian pickers who would camp overnight to pick durians and sell them at the jetty or to one of the stall owners of the grocery shops near the jetty. We just happened to bump into an old man who had a basketful of durians on his bicycle as we got off the jetty and bought the whole lot from him for $20. My friend had tried to bargain it down to $15 but he told us his sob story of how he was retired and spent the whole night just picking these durians to sell. I ended up giving him the twenty bucks for his effort and in return for posing for a photo for me.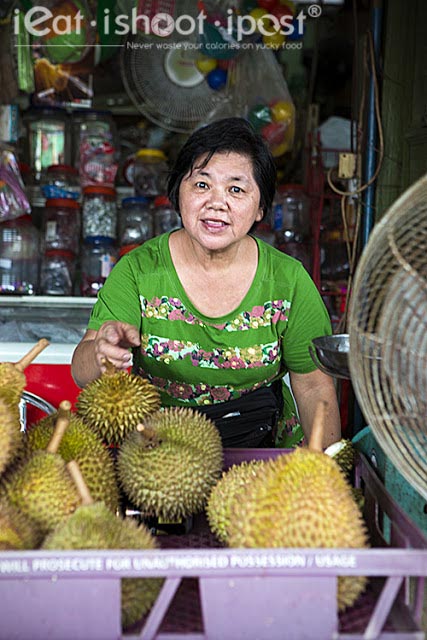 Of the 6 durians that we bought from the man, two of them had worms. One was a really nice, chalky white one with thick flesh and slightly bitter. The others where yellow, thin fleshed but quite tasty. They are not your Golden Phoenix quality, but like I said, it is the whole experience of playing durian jackpot that made it quite fun.
Now, if you are less of a risk taker and want some sort of guarantee, then you can buy durians from some of the provision shops near the jetty. They go for $5 per kg and you can exchange them if they are not ripe. On weekdays, the price may drop to $4 per kg in the afternoons especially if most of the visitors to Pulau Ubin that day are Ang Mohs who won't go near the fruit. (Actually I know quite a few Ang Mohs who love the fruit!). We were there on a Thursday afternoon and there were still durians for sale after lunch. The bumboat ride to Ubin is $2.50 per person per trip and takes only 15 mins, so if you are a durian lover, I really do recommend you to do a durian pilgrimage to Pulau Ubin during the season!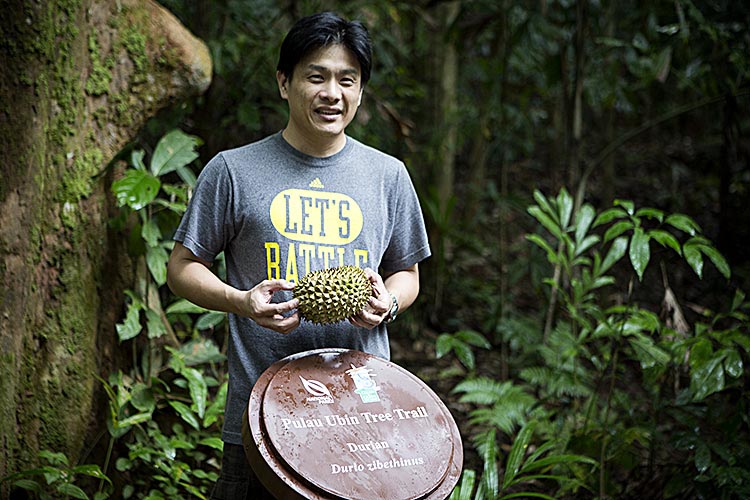 There are many ways to travel around Ubin. There are bicycle shops near the jetty and this is probably the best way to take in the natural beauty of Ubin. The alternative is to take one of the Taxi vans on the island. A one way trip to Chek Jawa costs $12 and a round trip costs $24. The van can probably take around 10 pax comfortably.
Our taxi driver was an old man in his sixties who was actually born on the island and has lived there his whole life! He can tell you anything you want to know about the place. We drove up to Chek Jawa, had a look around and then headed back to the jetty. Along the way, we spotted a durian picker picking durians! So we stopped to take a photo. I had always thought that durians dropped at night and that this guy was just picking up those that the others have missed. I was to be proven wrong.
As he was leaving, I heard a thud! The man smiled at me and said it was mine! So I ran into the forest with reckless abandonment to pick my very first durian! I was of course conscious of the fact that another durian might also be suffering from insomnia and decide to drop. So, it wasn't really reckless abandonment, I did cover my head with my hand. Fortunately, I emerged from the forest unscathed with my very first durian which dropped just next to the information sign that said "Durian"! It's times like these that I really felt that God was chuckling at me. : )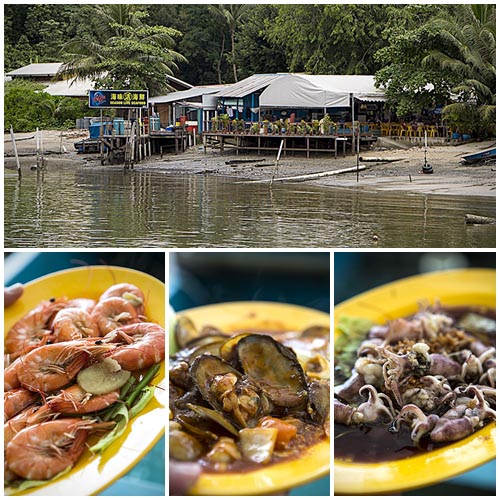 On my way to Ubin, I had asked our facebook community what restaurant we should head to for lunch and there were some recommendations for Pulau Ubin seafood. Unfortunately, that restaurant was closed, (Perhaps for good? The signboard was taken down) so we ended up eating at Seasons Live Seafood which had the most splendid location just by the water. The seafood was fresh but it really isn't somewhere that you would especially go for the food. The food is edible and when you have just cycled around the island and are famished, it would probably taste pretty good.
Conclusion
I am not sure how long Pulau Ubin is going to remain the way it is. It really is one of the last few places where you can be transported back in time to a way of life which we can all feel nostalgic about even if you had grown up in a HDB estate. It is also one of the last few places in Singapore where you can find uniquely Singapore durians. The other place is of course Pulau Tekong, but those durians are reserved for our young Singpaorean males who are undergoing their rite of passage from being Ah Boys to Men!