eBlackBoard is a great case study for those who intend to write a thesis on how Blogging and the Internet are influencing the way eateries are evolving. For those unfamiliar with the background to this, here is the flashback before we begin this episode. Back in September, I got news that there was this new eatery in Bedok serving up Restaurant style cuisine at hawker prices. So I was there within the first few days of opening. At that time, I was pleasantly surprised by the value for money stuff this new kid on the block was dishing out and the blog was an instant hit on the forums. Unprepared for the crowds, eBlackBoard stumbled upon work flow problems compounded by inconsistent supply and manpower issues. Standards fluctuated and the feedback was mixed. Now after 3 months of hard knocks, it has eventually (I hope) found its wings with a New Chef and a revamped Menu. With trepidation, I agreed to go down to shoot some pictures for their new menu as a favour to Bryan. This time though, I brought along some other people with me so that our readers will get opinions from more than just one person.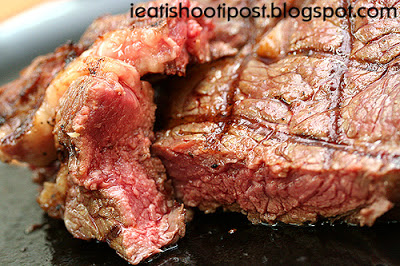 The thing that got the forummers excited the first time was the $11, 300gm ribeye steak. Most people felt that this was too good to be true. And it WAS too good to be true. The feedback over the internet was that readers wanted better quality, juicier steaks, so eBlackBoard had to switch from frozen meat to chilled meat. You see, you can't have it cheap and good at the same time and that is a sad fact of life (especially when it comes to steak) In the end they settled on chilled NZ Ribeye for $12.90. Still one of the cheapest around, but with a smaller portion. I think the steak quality has improved markedly and you will notice that the grill lines on the steak are perfect this time around compared to the pics on the old blog. The meat has a good beefy flavour and it is tender and juicy. It is a good steak for that price. 4/5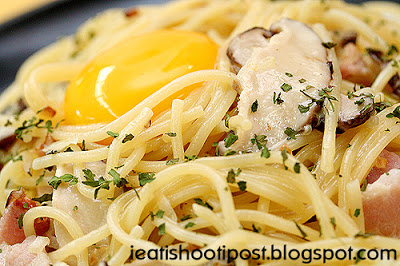 I have to give credit where it deserves and the new Sphaghetti Carbonara deserves credit. The pasta was perfectly Al Dente and the cream sauce was full of bacon flavour and not overly rich. Definitely one of the best Carbonara you can get for $5. 4.25/5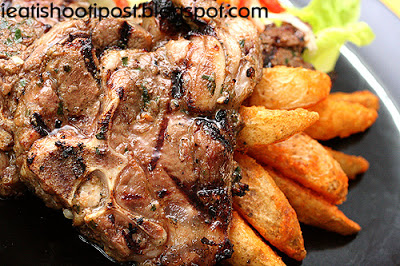 The last time I complaint that the lamb was dry and emaciated. This time round they were nice and juicy. The mint sauce has also improved and I thought the meat was marianted very well. As is always the case with lamb, my complaint is that the portions could be a bit bigger. Always not enough! $11.90. 4/5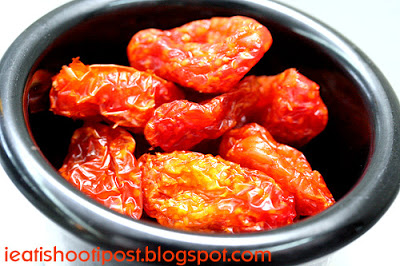 I am impressed with the new Chef, Gerald who was previously working at Le Meridian Hotel. He does all the sauces himself. The peppar and mushroom sauces that accompanied the steaks were done from scratch and they were very good. They now use a proper tartare sauce for their fish and chips which is also made by him. eBlackBoard now offer 6 sides of which you can choose any 2 when you order the meal. The picture above is of the Cherry Tomato Raisins which Gerald makes himself. These are sliced thin and added to the coleslaw. For me that was a sign of better things to come. Conclusion The whole eBlackBoard saga has been a learning experience both for Bryan (eBlackBoard boss) and myself. At the time I had just started ieatishootipost and did not expect the kind of feedback following my blog. These are some important lessons I learnt. 1. Be careful when raving about brand new eateries. There might be some problems that take time to iron out and the initial publicity may create situations that overwhelm the fledging crew. 2. Consistency in the quality of the food is paramount but the blogger can never predict if the food reviewed one day will be the same the next. Food and service tends to deteriorate during peak periods. So when you blog during quiet periods, the food may tend to be better and vice versa. 3. The strength of the review lies on the subsequent feedback of readers, so this should be encouraged as much as possible, which is why the comments on the blog is opened to anyone who wants to make a comment whether good or bad. 4. Small eateries like eBlackBoard which focus on Value for Money seem to be more popular amongst forummers. Some other eateries of similar characteristics which are hotly discussed have been Botak Jones, Astons and Basil Alcove. Now we wait to see if eBlackBoard can deliver on their new menu consistently. The popular saying is true: You might fool me once, you might even fool me twice, but you are not going to fool me the third time! Readers may also want to check out tamago's blog for his take on the food, by clicking here If you wish to read the previous blog please click here
Update: 5 Sep 2008. eBlackBoard is now under new management and has moved to Blk 25 Big D's Grill now occupies the coffeeshop.
You can read the review here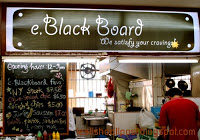 Disclosure: The food was provided by Bryan for free since I was shooting photos (for free) for his new menu.