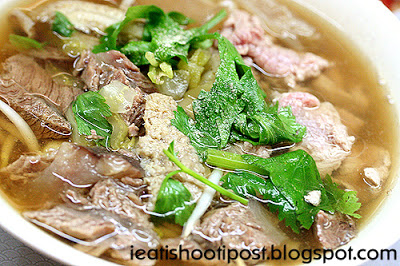 The owners have retired and the stall is closed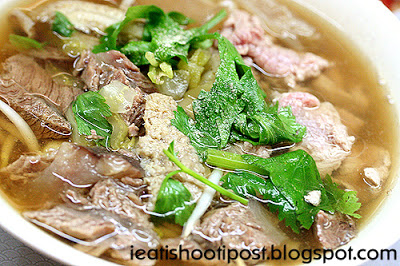 I find it the most satisfying to discover stalls which sell really great food, BUT which still does not have any newspaper cuttings or pictures of Mediacorp Stars on them! Don't let the simple, unadorned frontage of the stall fool you. Within this unassuming cubicle lies a pot of gravy so good that I gurantee you can SEE the FLAVOUR in the picture! Before we get to that. Let's just talk a bit about the soup version. We found the soup to be sweet and robust and all the meats to be tender and flavoursome. On of the better beef soups around. 4/5
OK, let's get down to the exciting part. The dry version is the one to die for. Seriously, this is the best gravy I have ever seen and tasted! Savoury and full of bovine goodness!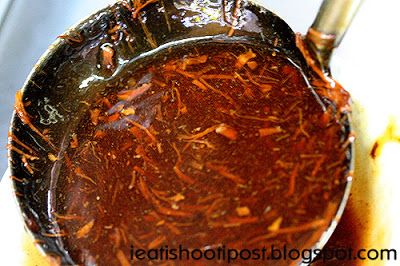 Just LOOK at it! See what I mean by FLAVOUR that you can SEE? The beef strands floating in the gravy is your preview of what is going to happen when you scoop a spoonful of the gravy to put in your mouth. Think of it as Sharksfin soup but with beef instead of crabmeat! 4.5/5
Conclusion You really call yourself a lover of Beef Kway Teow until you have tried this!