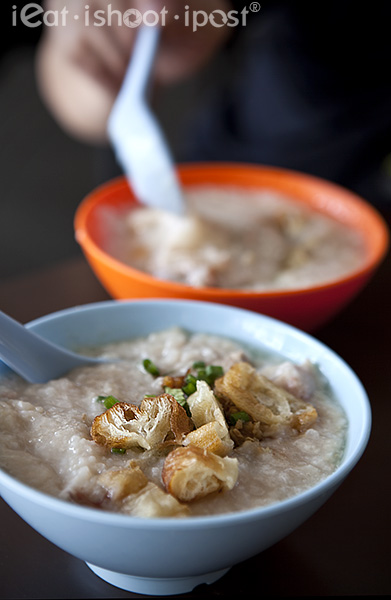 When I was a kid, I don't remember ever having Cantonese Congee in the hawker centres, do you? When my Pa said we were going to the market to eat Jok (porridge), it only meant the Hainanese style Jok where the rice is boiled till it is broken but still retains a grainy texture, unlike the Cantonese Congee where the rice is boiled to a smooth paste. Incidentally, I just found out that Congee is actually derived from the Tamil word kanji which is an Indian dish of boiled rice. I would never have imagined Indians eating porridge, then again you wouldn't imagine an Indian man selling Satay would you? Why Satay? Well, the word Satay was derived from "sathai" which in Tamil means "flesh", and the concept of grilled meats on skewers came from the Indian Muslims migrants. So there you have it, Indian Congee and Indian Satay.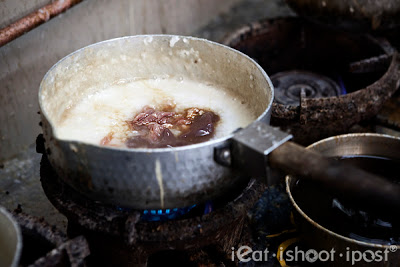 Hainanese style Jok is always prepared only when you order in individual pots and we often see these pots lined up over gas stoves in a typical Hainanse porridge shop. What I did not know was that the porridge is only flavoured when you order. That is to say that the cauldron of boiling porridge is nothing but rice and water boiled to the grainy consistency without any stock or seasoning. When you order your porridge, that is when the hawker pours a scoop of porridge into a small pot, turn up the flames and adds the raw ingredients and a spoonful of a secret savoury sauce to magically transform the plain porridge into the more familiar Jok.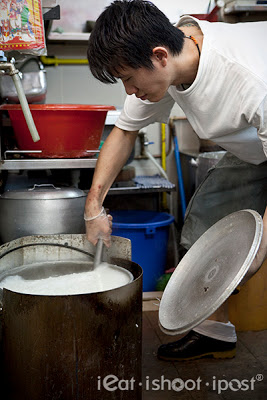 If you ask around as to what is good to eat at Clementi Central Food Centre, you would probably hear of this porridge stall mentioned a few times. It is good to see that the stall is being manned by a next generation hawker who proudly tells me that he continues to serve Hainanese Porridge in the most traditional style. I was told that the keys to a good bowl of Jok is to have a higher ratio of rice to water so that the porridge is thick and grainy and the next most important thing is that they use only fresh pork delivered daily to the stall.
Unlike dishes like Laksa and Hokkien Mee, I doubt that you will start salivating when you think of Hainanese Jok. That is not to say that I don't hanker for it every now and then. No, Hainanese porridge satisfies in a different way. When I think of having something warm to fill my rumbly tumbly on a cold rainy evening or something hot and savoury to dip You Char Kway (Deep fried Dough) in the mornings, that is when I think of Jok. I never get any stomach upset or bloatedness after a nice bowl of Jok and the best thing is that I get hungry again when it is time for the next meal. So this is one of the best comfortable food I can think of!
Anyway, if you are hankering for a bowl of comfortable cuisine, then here is one stall to halt the hankering. The porridge is thick and warm and the pork is fresh, savoury and quite generous. 4.25/5
Conclusion
Correct me if I am wrong, but I remember that when I was growing up, the only options you get is whether to have an egg and pig innards or not. But nowadays it seems that most porridge stalls offer fish, chicken, century eggs and various other ingredients to add to your porridge! Is that what you remember?