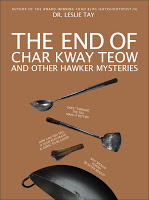 It has been brought to my attention that there has been a cardinal typo in my book. Cardinal because it involves the surname of one of my sponsors.
The mistake is found on Pg 32, on the second line of the last paragraph. The tea merchant mentioned in the book was supposed to be Kenry PEH instead of Kenry POH.
It seems that spellcheck changed Peh to Poh and I overlooked it during the proofreading stage. Since I was the only one who could have picked up the error, I am entirely responsible for the mistake. The mistake has been rectified and the correct version will appear in future reprints of the book.
My sincere apologies to Mr Kenry Peh of Pek Sin Choon Tea Merchants for the oversight.