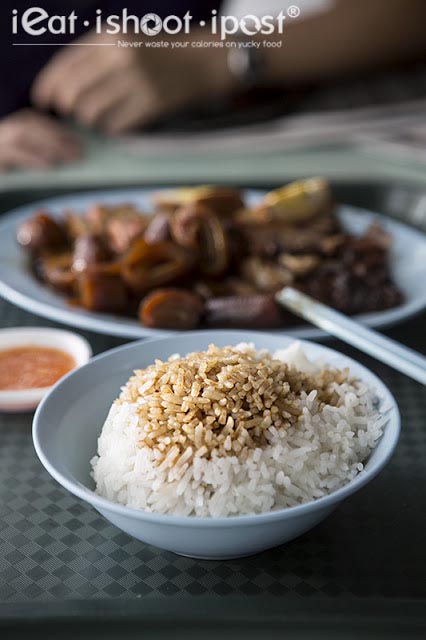 It's interesting that you can belong to a church for over 20 years and there are still many people get to meet for the first time even though they too have spent much of their lives there! So I met this senior gentleman after service one day who happen to be a Hokkien who prefers the watery Teochew version of Braised Duck. He kept telling me about this fantasic braised duck place over at Alexandra Village Food Centre that I just have to go for lunch after church on day.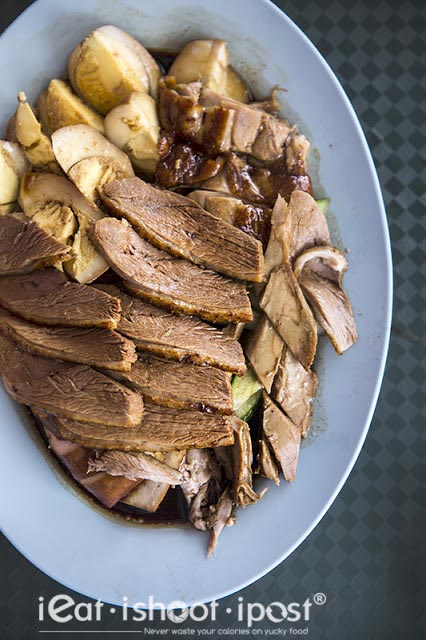 He was however very precise. (Shows that he knows what he is talking about)
"The duck", he tells me, "is very good, but it is the pig skin that you MUST try!"
Sure enough, the duck was very good. To be precise the braising sauce is very good. The duck was tender but just lacks oomph because (I presume) the ducks they use are just not big enough. I was told that in the past the stall was famous for its braised goose, but nowadays it is just not possible to have goose anymore. 4/5
One thing I really have to commend the stall owners about is that they are one of the few hawkers who actually know how to make braised eggs without that sulfurous green ring around the yolk. I am amazed at why so many stalls are actually buying hard boiled eggs instead of making it themselves. Yes, you heard right. They actually buy eggs which have already been hard boiled to make braised eggs. These are the ones which are often overdone such that the green ring appears. You would have thought that boiling eggs in hot water would be simple enough for every hawker to want to do themselves!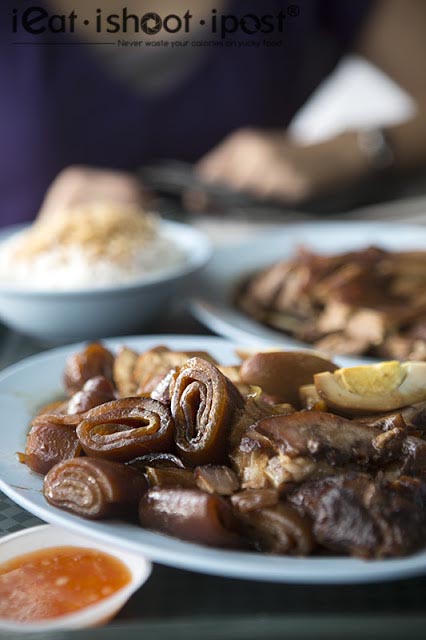 And sure enough, the pig skin was another matter entirely. This is by far, the most ethereal epidermis that I have ever come across. Most places cook the pig skin till it is still quite springy but this stall cooks it till it is almost like chee cheong fun that has just come out of the steamer! It has gone past the stage where a lot of the collagen has become gelatine and so the braising sauce is runny and sticky. This type of sticky consistency ensures that lots of that umami goodness is stuck on the surface of the pig skin and sticks to your lips which is why I can only describe this as lipsmackingly good! 4.5/5
Conclusion
The braised duck here is very good but its the pig skin that is the star of the show! Well worth the trip!