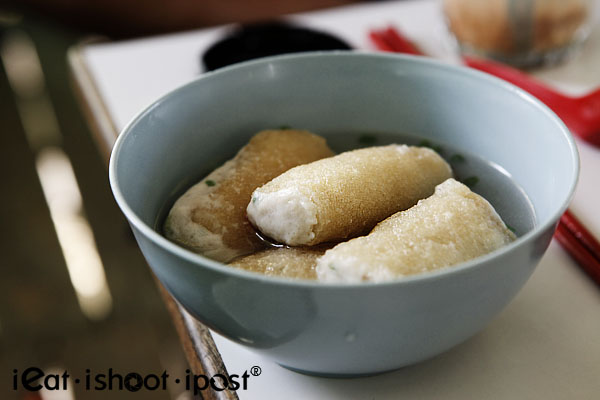 Fish paste in Pig Skin Roll
Our eating adventure on the seafood paradise of Sandakan got off to a great start when our guide, Johnny, brought us to Sim Sim for breakfast. Sim Sim is a settlement which consist of housing that has been built over the sea. The reason for doing this is because there is then no need for a sewerage system as everything just gets washed out to sea. Housing like these can still be seen in Malaysia and in contrast to Singapore where having a house by the sea is the ultimate luxury, in Sandakan, they are considered cheap housing.


I get very excited by these type of rustic places. It is something that is so foreign to Singapore, yet so familiar, because somehow, you can believe that such places can and might have at one time existed in the Singapore of the past. Afterall, we are not so much different from Sandakan in terms of our culture and our peoples. So as I walk along the corridors, seeing the swirling dust particles lit by sunlight streaming through the glass louvres coupled with the familiar smell of joss sticks and the feel of wooden planks under my feet, I was naturally transported me back to my childhood days when as kids, we would often visit our grandfather's shophouse in the small fishing village of Pekan in Pahang. The shophouse is still there, very much the way Ah Gong left it, and together with it, a tangible piece of my personal history. Such a connection with the past is an luxury in fast changing Singapore.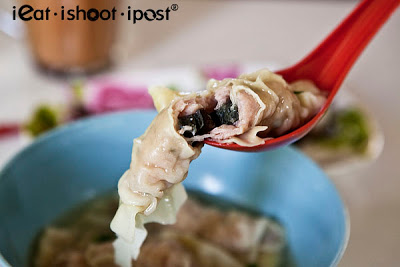 It is very hard to categorize this particular restaurant. If I had to pick one, I would say it is closest to being a Yong Tau Foo restaurant. The signature dish is this Pei Dan Giao (century egg dumpling) which is your Sui Gao with the addition of Century Eggs. This is very nice and I think that it is something that our hawkers here can replicate easily.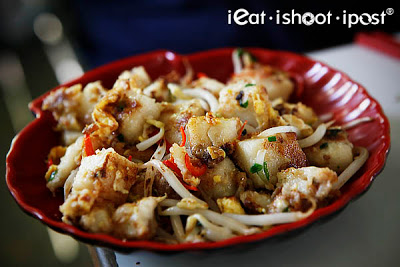 Chai Tau Kway
Most of the dishes here are similar to what we have in Singapore except for slight twists here and there. In anthropological terms, this demonstrates a common origin of the food and subsequently a common ancestry between the people of Singapore and Sandakan. In other words, we did not invent the dishes, we simply transformed it to our own Singapore style.
The Chai Tau Kuay here is a good example of this. The carrot cake which is made from rice is the common denominator. However, in Sandakan, in addition to the Chye Poh (preserved radishes) they also add chopped Hae Bee (dried prawns) and tau gay (bean sprouts). The chopped Hae Bee adds the extra umami kick to the dish since it is high in natural occuring glutamates which is released when protein is broken down. Needless to say, the Chai Tau Kway is a dish you should slowly savour, save for the fact that if you do that, all your friends would have finished the dish before you can take the next bite!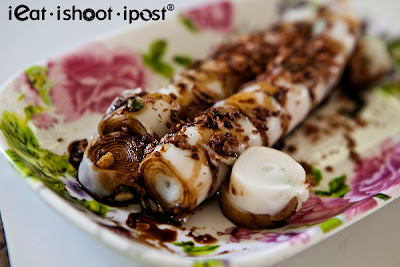 The chee cheong fun here is also a little different from Singapore. It is thinner and not so easily torn as the ones we are used to. So as you can see, they are able to roll it really tight. The thick black sauce is favoured by our Malaysian cousins and indeed, you will see it again in another dish which we had for lunch.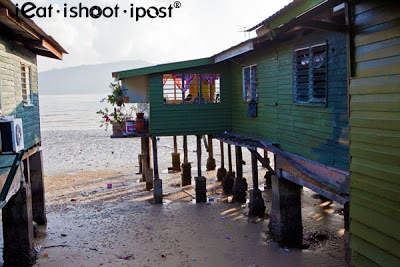 Breakfast at Sim Sim Pier 8
This is the first time I have had the chance of eating in one of these housing estates that have been built over the sea. I am not sure if Singapore had such housing at some stage. I saw the same type of housing when I was in Penang last year. In order to get to the restaurant, we had the opportunity to walk past people's houses and saw just how the locals conduct their day to day activities. Sights like chickens being kept in coops hung outside windows as well as salted fish being dried just adds to the whole mystique of the dining experience.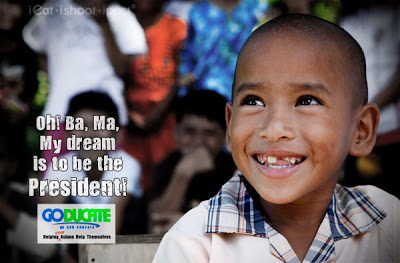 As you know, Goducate is our adopted charity this year. So we will be doing a few things to try to raise money and awareness to the plight of stateless children living in Sandakan. Several of our kakis have already expressed an interest in making a trip to Sandakan this year and we are looking at organizing a trip maybe in the middle of the year. If you would like to be involved, do drop me an email at [email protected].