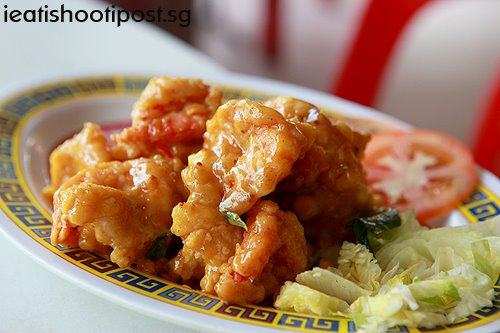 Fragrant Prawns. Price starts from $12
Remember the feisty lady from Siang Hee who has a passion for creating new dishes? Well, she has been at it again and when I went back to eat at her stall, she was enthusiatically telling me about her latest endeavours. I really like this lady because she is so passionate about her food and loves to experiment with new flavours. I think we like birds of a feather, blog together.

Anyway, I just like to tell you about this new dish which she calls fragrant prawns (美味虾). I don't think you can get a flavour like this in any Cze Char restaurant or even at home. It's a bit spicy, a bit sweet, a bit savoury and when you taste it, I guarantee it would make you think of something that you had eaten before when you were a kid. It took me a while to figure it out, but I realised that it tasted like curry chicken flavoured Twistees! Oh yes, you can imagine how addictive these prawns can be! 4.5/5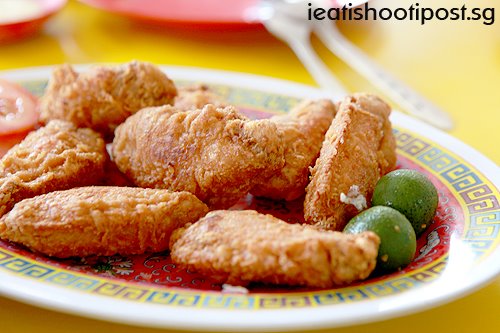 Har Cheong Gai: Price starts from $8
Ah Yoke has also been improving on her Har Cheong Gai recipe. I am so encouraged to see that there are some hawkers who are continually trying to improve on their recipes. Far too often, most hawkers just keep doing what they do even if their business is not great. But not this hawker, it seems that she is always thinking of new ways of improving her dishes everyday.
For her new Har Cheong Gai recipe, she changed her Prawn Paste to a brand from Hong Kong. She also tells me that in order to get the flavour deep into the bit between the two bones, she marinates the wings over two days. Lastly, she uses seven different flours to make the batter so that it comes out thin yet super crispy.
Her Har Cheong Gai is very enjoyable and you can order a plate and just sit in front of the TV and finish it all. Crisp on the outside, juicy on the inside with that slightly sticky juice oozing all over and of course the taste of prawn paste that is evident but not overpowering. If only all chicken wings could taste like this! 4.5/5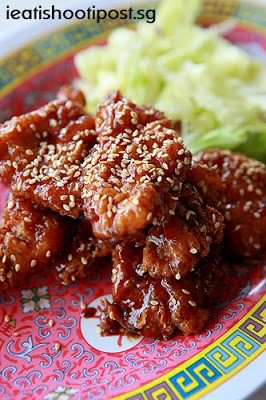 Luo Han Guo Pork Ribs: Prices start at $8
Cactuskit visited Ah Yoke a few months back and suggested to her the idea of Luo Han Guo Pork Ribs and so she started experimenting with this new flavour. I quite like it but can't really taste the Luo Han Guo. Since it is my first time tasting this dish, I can only say that it is good and definitely worth eating. But I can't say if it is the best Luo Han Guo pork ribs around. I suspect that it should have more of that Luo Han Guo taste though. 4/5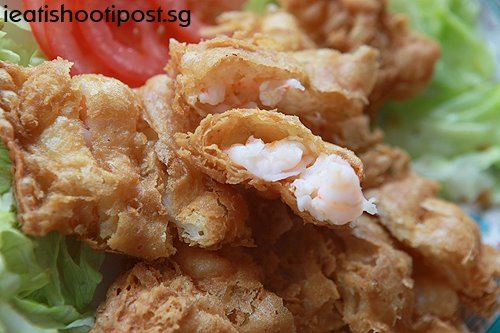 Crispy Prawn Rolls: Price from $8
Now if you think the menu is beginning to look like the Cze Char version of Old Chang Kee, I don't blame you. Ah Yoke seems to excel in the deep frying department and so all her new dishes seem to be deep fried. I guess a lady who can use seven different flours for her Har Cheong Gai must really be a deep fry expert.
But this last dish was a bit too jialak for me. The Crispy Prawn roll is prawns wrapped in bean curd skin and fried with a light and puffy batter. It was really crispy but for me it was one fry too many. It would have been nice if it was the only deep fried dish. But nice nonetheless. 3.75/5Conclusion
Ah Yoke tells me that she has created at least 10 different new dishes over the last few months. Judging from the few that I have eaten, I would say that this is one of the most innovative Cze Char places around. So if you are looking for new Cze Char dishes to eat, this is the place to go!
Ieatishootipost readers note:
When you visit the stall, just mention that you are a blog reader and she will take care of you.*
*It is important to mention to stall owners that you actually come to their stalls because of the blog because after the first few customers, they will begin to realise just how many readers we have and start to treat us all a little special. It really makes it much easier to then approach the stall owner to organize a makan session. So everyone please play your part ok?



Update: 9 March 2012
WEF 15 March 2012, the stall will be operating from Serangoon Garden Food Centre, Stall 20, 49A Serangoon Garden Way 555945