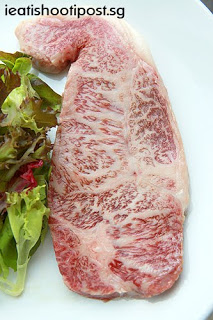 You all have probably seen Aston's writeup on the newspapers last Monday. He is known as the guy who offers premium steaks for a really good price. Well now I have news for steak lovers!
Astons is now selling A5 grade Japanese Kagoshima Wagyu beef steak. I ate this in Tokyo and my steak was $195 for a 270g steak. For me it was something I had been looking forward to eating all my life. In the Japanese grading system A5 is the top grade which means the beef is very very marbled.

Well, now Astons tells me he is selling this top grade Japanese steak. His normal price is $128.80 for 200g. But just for ieatishootipost members, he is selling it on that day for $100 flat.
A $100 lunch is certainly not for everyone. But if, like me, you have always wanted to eat this holy grail of beef steaks, then this is probably the cheapest deal you are going to get.
Venue: Astons Prime Centrepoint 3rd floor
Date: 13 Aug (Thurs)
Time: 1300 hrs
No. available reserved seats: 40
Seats available for walk-ins: 20
To register please write to
ieatishootipost@gmail.com
Subject: Astons
First Line: Name, Nick, HP, No. of pax.
For this makan session, everyone will pay their own bill at the end of the session.
If you register and confirm a place, please make sure you come. There is a growing list of people who have sign up and not turn up without apology. They are now at the bottom of the priority list. Sorry, for not being nice about it. But I have to speak up for the nice people amongst us.
If you would like to be the first to know of any makan sessions, please join the facebook group.