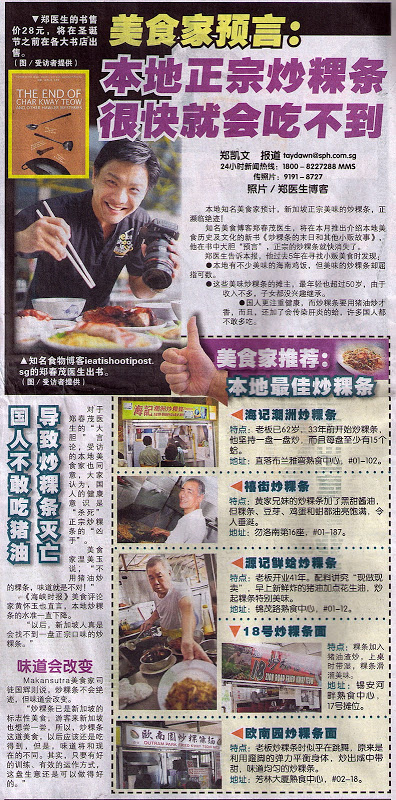 Shin Min Daily, Saturday 11 Dec, Pg 2
Many thanks to Sy for the translation!
A popular local foodie predicts that the authentic, tasty Singaporean Char Kway Teow is going to be extinct!
Popular food blogger Dr. Leslie Tay is going to release his book, "The End of Char Kway Teow", which introduces the local hawker food history and culture. He "predicts" boldly in the book that the authentic Char Kway Teow is disappearing soon.
As Dr Tay tells Shin Min, over the 5 years that he has been searching for hawker food, he realised that:
– There are many stalls selling delicious Hainanese Chicken Rice, but those that sell delicious Char Kway Teow are comparably lesser.
– The youngest stall owners of these delicious Char Kway Teow are over 50 years old, and due to the low pay, their children are not interested in inheriting the business.
– More Singaporeans are focused on health now, and since Char Kway Teow requires lard to be tasty, and furthermore, with the addition of cockles that might spread Hep A, many locals do not dare to eat it more often.
With regards to Dr. Tay's "bold" declaration, other local food gourmands agree and believe that the Singaporean's notion of health is the "killer" that "killed" the authentic Char Kway Teow.
Gourmand Violet Oon said, "The taste isn't right for Char Kway Teow that doesn't uses lard to fry!"
ST food critic Wong Ah Yoke also claims that the standard of the local Char Kway Teow is dropping.
He said, "In the future, Singaporeans will not be able to find a plate of Char Kway Teow that tastes authentic."
On the other hand, Makansutra gourmand Seetoh said that Char Kway Teow will not be extinct, but its taste will change.
He says, "Char Kway Teow is already a symbolic dish of Singapore. Tourists coming to Singapore would want a taste of it, so Char Kway Teow would still be available in the future, but the taste would be different from now. However, with good training and efficient mode of operation, this business can still be carried out well."
The five stalls that I picked as the most well known Char Kway Teow in Singapore were:
1. Hai Kee
2. Hill Street
3. Guan Kee
4. No. 18 Zion Road
5. Outram Park
Note: These are not necessarily my top picks, but they are the most well known.