Review by Joao, Photos by ieat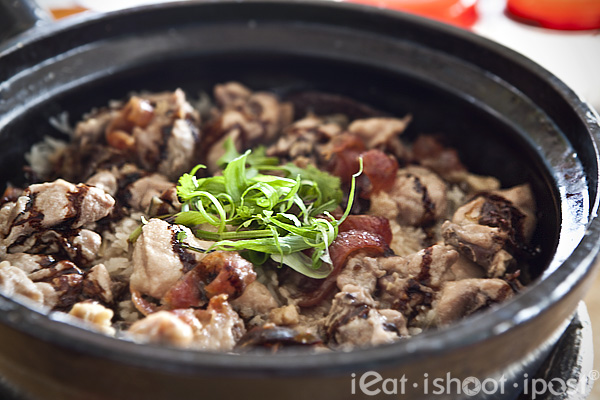 Sausage, Salted Fish and Chicken Claypot Rice ($6/$11/$16.50/$22)
Before we begin, I want to caveat that I do not harbor some clandestine Hakka cuisine revival agenda. Hot on the heels of my last post on Mei Zhen Hakka Delicacies comes yet another post about Hakka food. Completely coincidental, as you will soon see.
Some time ago we had an interesting and educational lunch at this shop on the corner of Lavender Street and Serangoon Road. Tong Chiang Claypot Restaurant's main draw is their titular claypot rice. I had tried the Claypot rice at Tong Chiang before on the recommendation of some friends, but I wanted to see how it compared to Le Chasseur's brilliant Claypot Rice, so I rallied some of the kakis and we paid Tong Chiang a visit while the memory of Le Chasseur's version was still fresh on everyone's minds.
Straightaway we noticed that Tong Chiang's claypot rice did all the right things. For instance, we inquired and found that there would be a minimum 15 minute wait — a sign that the claypot rice was cooked on the spot on top of charcoal fires. Secondly it contained all the requisite ingredients for good claypot rice — fragrant waxed sausage (both kinds!), salted fish to tease the palate (could have used a bit more though), and very well marinated pieces of chicken. The chicken was especially good. However the rice was a bit lacking in that charred flavour that I like. I had to really dig around and scrape the bottom of the claypot to get some mouthfuls of rice that had that nice smokey flavor. So how do the two compare? Well, Tong Chiang's claypot rice is good, maybe worth a 4/5, but Le Chasseur's smokey charred basmati rice blows it out of the water. Still there's no shame in losing out to our current gold standard. This claypot rice is still worth your time.
As we tucked into the claypot rice, we noted something peculiar about the restaurant's signboards and menu — the menu resembled your typical cze char menu with its dishes categorised neatly into the usual cze char food groups (e.g. Vegetables, Pork, Chicken, Seafood, Toufu) but there seemed to be a significant number of dishes that were either named "Hakka something-or-other" or dishes that we recognised as standards of Hakka cuisine. Our curiosity piqued, we ordered some of these Hakka dishes to try. While we were waiting for our food to arrive, we noticed a wizened old chinese man having bak kut teh and rice at the table next to ours. From the deference that the shop's employees paid him, we were able to conclude that he was the boss. What luck! The shop's owner was there at the same time that we were! We quickly introduced ourselves and he gave us a primer about the restaurant and the dishes we ordered.
Turns out Tong Chiang Claypot Restaurant has been in business for 15 years. They used to be at Racecourse Road, but recently they took over this coffeeshop on Lavender Street. Also, the owner is born-and-bred Hakka. As he waxed lyrical about the dishes that were — in his words — "100% authentic Hakka" I got the sense that this was a man who was passionate about his culinary heritage.
But hang on a second. Claypot rice isn't Hakka! Once he paused for breath we tactfully put this to him, and he sharply rebuffed us (and here I'm going to rephrase in English), "Of course it's not! But which restaurant do you know that serves exclusively Cantonese cuisine? Or exclusively Hokkien cuisine? There's no such thing!" He went on to explain that most establishments run by the Chinese diaspora in South East Asia borrow bits and pieces from other dialect groups and thus the cuisine evolves. That made sense. Similarly claypot rice isn't exclusive to any one dialect group, but Tong Chiang Claypot Restaurant has adopted it as their mainstay, and — he told us with a gleam in his eye — as bait. When customers order the claypot rice, they also feel compelled to order dishes from the cze char menu, and that's when the Hakka dishes get their chance to take centre stage. Clever!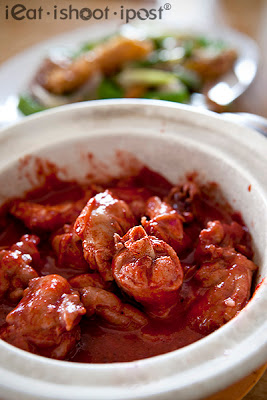 酒糟鸡 Chicken with Rice Wine ($8/$14)
If you look at the Tong Chiang menu, you'll notice that some dishes have a red dot next to them — that denotes that the dish is of Hakka origin. If you didn't know this you might think those dots indicated chef recommendations (which, in hindsight, they probably are) which would subtly make you more likely to order them. Take for example the Hakka Yong Tau Fu. Large pieces of soft tofu topped with a delicious pork and fish meat mixture and served in a claypot of tasty gravy. This blog is already well-acquainted with the concept of Hakka Yong Tau Fu, so we can vouch for the standard of this dish. 4.25/5


The standout dish of the day would have to have been the酒糟鸡 (Chicken with Rice Wine) — tender pieces of chicken covered in a thick red gravy with a sweet-sour slightly-fermented flavour grows on you with every mouthful. This dish can be described in one word — "addictive." We gave the gaffer our hearty approval for the dish, and he proceeded to tell us the laborious process that went into making the tasty tasty gravy. As most people would already know, the distinctive red colour of this dish comes from the addition of red yeast, but the dish's unique texture and flavor comes from the addition of a secret ingredient that the owner shared with us. Turns out that the owners (Hakka) family makes their own traditional glutinous rice wine. (It's apparently legal if you make less than 3 litres and don't sell it.) This special glutinous rice wine is used in cooking many traditional Hakka dishes, but in the case of this particular dish, the dregs from fermenting the glutinous rice are ground up and added to the red gravy to give it its distinctive thickness and slightly wine-y flavour. This is a dish that's probably impossible for most of us to make at home, and is a must try. 4.5/5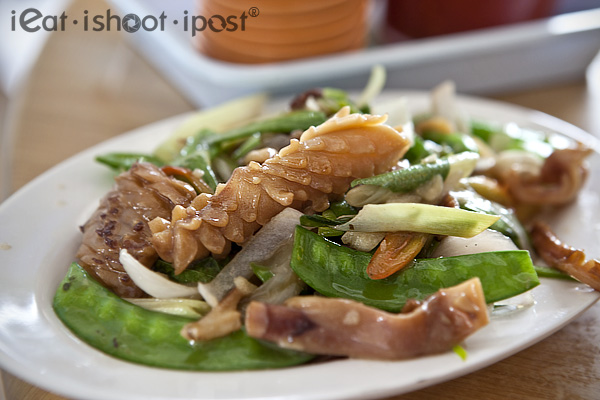 客家小炒 Fried Hakka Vegetables ($7/$10)
It wasn't all hits and no misses, however. We ordered the 客家小炒 (Fried Hakka Vegetables) even though we'd never heard of it. The boss vouched for it's authenticity though, and since none of us were Hakka we weren't about to doubt him at his word. It's a vegetable dish comprised of stir-fried cuttlefish, snowpeas, celery, scallions and leek. The aroma of alliums combined with the snowpeas to give this dish a fresh grassy flavour. Unfortunately the cuttlefish seemed a little out of place, and didn't do anything for me. This was tasty enough, but forgettable in comparison to the other dishes we tried.
3.5/5
Conclusion
So there you have it. A hunt for claypot rice turned into an unexpected lesson on Hakka cuisine and serendipitous discovery of a veritable treasure trove of authentic Hakka dishes. We went away from lunch feeling both satisfied and slightly enlightened. I honestly can't wait to go back and try the other dishes with the red dots.