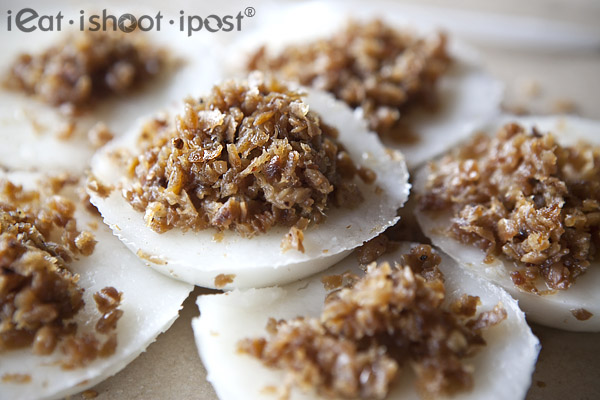 You like chye poh (preserved radish)? I absolutely love it. It is one of the most addictive of foods! Give me an omelette topped with chye poh and a bowl of hot steaming porridge and you got yourself a very happy Teochew Ah Hia.
Ever wonder why chye poh is so addictive? Well, as with most addictive foods like potato chips, parmesan cheese and salted eggs, radish is one of the richest source of natural occurring glutamates alongside fruits such as tomatoes and gherkins. Glutamates excite the umami receptors on your tongue to give you that savoury sensation, which is why MSG (Monosodium Glutamate) makes everything taste so good.
But you can't just eat preserved radishes to satisfy your hunger, so the Teochews created the Chwee Kueh as an excuse to eat chye poh. Oh yes, as I think about it, the chye poh is the star of the dish whilest the chwee kueh itself is just the excuse for eating chye poh. I can eat chye poh on eggs, chye poh on kueh, chye poh in carrot cake, heck even chye poh on rice. Chye poh might be cheap, but good chye poh can give you as much umami rush as an aged Parmigiano Regianno.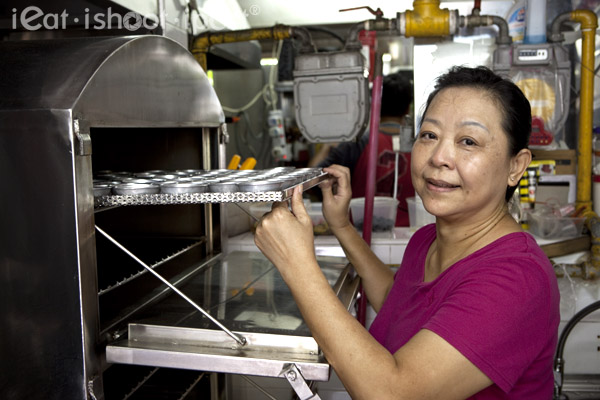 Aunty demonstrating how the kueh are steamed in a modern steamer
Now Chwee Kueh is possibly the most simple of Hawker foods at least from the point of view of the number of ingredients involved. It is also the kind of hawker dish that is easy to commercialize since both the rice cakes and the chye poh can be made in the factory so that the hawker only needs to reheat it and serve it. So I am always willing to check out any hawker who still bothers to make their own rice cakes, like this Aunty at Sembawang Hills Food Centre.
She tells me that she finds that the chwee kuehs outside used too much water which made the kuehs translucent and too soft. She makes hers so that there is much more bite and substance to the cakes. I still can't decide if I actually like texture of the cakes as I found them a bit more pastey than the ones I am used to. But her Chye Poh is really good! Its not too salty, not too sweet and she augments the savoury flavour with dried shrimps. Best of all she drains them well so there is hardly any oil, so you can afford to indulge a bit. 4.25/5
Conclusion
Man I am salivating thinking of the Aunty's chye poh now! Still can't decide if I like the texture of the cake, so maybe you all can let me know how you feel about it? This is not the first time I have come across the homemade ones with similar texture. Perhaps I am just too used to eating the watered down ones?