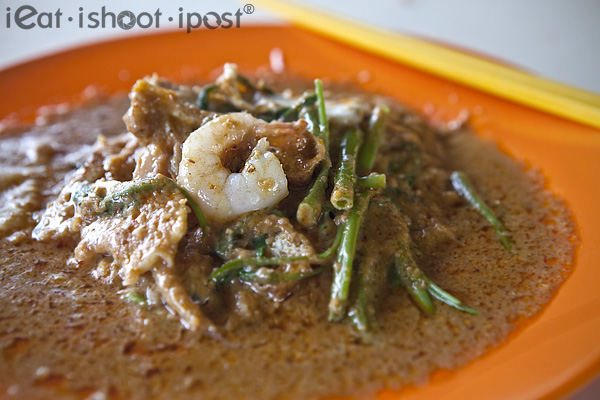 Peanuts.
I think peanuts are very underrated. If you think of it, peanuts are actually very tasty. But I think it is so common and so cheap that people overlook it for the more sexy Cashew nuts or Hazelnut. But I am sure I am not the only one who enjoys eating peanuts, especially the Japanese version where it is coated with flour, deep fried and laced with nori. Dried groundnuts must be one of those really addictive things that I NEVER think about eating these days unless I am at a funeral. I don't know why. We used to eat them all the time but I guess nowadays I overlook them for more sexy stuff. Or how about steamed groundnuts? They used the be the best things to nibble on on a cool rainy evening. Peanuts are yummy and I daresay, more yummy than Brazil nuts, Almonds, Walnuts and can even give Macadamia nuts a run for the money. The only other nut I prefer over peanuts are Cashew nuts.
When it comes to cooking, we South East Asians do use a lot of peanuts. They add that wonderful savoury flavour to Chinese Rojak, Som Tam (Thai Papaya Salad), Gado Gado and of couse Satay sauce. Which brings us to Satay Bee Hoon where the peanut sauce takes centestage.
Satay Bee Hoon is a Teochew dish and it is not hard to imagine how it came about. Obviously some Teochew man liked the peanut gravy that the Malays served with Satay so much that he wanted to eat more of the gravy and added it to Bee Hoon. At least, this is the story from the stallholder, but I haven't managed to get any more details. So if there are any Satay Bee Hoon experts around, do enlighten us!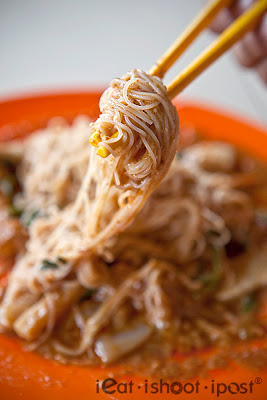 There are not many Satay Bee Hoon stalls around and I suspect that it might not be popular amongst the younger generation of Singaporeans. My mother absolutely loves it and would join the snaking queue at East Coast Lagoon whenever she is in town (She lives in Sydney). I have always wondered why there aren't any Satay stalls that sell Satay Bee Hoon at the same time. The peanut gravy might be slightly different (Satay gravy is thicker), but it shouldn't be too much of a problem to modify the recipe a little.
This stall is a branch of the very well known Satay Bee Hoon Stall at Ang Mo Kio Centre which many of our readers have told me about. The gravy is well balance in terms of taste but heavier towards the earthy, licorice tones of coriander seeds in flavour. The big difference between the Satay Bee Hoon gravy and the Satay gravy served in Malay Satay stalls is the inclusion of Chinese Five Spice in the mix which gives it a distinctive Chinese flavour which is so subtle that you might not consciously recognize it. 4.25/5
Conclusion
So are you a fan of Satay Bee Hoon? Would you be Gen X, Gen Y or Baby Boomer?