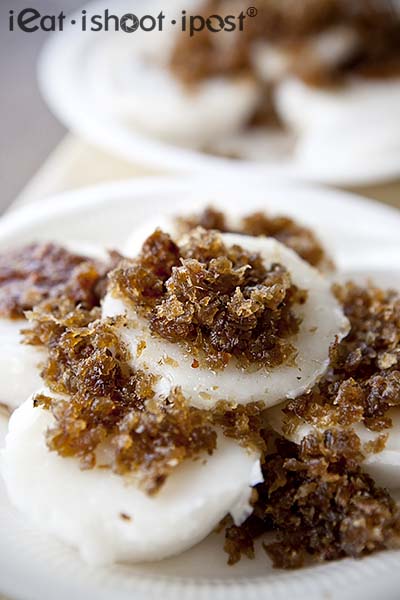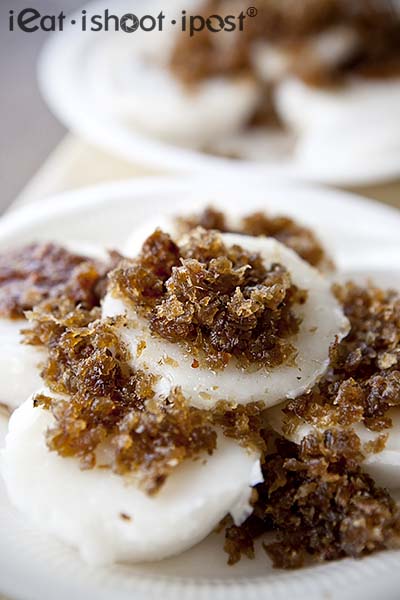 I never thought I would ever get to eat Chwee Kueh which is freshly milled from broken rice! When I blogged about Ghim Moh Chwee Kueh in my last post, I thought I was already quite fortunate to be able to find an Uncle who still made Chwee Kueh himself rather than buying them from the factory. So when Uncle Smart alerted me to this particular Chwee Kueh stall in Macpherson, we had to summon the ieat brigade to go check it out.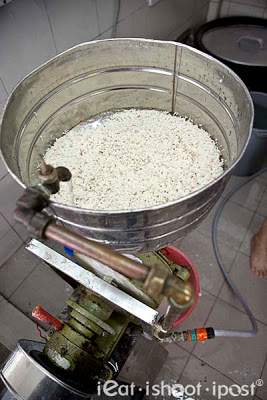 Yes, it is true. Chwee Kueh is made from rice. I guess this is something the younger generation of Singaporeans (myself included) may not have realised because we don't see hawkers making stuff like Chwee Kueh, Noodles or Kway Teow nowadays. All these processes are now largely done in factories. However, I do hope that one day we may see boutique stalls making fresh Kway Teow or Egg Noodles. I mean, we are seeing more bakeries baking artisan breads, surely it is not that far fetched to imagine that we can have shops making Kway Teow for sale right?
Anyway, we are talking about Chwee Kueh, so let's get back to the subject. The process is really quite straightforward when you have the machinery to mill the rice. Water is added to broken rice, fed into a machine and out comes the milky solution which is then passed through the machine a second time. Hot water is then added to the solution to thicken it and then it is poured into molds to be steamed.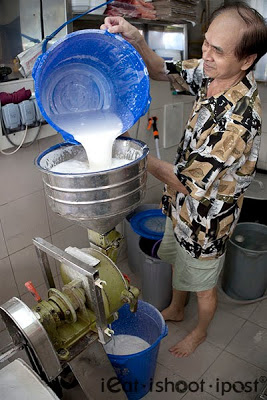 So you can imagine how the Chwee Kueh tastes like right? Yep, it tastes like rice but with smooth but pastey firm texture. This Uncle tells me that he used to work in a factory that produces Chwee Kueh in the past before coming out to make Chwee Kueh on his own. His Chwee Kueh is made purely from milled rice whereas the ones he used to make at the factories had Tapioca flour in the recipe.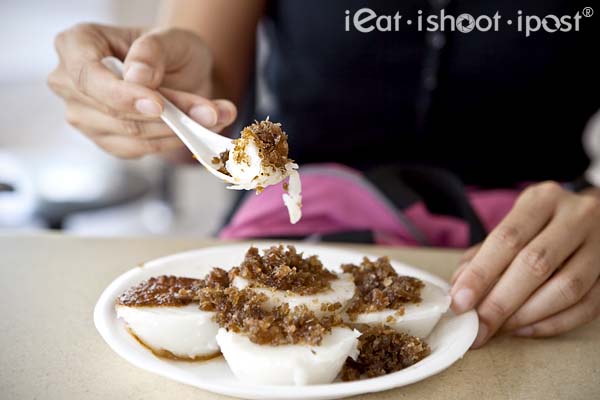 Chwee Kueh 5 for $1
I really enjoyed this Chwee Kueh. The Chye Poh topping is a little different. It is less oily and the Chye Poh has a very dry and chewy texture and reminded me of some Japanese Daikon pickles that I had eaten recently at Inagiku. Some of the other kakis complained that the topping was a little dry, but for me I would think of it as less oily.
4.5/5
Conclusion
Chwee Kueh made from freshly milled rice at five for a dollar! What more can I say? Except perhaps that I actually quite like the chye poh topping here too but opinions on the chye poh might differ.