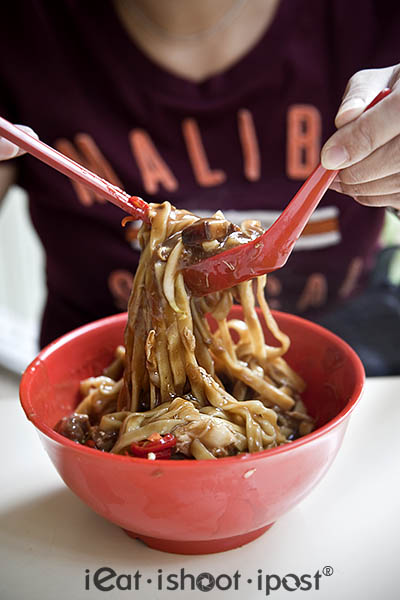 There are few Lor Mee stalls that have such a long legacy as Yuan Chun Famous Lor Mee and this blog would not be complete without the mention of this very famous Lor Mee as its own signboard quite proudly declares.
I had tried to blog this place three times before, but they have been closed everytime. This time I was in luck. While I was lining up for my bowl of Lor Mee, I met a man who had been eating the Lor Mee there for over forty years. He was only knee high when he first started and this is the only Lor Mee stall that he ever eats at. He has been eating here since the stall was still along Boon Tat street before moving to its present location at Amoy St Food Centre in 1984. He remembered that as a student, he used to buy the cheapest bowl of Lor Mee for just 20 cents. Those were the days when you could just buy Lor Mee without the ingredients, ie just the noodles bathed in Lor. The cheapest bowl nowadays is still, amazingly only $2, but it does come with a bit of ingredients.
Lor Mee (with extra ingredients) $4 (prices start at $2)
The Lor Mee here is quite unique. Unlike a lot of other places where the Lor is sort of transparent and gluey, the Lor here is thick but not as sticky. I think they might have used something other than Tapioca flour to thicken the Lor. It is still very heavy when you start eating your bowl of Lor Mee, just like any other Lor Mee. People with weak chopstick skills might struggle a little to pull the thick and flat Hokkien noodles up to mix with the sauce. The sauce itself is very flavourful and the combination of the sauce with the belly pork and the fried prawn cakes is excellent. I just found the "Kee" smell of the noodles a little to overpowering and would have liked more sauce with the noodles. 4.25/5
Conclusion
I am sure this stall has many many fans who swear by it and others who don't think much of their style of Lor Mee. Which would you be?