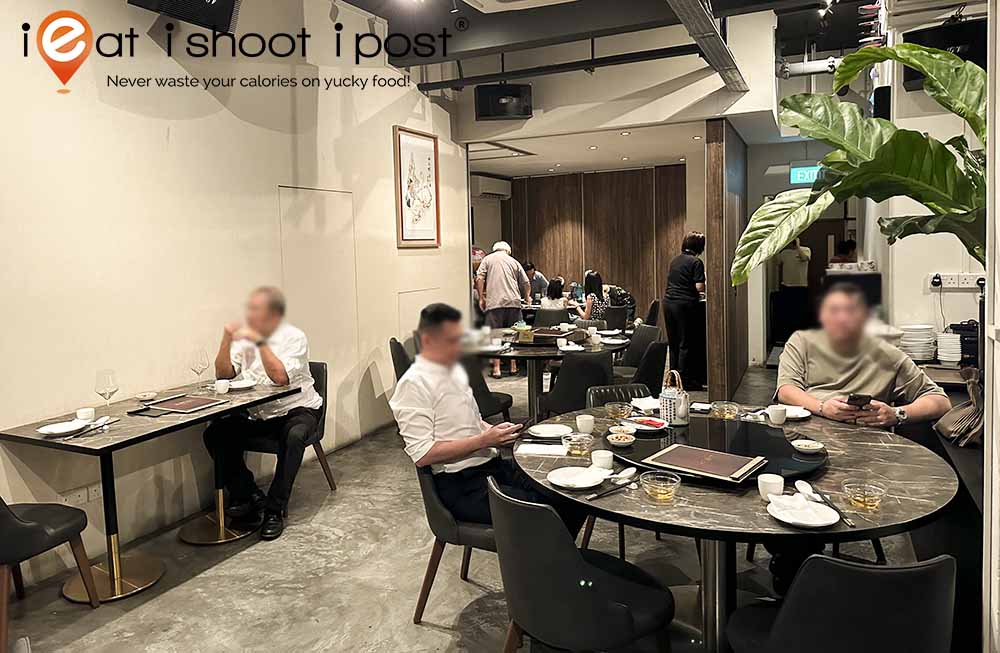 It isn't "Private Dining"
Nowadays, it is quite common to hear about "Private Dining" places with an incredibly long waiting list. It's not hard to understand why. Usually, there is only one table, one host, and one booking per day so once word gets around, the waiting list can quite easily stretch to a few months or even years in a short time. And because it is so hard to get a table, these places soon develop an aura of mystique about them!
So, when my friend told me they managed to get a table at San Shu Gong Private Dining which at the time had a 3-month waiting list, it didn't take me too long to accept the invite. To add to the intrigue, there was a strict requirement that we start the meal at 6 pm and end promptly at 8 pm to make way for the next group of patrons!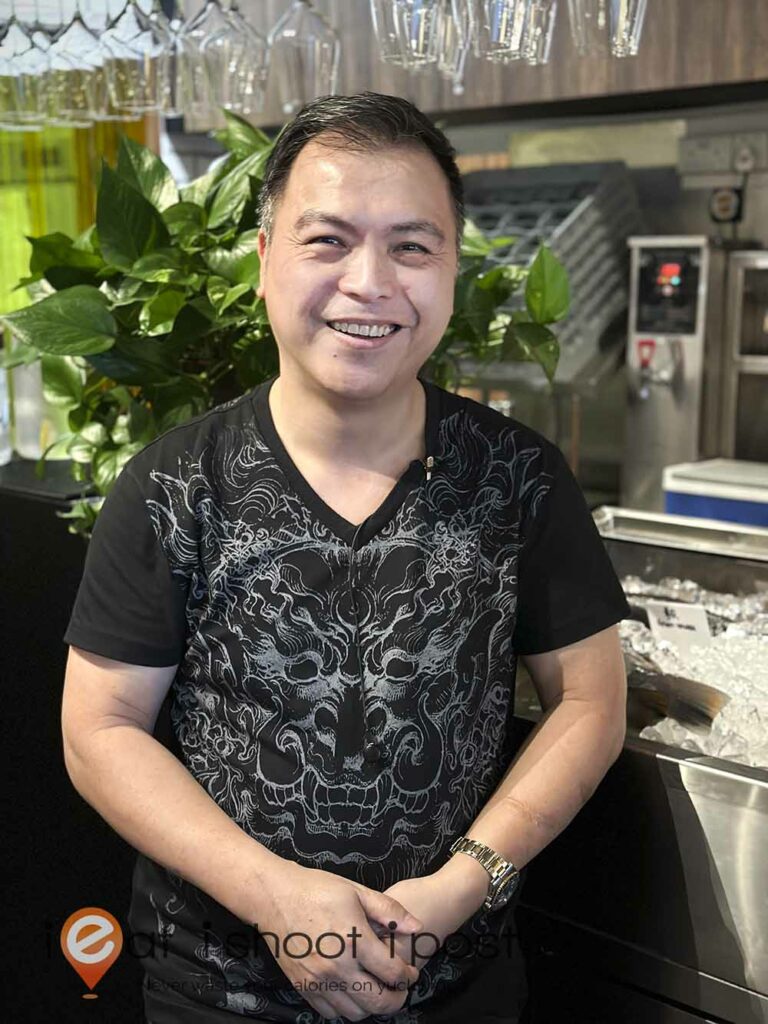 San Shu Gong is the brainchild of Chef Roy who had worked as a Cantonese Chef for 15 years in various hotels including St Regis. He took a break from Chefdom to help in the family business but during the Covid period, decided to open San Shu Gong as a Private Dining concept. He had long felt that Teochew Cusine in Singapore was still lagging behind Cantonese Cuisine and he wanted to bring it to the next level but using better quality produce as well as authentic ingredients brought over from Chaoshan.
Let me just say from the outset that even though the initial plan was to operate it as a "private dining" concept, it is now operating as a normal restaurant. So, "private dining" is only a misleading relic of the past. When you get to the restaurant, you order from a menu like any other restaurant. Although, regulars would order ahead for special dishes.
In A Nutshell
Overall, we had a very good meal there. There are a few dishes which are quite outstanding but the restaurant isn't immune from dishes which are best left unordered. Prices are on the higher side but there is a focus on the quality of ingredients and they do import special ingredients like a 10-year-old chye poh which is worth trying. The time constraint also makes for a meal that felt a little rushed as they will ask you to vacate the table to make way for the next patrons.
Let's have a look at some of their offerings
Review of Dishes
Must Try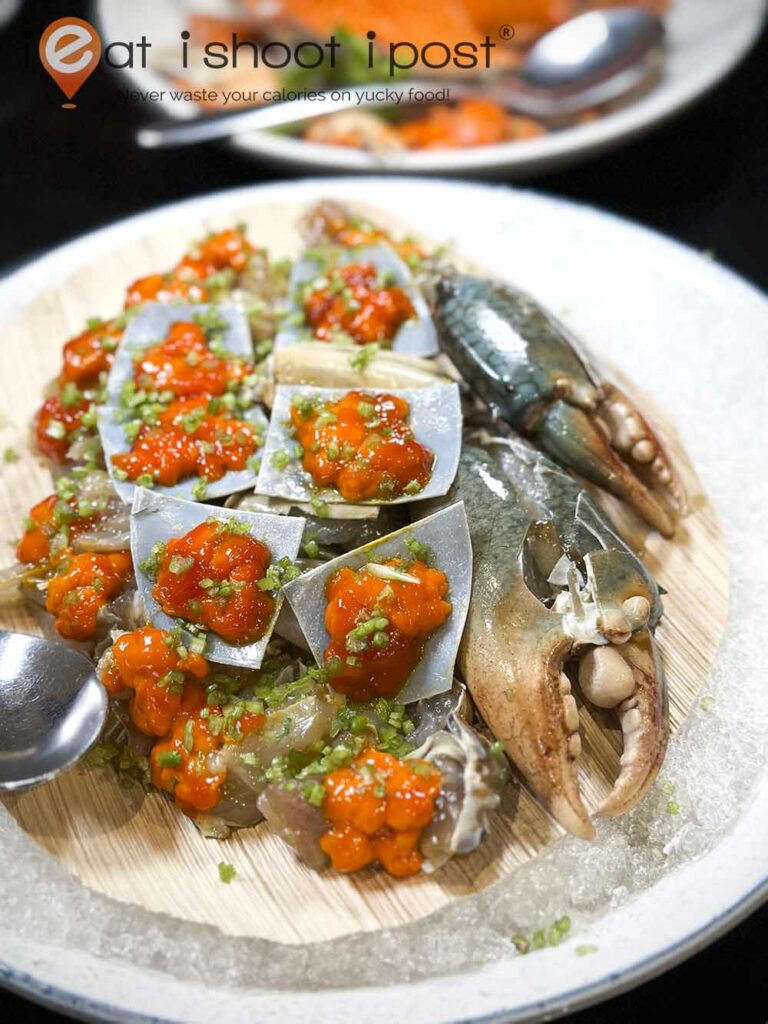 The "kiam hoi" ie raw crab pickled in soy sauce is, without a doubt, the one dish which has captured everyone's imagination. In recent years, this Teochew dish has been experiencing a renaissance and we have seen other Teochew restaurants also serving this dish.
To make the dish, live crabs are placed into a pot of pickling soy sauce and left overnight to cure. The next day the crabs are eaten raw. What sets San Shu Gong's version apart is their way of presenting the crab. The carapace is cut into spoon-sized trapezoids where the roe is placed. You eat it as you would an oyster. 4.25/5
The resurgence of this dish which looked as if it almost disappeared 17 years ago, can be attributed to our acceptance of eating raw seafood when the sushi craze swept across the world. Suddenly, the thought of eating raw crabs isn't as irksome as it was before!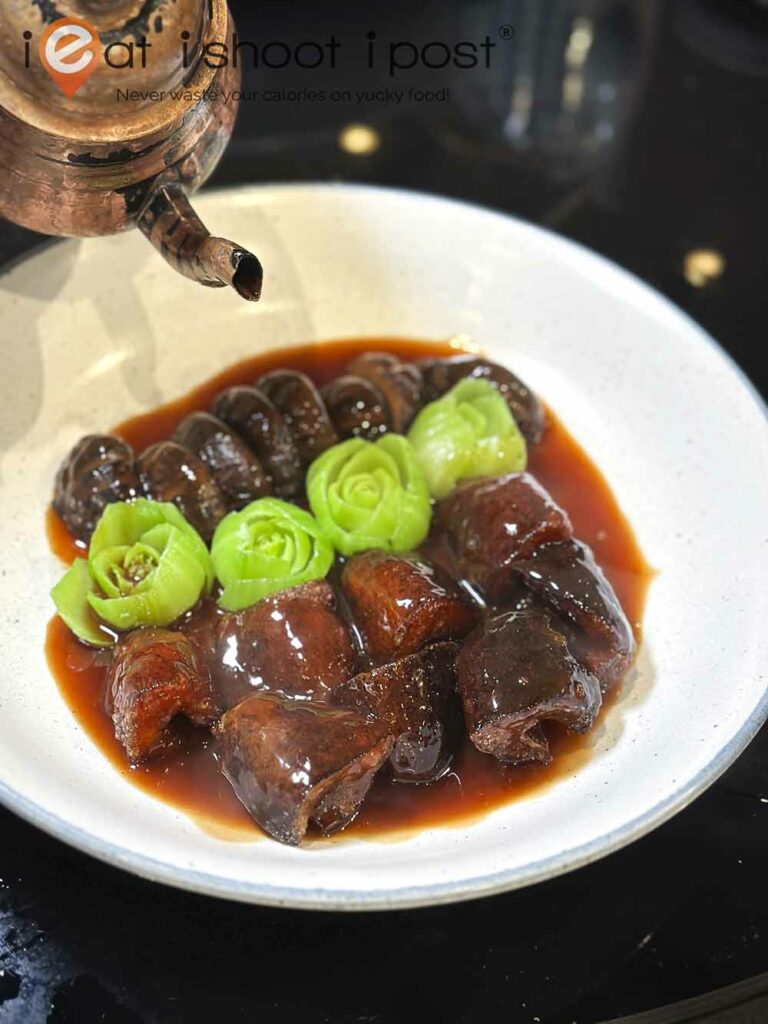 Another dish of note is the deep-fried sea cucumber. The sea cucumbers are first braised till soft and then deep-fried before serving. Sea cucumbers weren't something we would look out for usually, but this dish changed our minds. This one is definitely worth ordering! 4.5/5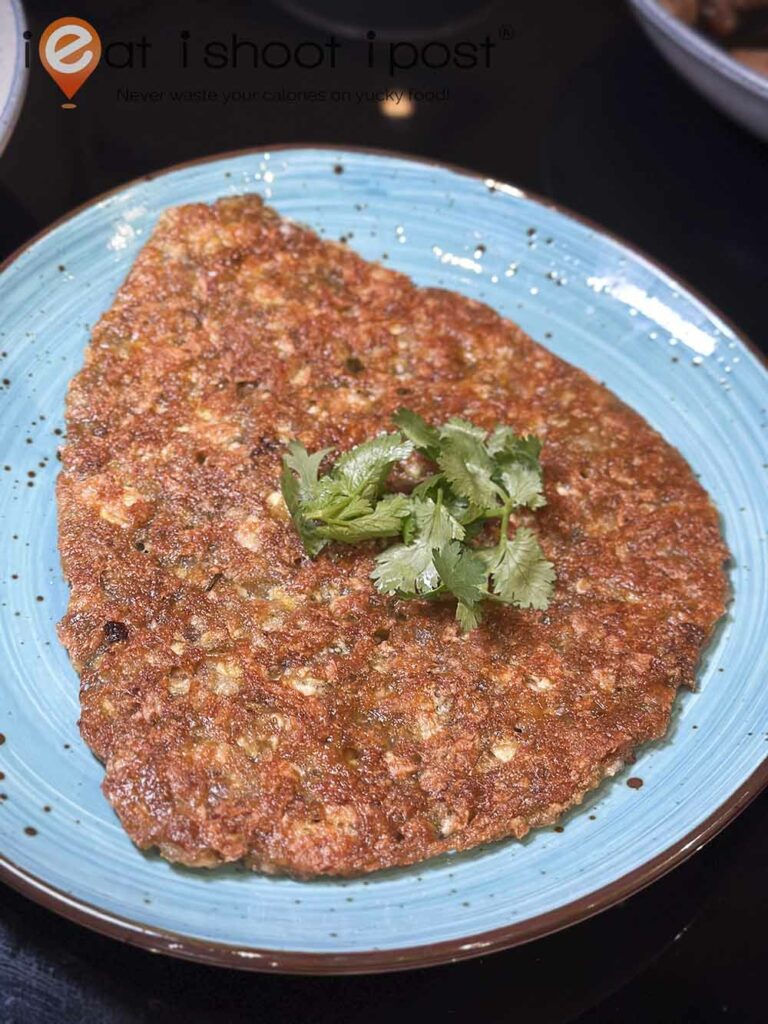 I enjoyed the crispy oyster omelette here. They managed to fry the omelette so that it is thin and crispy. The oyster's flavour comes through nicely in the omelette even though they are so well incorporated in the omelette that you don't actually pick them out. Well worth ordering! 4.5/5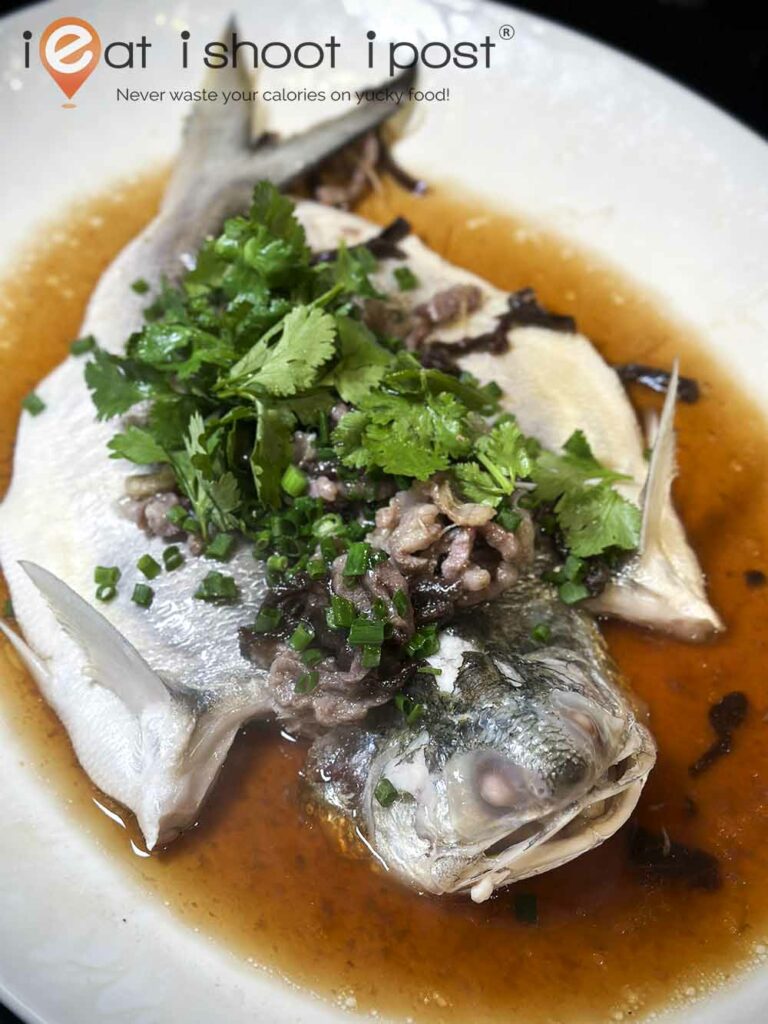 They offer different fishes cooked in different styles. That the fish is fresh is a given for any self respecting Teochew Restaurant. What I was really impressed with was the 10-year-aged chye poh and pork topping on the fish! It certainly gave it an uncommon umami1 boost! 4.25/5
Can Try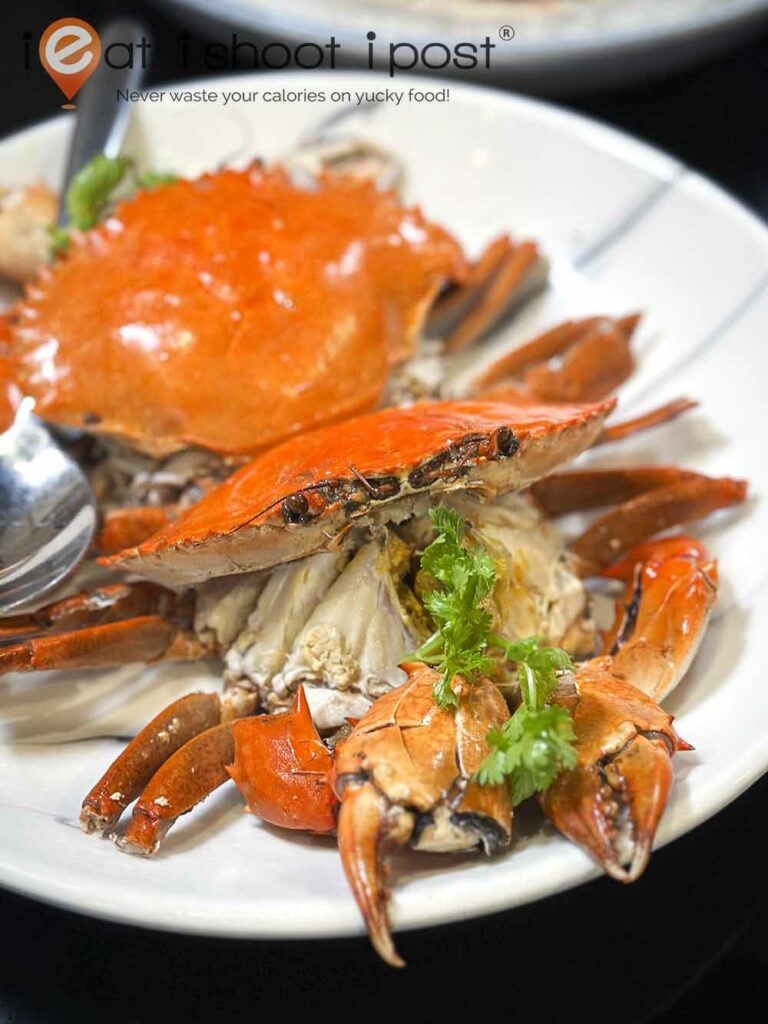 The cold crabs are very good, but they are easily found at other Teochew restaurants! If you were to choose between this and their raw version, then I'd say go for the raw version for its novelty. 4.25/5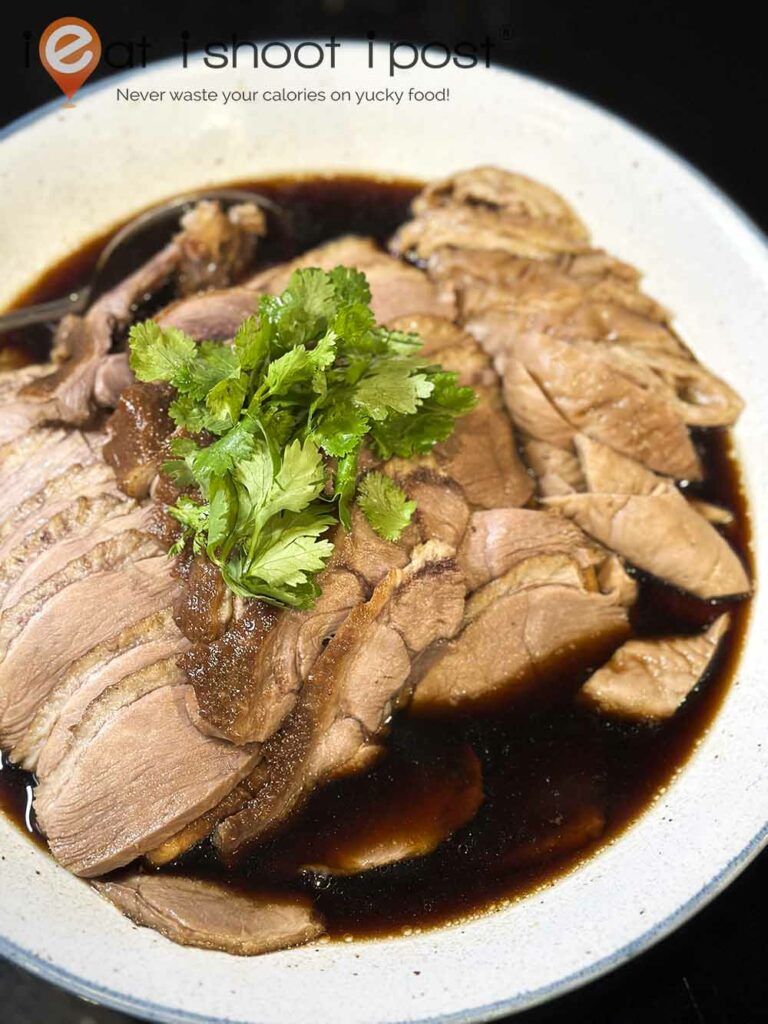 They are one of the few Teochew restaurants which offer braised goose here. Fresh geese are still not available in Singapore, so they are using Hungarian frozen geese. The larger bird makes for a lovely presentation as you get substantial slices of breast meat. The braising sauce is the Teochew style, watery type. It is good, but it's not like there is a huge difference between this and duck. 4/5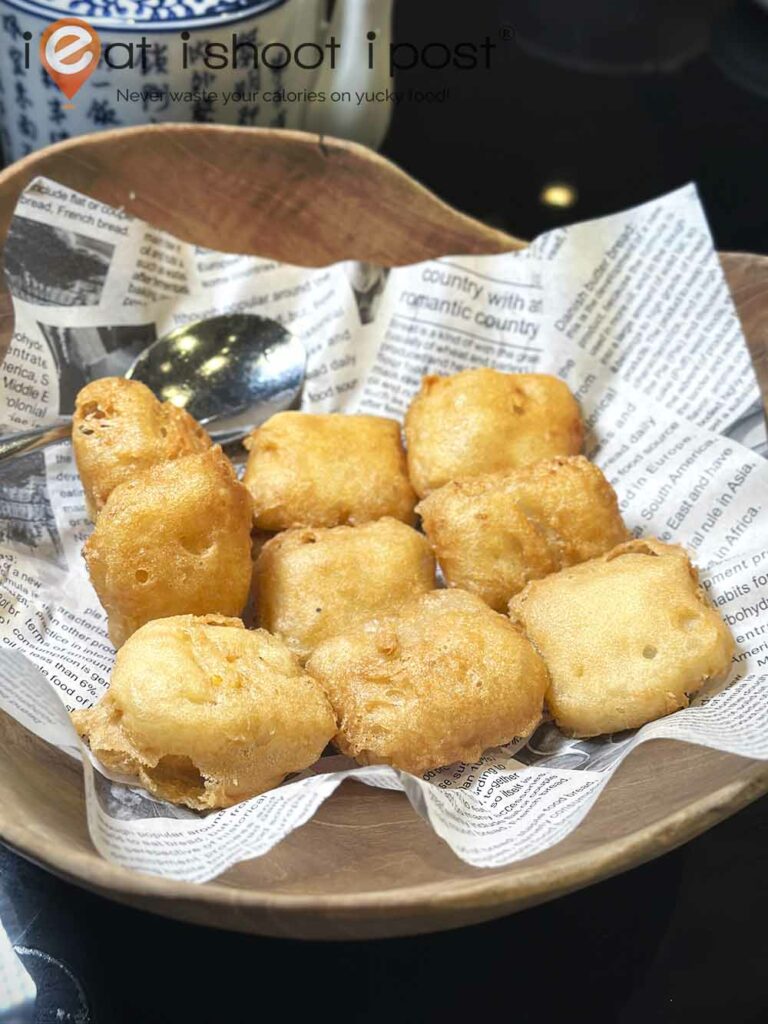 Of the desserts, the best was the water chestnut cake. They were nice and crisp on the outside and the chestnut cake was very nice. It wasn't something you go out of the way to eat, but it was nice. 4/5
Try If You Must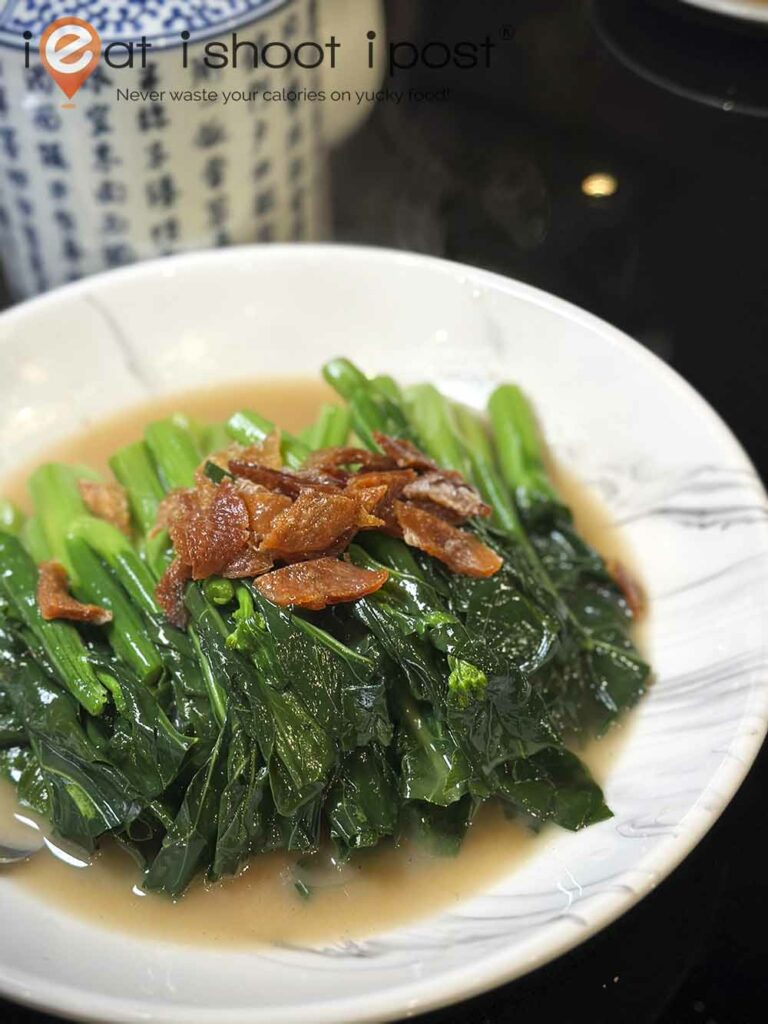 It is commendable that they specially import their sole fish from Chaoshan and use it as a topping for their fried kailan. According to Roy, they had to import it because they couldn't get the quality they were looking for in Singapore. I must admit that I had trouble tasting the difference and $36 for a plate of kailan seems a little expensive.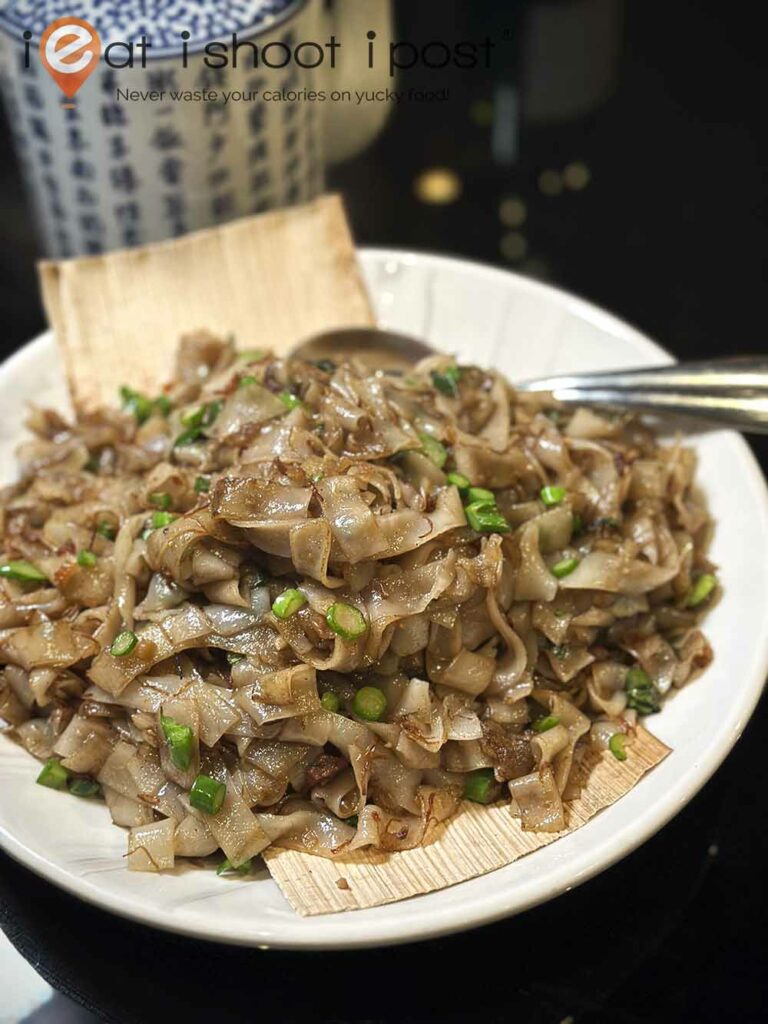 We were really looking forward to the Cai Pu Kway Teow. When the plate hit the table, the wok hei aroma was thick and alluring. You could smell it even when the waitress was bringing it to the table. What I didn't appreciate was the addition of XO sauce to the kway teow. In theory, it should have made it better, but the spiciness actually detracted it from the cai poh and kway teow. 3.5/5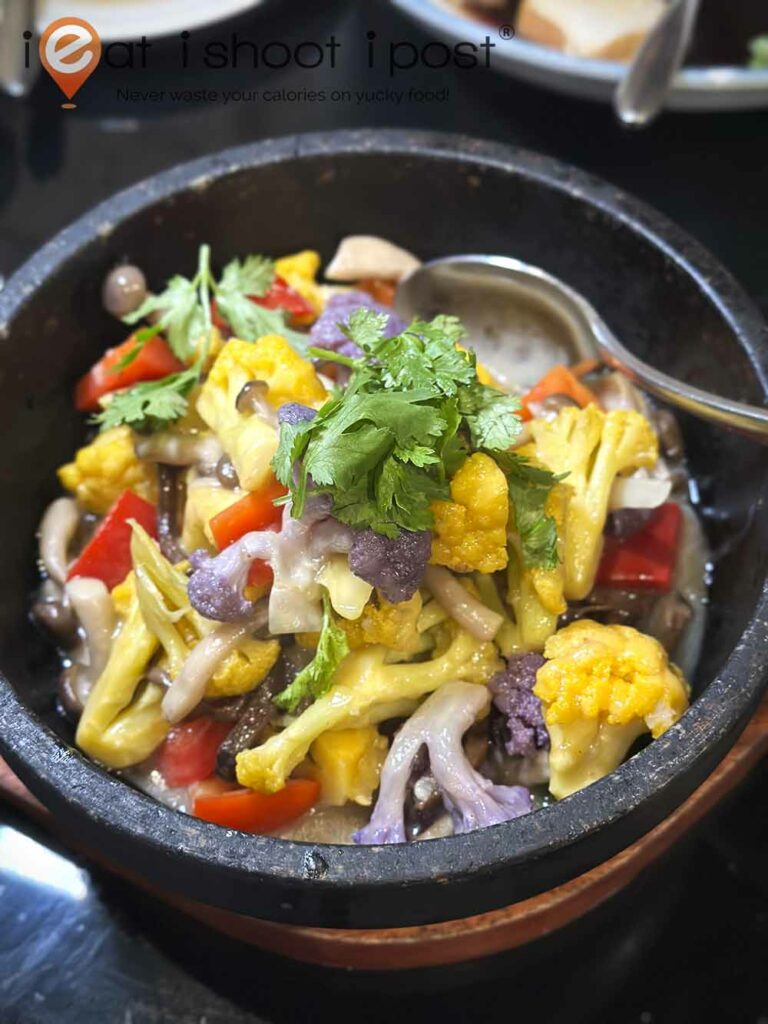 Chef Roy likes to explore using new ingredients and we were recommended their stir-fried purple and yellow cauliflower. They also added some wild mushrooms which were foraged from Yunnan. It is ok, but not something I'd need to order again. 3.5/5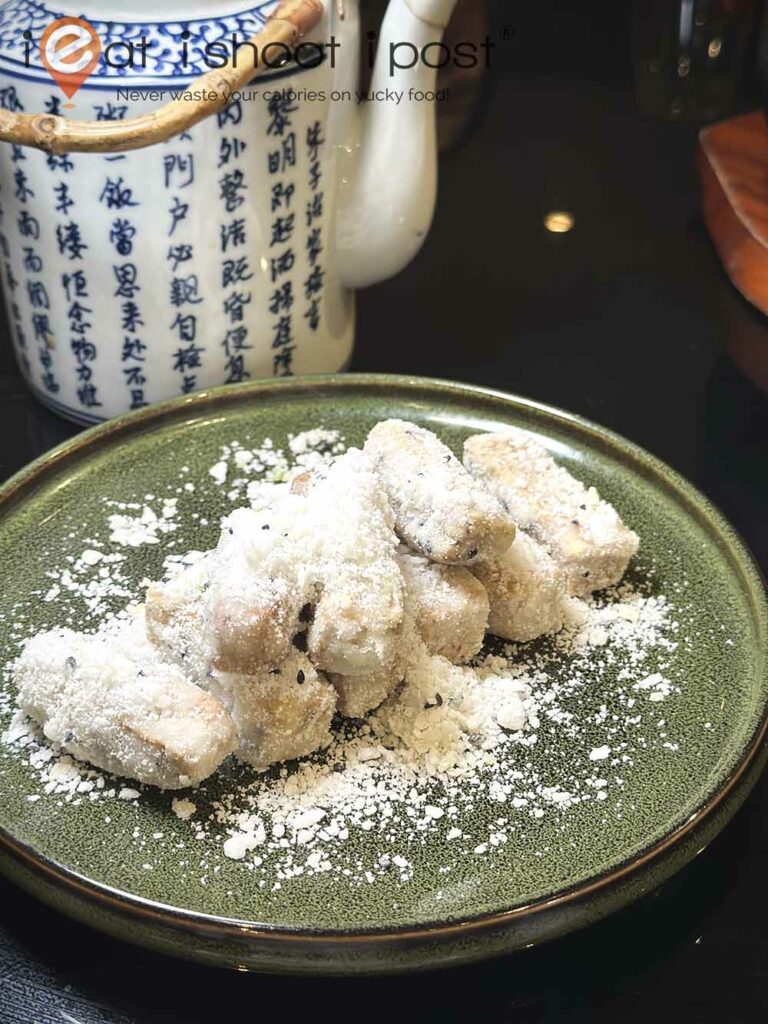 I was disappointed with the yam stick. I have tasted much better elsewhere. I think it just felt a bit too dry and the sugar was one-dimensional. 3.5/5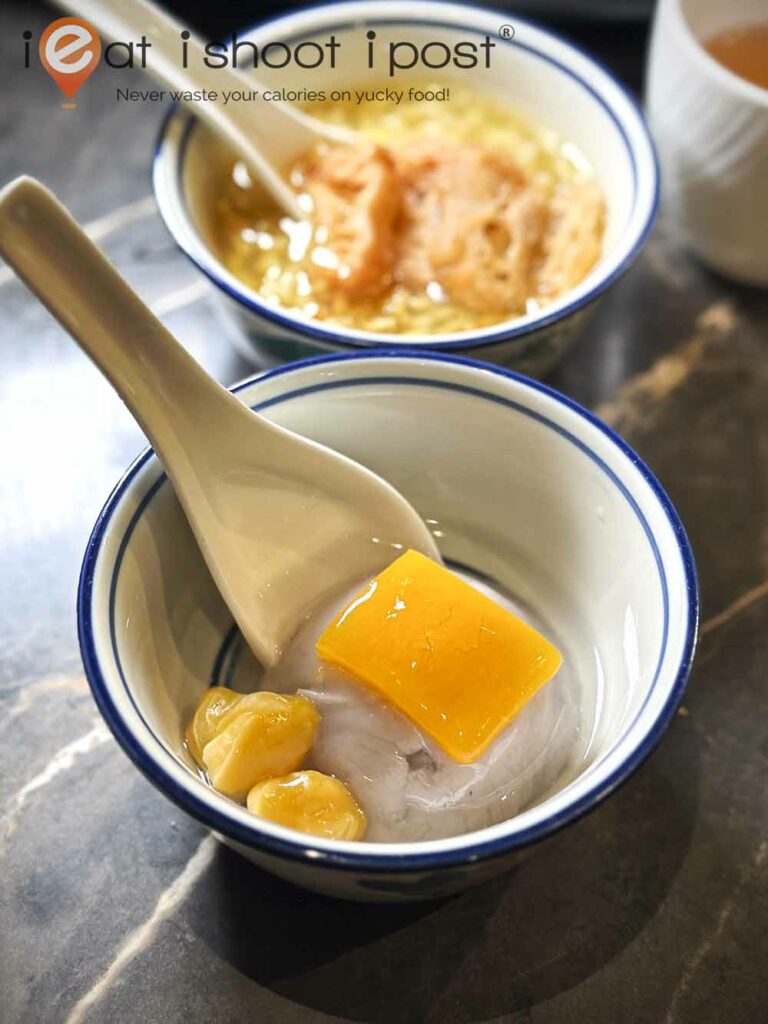 Both tau Suan and yam paste were very average, unfortunately. It is quite an anticlimax afte the impressive dishes at the start of the meal. 3.5/5
Conclusion
I was only disappointed because of the hype surrounding San Shu Gong. There were some really outstanding dishes and I like that they specially source some ingredients directly from Chaosan. The prices are a little higher than the normal Teochew restaurant. Whether it is justified will depend on the individual. The other thing that bothers me is the strict dining times which makes for a rushed meal. I guess you don't have a choice, considering the 3-month waiting list. Time will tell if enough customers are willing to fork out premium prices only to be told to vacate the table when time is up.