With SCS Butter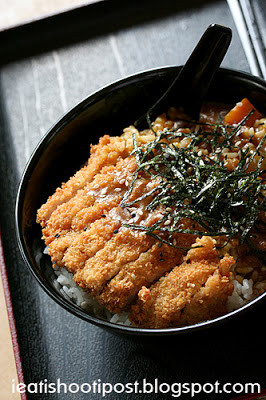 What's the big difference between Hainanese Pork Chop Curry Rice and Japanese Tonkatsu Curry Rice? Well, one costs $4 at a hawker centre and the other costs $12 at a restaurant.
Ok, there are of course differences in the taste of the curry, the seasoning of the pork and the type of rice used, but essentially they use similar raw ingredients. The point I am driving at is that there is no real reason why one should pay $12 to enjoy the Japanese version of this particular dish. Which is why I was so pleased to find this stall in the LTN coffeeshop in Siglap which sells Tonkatsu Curry Rice for $4.50.
Of course, we were skeptical at first. You really don't want to end up with something that tastes like the Hainanese version but disguised to look like a Japanese with a few whiskers of shredded seaweed.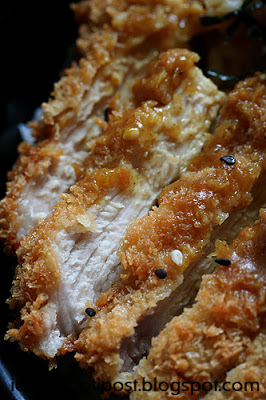 The rice was not the top quality Japanese short grain rice, but it was acceptable. The Tonkatsu was surprisingly good. Well seasoned and crisp on the outside and not too thin that it is dry. The curry might have come out of a premix but it certainly tastes quite good. Overall, I was quite happy to come back here for my Tonkatsu fix for $4.50 and I wouldn't mind trying the other stuff on offer too! 4/5
Conclusion
Cheap and Good. There are an increasing number of hawkers selling Japanese food nowadays, any really good ones that you would recommend? In particular, is there any place that sells a good gyu don (Beef Bowl?).
Update: June 2008
One reader commented that this place has closed.