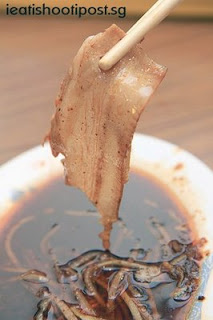 Registration is now CLOSED!
Thanks for the enthusiastic support. You can still write in to be placed on the waiting list.

Venue: Hand in Hand Beijing Restaurant
141-143 Jalan Besar
Date: 26 September 2009
Time: 7.30pm
Cost: $25
Menu:

Three platter cold dish – (Minced garlic with boiled pork, shredded chicken with ma la liang pi, cold braised shredded pig ears with cucumber and spicy sauce)

Sweet and sour garoupa

Shredded Pork with Beijing sauce accompanied with pancakes

Beijing Crispy Chicken

Broccoli, egg white with scallop and fish meat

Fried dried french beans with spicy sauce

Xiao Long Bao

Guo Tie

Fried homemade noodles with seafood

Home specialty yam in syrup

Red bean pancakes
To read the review, click here.
To register, please write to: [email protected]
Subject: Beijing
First line: Name, Nick, Hp , number of pax
Please don't say anything else in the first line unless you absolutely need to. This will help us immensly with collating the numbers. Thanks!
See you there!