OK, I am going to let you in on a little secret. For the past few months, I have been enjoying this particular pasta dish which I can only describe as Super Shiok. It is the only pasta dish which I have ever eaten again and again. So much so that I have to say that it probably is my favourite pasta dish ever.

This dish is only referred to as Seafood Pasta and is not on Cugini's menu. They made it for me because I had returned for their Sea Urchin pasta last year only to find out that the Sea Urchin is only available for a very short time every year. You might wonder why, since you can get Uni (Japanese for Sea Urchin) all year round in any Japanese restaurant. Well, this Sea Urchin isn't just any Sea Urchin. This is a very special Sea Urchin that is harvested by Chef Mauro's brother who still lives in Sardinia. He would harvest the Sea Urchin and then wash it in the Mediterranean Seawater before chilling it and Fedexing it to Singapore. I am eagerly waiting for the Sea Urchin to become available again but in the meantime, I am just enjoying the Seafood Pasta.
If you enjoy Lobster Bisque, then you are going to like this dish. Mauro uses what ever fresh seafood is available and infuses it with a toasted crustacean and tomato flavour with I love. The homemade sphaghetti is, as always, perfect to the bite. I used to like only cream based pasta and would never touch a seafood pasta. Now I have seen the light. 4.75/5
This dish is not on the menu as they only do it specially for their friends. But Gerri and Mauro are willing to call all our blog readers their friends, so just mention you are from the blog and they will make this dish for you. Once you get to know them, they would be more than happy to customise the dishes to suit your tastebuds.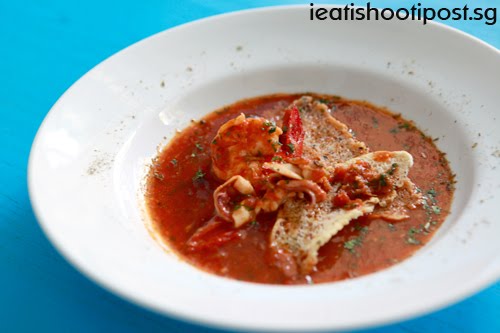 Cugini has just shifted to their new premises in Club Street. I like this new place much better than the old place. The restaurant is located in a Peranakan shophouse and they have designed it to have a bright summer decor. It is much more homely and casual now compared to when they were in Robertson Quay. Gerri and Mauro have also heeded the feedback from our readers as well as their customers and revamped the menu so that the portions are now bigger and the prices lower. So now most of the pastas range from $14.80 to $22.90. Given that these two guys actually import most of their stuff from Italy, I feel this is good value.
Anyway, if you like the seafood pasta then you will also like the seafood soup which also has that wonderful toasted crustacean taste. I think the base for the soup is the same but it is just a little more tangy and salty. Most locals have commented that the soup is too salty but I liken it to eating a slice of really good Parmesan cheese. The reason for the saltiness is the use of capers and they would be happy to cut down on the capers if requested. But this is how the dish is served in Italy so they would serve it as it unless you specify otherwise. 4.75/5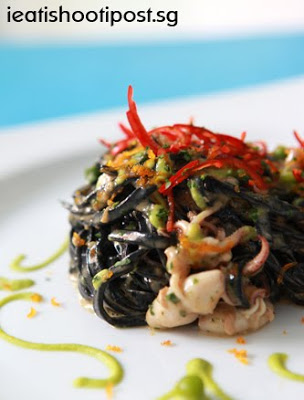 I did not mention the squid ink pasta in my previous post because even though it was good, I did not think it was exceptional. However, this time round, Mauro has further improved on the recipe and I must say that for the first time, I had a plate of squid ink pasta which I really enjoyed. This was Liverpool's favourite dish and throughout the meal he was deep in thought trying to figure out what ingredients went into making the sauce. 4.5/5
The guys were mum about what goes into the sauce except that it was "made from a lot of ingredients". Mauro says that he doesn't use any cream for any of his pasta sauces, so you are not going to get your usual mushroom cream sauce here. I have actually seen him cooking in the kitchen and he really does put in a pinch of this and a splash of that. Another thing that you will notice about the pasta is that they always use just the right amount of sauce so that you will only have enough left on the plate to clean up with a piece of bread. That really is how it should be.
Conclusion
This is currently my favourite place for pasta. Everytime I visit, I tell myself that I want to try other stuff but I end up always ordering the Seafood Pasta. I am eagerly waiting for Sea Urchin season to start in October! If you like to join me for the Sea Urchin Pasta, make sure you are registered on Twitter. There will be a "Silent Mobilization" for a small group when Sea Urchin season starts.
To read my last post, please click here.