With ieatFamily and skinnyfoodie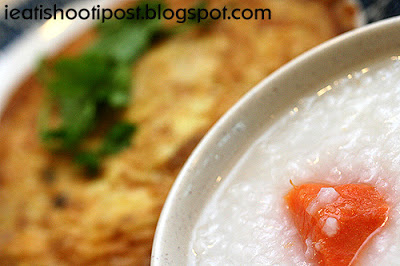 Do you know what is the difference between Taiwan Porridge and Teochew Porridge? No I don't mean the dishes, I mean the porridge itself. I just found out that aside from the addition of sweet potatoes, Taiwan porridge is cooked from Japanese Short Grain rice (Zhen Zhu Rice) whilst the Teochew version is made from jasmine rice. So real Taiwanese porridge is very much stickier than Teochew porridge. However, because Singaporeans are more used to the Teochew version, this stall makes its porridge from a mixture of short grain and jasmine rice.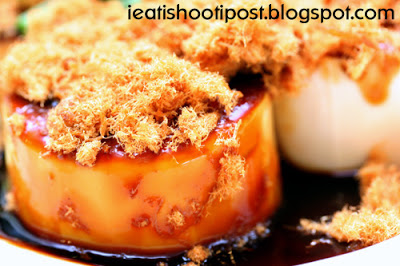 Whenever I eat Taiwan Porridge, I usually order the same stuff. I think most of us tend to be that way. Either because we are creatures of habit or we are Kiasu and not wanting to waste our calories on something that is not nice. So, the cold tofu is quite a standard dish for me.
I found this particular sauce a bit too salty and less sweet then others. I did not like it but ieatMrs and skinnyfoodie did. But since I am rating it, it gets 3/5 $4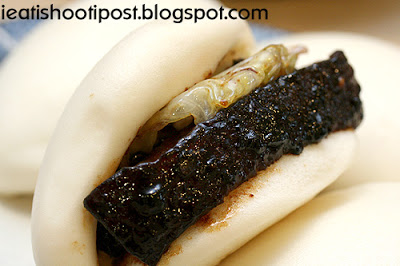 The Kong Bak Pau was good. The buns here are specially made to order and were really very big and fluffy. One of the best ones (the buns that is) I have tried. The Kong Bak was tasty and really tender. It was good but it lacked that OOmph factor to make it a die die must try. $12 for a set that makes 6. 4/5. Still, it is well worth trying if you are yearning for a good KBP in the area.
The chicken in wine sauce was ok. When you eat it, you know that the chicken was prefried and the sauce was added just prior to serving. It would have been better if the chicken was freshly fried. $6 3.5/5
A good Chye Poh ommelette should be really fluffy on the inside and crisp on the outside. To do that, you need skill, a really hot wok and hot oil. The one was good, but tasted like something you could make at home. 3/5
Conclusion
Some dishes were good, some not so, but all is not lost. This place is opened till 3am daily, it is air-conditioned and they don't charge GST and service charge. So it is still a great and comfortable place to get something nice to eat in and warm the tummy if you are working the late night shift!
7/10 (T2+V2+S2+E1)