With holydrummer and iwatch_ueat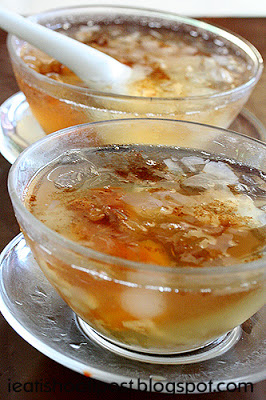 When it comes to Cheng Tng, I only know of one that really stands heads and shoulders above the rest. Yue Lai Xiang has been around since Bedok Corner Hawker Centre was still by the beach. Started by Grandma, the secret recipe has been handed down for 3 generations and it seems like no one else has been able to crack the secret.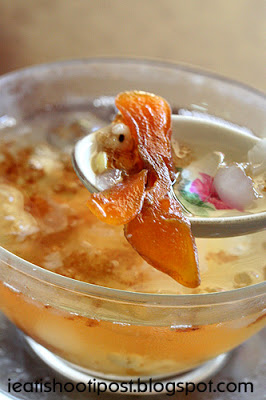 This Cheng Tng is really Cheng (Clear) and has got 11 different ingredients in it. The soup is constructed from soups from 2 different troughs. One has got dried longan, pandan leaves and rock sugar in it and the other trough contains a "secret ingredient" which Mr Lim prefers to keep secret. Whatever it was, the soup here tastes very Liang (Cooling) and though you can make out the sweetness of the rock sugar and the longan, there was just that extra something else that makes it very special. They have several rather special ingredients in the mix too that really stands out. One is the dried persimmon you can see in the picture above and the other is the dried winter melon strips. 4.5/5
Here is another hawker who is very proud of his craft. Mr Lim was sharing with me how he used to watch Grandma making the Cheng Tng and how he used to ask her why some bowls had more ingredients and others less. She simply replied that the fingers on her hand are also not all of equal lengths!
Conclusion
There are many Cheng Tngs around, but I don't know any that are like the one here. I just love fishing out the pieces of dried wintermelon and persimmon. The feeling is like finding that piece of chicken in your curry puff!