Advertorial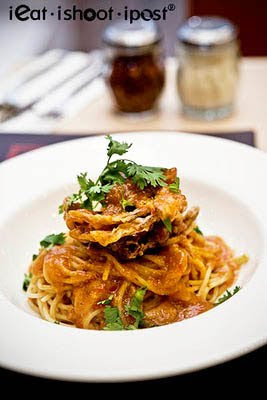 Pizza Hut's New Soft Shell Crabbiatta Pasta $12.90
There was a time when Pizza Hut was really Pizza "Hut". I don't know how many of you would remember this, but in the good old days, there was one particular Pizza Hut restaurant in Jurong that was in a standalone building with its own parking lot outside. In those days, having Pizza meant having Pizza at Pizza Hut. There weren't as much choices then and not many Aunties knew what a "Pissa" was.

Fast forward thirty years and now people are much more sophisticated. Back then, a meal at Pizza Hut meant ordering the Family Sized Super Supreme Pizza which was a pizza big enough to feed a family of five. Having pizza was a treat for a special occasion! I can still remember when Pizza Hut first introduced their Pan Pizza. It was an instant hit! For a family of three hungry boys, the Pan Pizza was great since it made sure that us boys would have our tummies filled!

Nowadays we are spoilt for choice when it comes to Pizzas. The typical Singaporean have grown out of Pan Pizza and are going for Wood Fired Italian Thin Crust Pizzas. But for the kids (or least my kids), the Pan Pizza is still the number one choice. They would pick a Pizza Hut Hawaiian Pan Pizza over a gourmet pizza any day! So here lies the problem that is faced by every parent when choosing a place to eat. Do you bring them to eat what they like, or bring them to eat what you like? For a foodie parent like myself, this is a major decision!
I haven't stepped into Pizza Hut for a while now and so I was quite pleasantly surprised to learn that Pizza Hut has been trying to keep up with the culinary trends in Singapore and have introduced new items to keep up with our evolving tastes.
No longer is Pizza Hut just about Super Supreme Pan Pizzas, now they are introducing a range of pastas to try to give parents like me an alternative when they bring their family to dine at Pizza Hut. This is an excellent strategy because sometimes it is hard to find family style restaurants which are conveniently located in Shopping Centres that serve stuff that kids clamour to eat.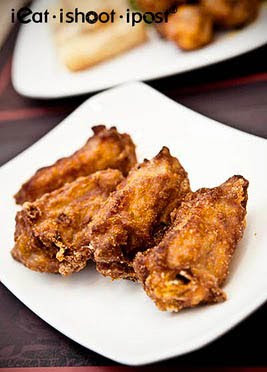 Chicken Riblets
So what is new at Pizza Hut? Well, before I get onto the new Pasta menu, I must tell you about their Chicken Riblets. Yes, you heard it right, I said Chicken Ribs. If you look at the photo, you might be thinking that they managed to find some King Kong sized Chicken to serve ribs that size.
No, that's not it.
Chicken Ribletss are actually the Halal version of Pork Ribs. What they did was to cut the thigh portion of the chicken into rectangular blocks which resemble pork ribs, marinade them in a tasty concoction and deep fry them. Now, it is funny that I should say this but Pizza Hut actually makes pretty nice fried chicken! I am sure you all are familiar with their Sweet 'n' Spicy Drumlets which are a favourite side dish of many people I know. These Chicken Riblets are really good too and best of all they don't come with a thick batter, so you get to eat mainly meat.
Their new range of Pasta dishes include their latest dish known as the Soft Shell Crabbiatta. The Soft Shell Crabbiatta is supposed to be their twist on the classic Arrabiata and features a deep fried soft shell crab with a sweet and spicy sauce which I am sure most people would associate with chilli crab even though the good people at Pizza Hut insists that it is NOT chilli crab. I thought it was a great idea. The sauce went very well with the soft shell crab but when taken just with the pasta it was a bit on the sweet side and it was not savoury enough. I think this is easily fixed by adding some crab flesh to the pasta together with a sprinkling of parmesan cheese.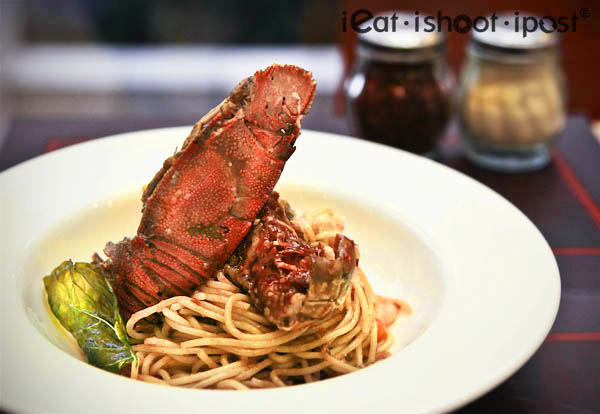 Crayfish Pasta $12.90
The Basil Crayfish pasta was a better choice for me. This sauce was more savoury and the sweet basil sauce had a nice balance of the sweet and spicy. Aside from these two, there are a whole range of other pastas to choose from. Of course, it wouldn't be fair to compare pasta here with those in Italian restaurants which you'd pay twice or three times the price for. With prices ranging from around $5.90 to $8.90 for the classic range and $10.90 to $12.90 for the specialty range, I think the new pasta range is quite reasonably priced to give you an alternative to eating Hawaiian Pan Pizza.
I have been rather interested in Pizzas of late and some of the kakis know that I have been busy making my own Italian style pizzas at home. But you know, even though my current quest is to eat a genuine "Vera Pizza Napoletana", somehow the Pizza Hut Super Supreme Pan Pizza still holds that special place in my heart because it was just about the only Pizza I knew when I was a kid. So whenever I bring my family to eat at Pizza Hut, it is more than just about eating Pizza, it's about letting the kids share the same experience as I did when I was a kid. And even though lots of things might have changed, thankfully, the Pizza Hut Pan Pizza still tastes much the same as it did when I was a child. Now, in a world where we continually lament that things change too quickly, that is not a bad thing!
You can check out their full range of pastas here.