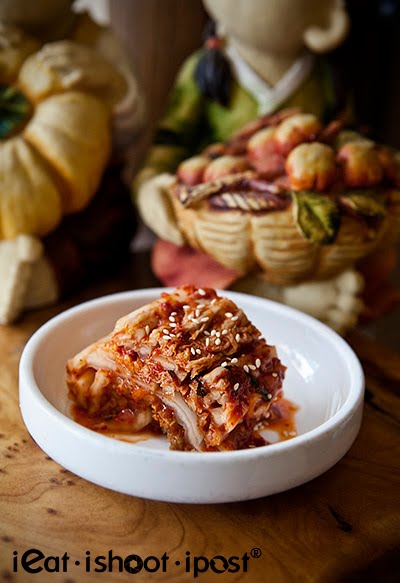 Kim Chee – "baechu"
I guess like many people, my interest in Korean food started as a result of watching K drama. It didn't really take off after "Stairway to Heaven" which I felt was a series to test your endurance for "Chee Kekness" (frustration). But interest begin to brew after "Sik Gek" and blossomed in "Da Chang Jing". So now I am on my Korean food hunt to find the best that the culture has to offer.
Before this, the only thing I really liked about Korean food was the table BBQ. That's not because the other stuff was bad, it's just that I don't really know what else to order. In fact, I still don't really know what to eat, but as a result of K Drama, I am more interested in exploring. And it helps when my friend Cactuskit just happens to be a K Drama addict and eats Korean food almost every week. In fact, Cactuskit is like a drug trafficker who goes around getting people addicted to K Drama.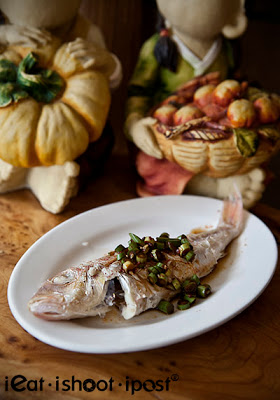 This is part of the banchan spread!
So let's talk Korean food. The most unique thing about Korean food is the banchan (side dishes) which is the way the Koreans made sure that you ate your veggies. Amongst all the banchan, the one that stands out is of course Kimchi, (Preserved veggies) and in particular the Kimchi made from Chinese Cabbage known as baechu. I have tried Kimchi on many occasions and I still don't get why the Koreans would love it so much that almost every household makes their own Kimchi and store it in a separate Kimchi fridge.
The thing that would first impress you at Kim's is their selection of banchan. It doesn't matter if you are dining with ten or if you are the only person dining, the people at Kim's would fill your table with 8 to 12 banchan dishes, all of which have been made in house. That means that for $8+ for a beef bulgolgi meal, you get a table covered with banchan! And believe it or not, one of the standard dishes is a steamed whole fish with chilli and long beans. Every table gets one, even if you only order one dish. I think that reason alone accounts for the huge popularity of the restaurants amongst our facebook readers!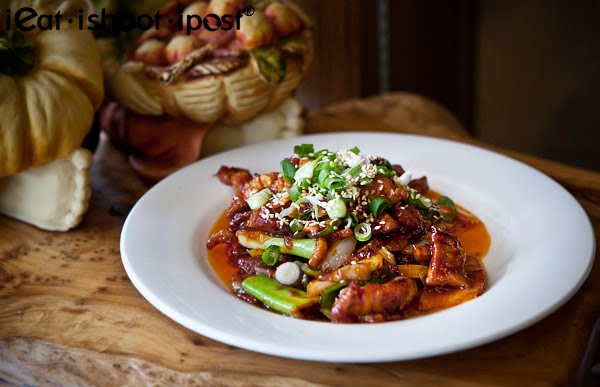 Spicy Fried Pork (Jeyuk Bokum) $17
One of the most popular dishes here is the spicy fried pork (jeyuk bokum) which is highly recommended. One thing good about Korean food is that it might look fiery but the heat from the chilli is mild compared to what we are used to. The smoky spiciness of this dish is quite unique and it goes really well with rice. 4.25/5 This type of chilli paste based stir fried dish is very popular in Korean cuisine but I still haven't figured out why the Koreans love chilli so much. Most countries that love chilli are situated in hot climates where chillies are used because it masks the taste of less-than-fresh meat and also acts to kill bacteria. Korea is probably the coldest country with a passion for chilli.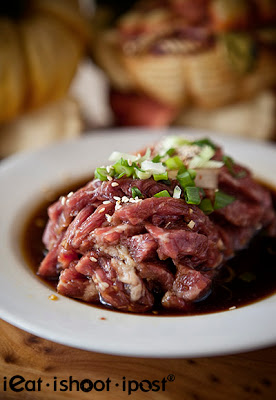 Marinated US Beef Ribs (Galbi) $23
We have to thank the Koreans for giving us the table BBQ style of eating. You might argue that the Japanese also have their Yakiniku, but they learnt it from the Koreans first. When you order karubi from a Japanese restaurant, that word karubi is actually a derivation of the Korean word galbi which is used to denote that part of meat that is near to the ribs of either pork, beef or chicken. The Japanese however use karubi only to denote Beef Short Ribs.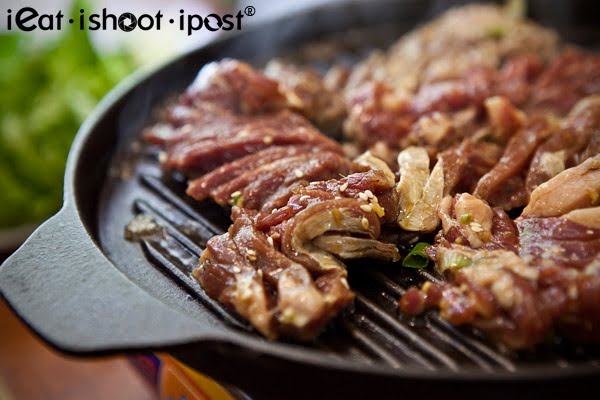 Beef Galbi $23
Kim's probably has the cheapest USDA beef galbi around at $23 for a 200g serving. Chef Bong Gu tries to reduce the amount of sugar in his food, so his galbi marinade is not as sweet as many other restaurants. The meat is tender and flavourful, but I do like my galbi just a little sweeter. 4.25/5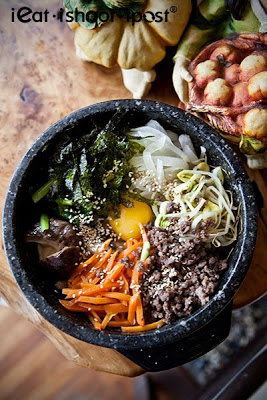 Hot Stone Pot Rice: Dolsot Bi Bim Bap $10
Korean food is really quite healthy as it is often made with lots of vegetables. So if you order a Dolsot Bi Bim Bap, you get five vegetables and one meat. In addition to that, you have another 8 side dishes which includes the aforementioned kimchi, which incidentally is listed as one of the world's healthiest foods!
I have been trying out the Bi Bim Bap at several restaurants lately and the one at Kim's is certainly not bad. I really can't give you an objective opinion as to how good the Bi Bim Bap is because I really haven't eaten one what I could say was the gold standard. So, is this one as good as it gets? I don't think so. Is there one out there somewhere that would really hit the spot for me? I honestly don't know. But at $10 with a whole table of side dishes, I can say that this is a value for money place to try it! 4/5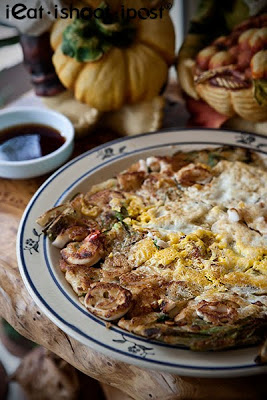 Seafood Pancake $10
We were told that one of the most popular dishes at the restaurant is the seafood pancake which is essentially a fried batter of wheat and potato flour with veggies and seafood in the middle and topped with eggs. It is very good. Not a umami bomb like oyster omelette, but the chewy texture of the flour batter lends a subtle starchy sweetness to complement the seafood in every mouthful. 4/5

Conclusion
Kim's is a great place to start exploring Korean cuisine. The chef owner, Bong Gu is a real Korean chef who has been cooking in Korean restaurants for 30 years before coming to Singapore to work in some other Korean kitchens before venturing out to open his own restaurant. The whole place is run by his family and it is as homely and genuine as Korean cuisine can get in Singapore. Plus, the prices are very reasonable. Both Soundman and I left the restaurant knowing that we will be bringing back the makan kakis very soon.