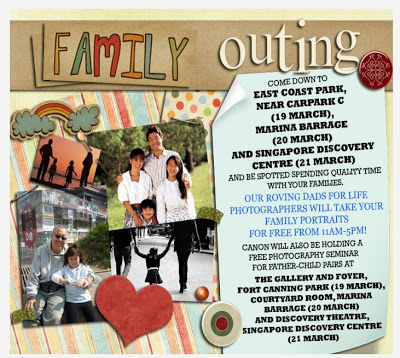 Calling all fathers!
If you have been wanting to learn to take better photos of your kids, do sign up for the free workshop during the school holidays from 19 to 21 March organized by Dadsforlife.sg with the support from Canon, Singapore.
Fathers can bring the children down to one of the three locations during the holidays where you can attend the seminar and then put your new skills to work taking photos of your kids! At the same time, there will be professional photographers around where you can have a free portrait taken of you with your children!
I will be conducting the workshops on 19th and 21st so if you do come, do come over to say hi after the talk.
Details:
19th Mar at Fort Canning Park, 1.30pm (My session)
20th Mar at Marina Barage, 1.30pm
21 Mar at Singapore Discovery Centre, 1.30pm (My session)
Admission: Free but seats are limited so please register early
You can register by clicking here.
More information at Dadsforlife.sg website here.