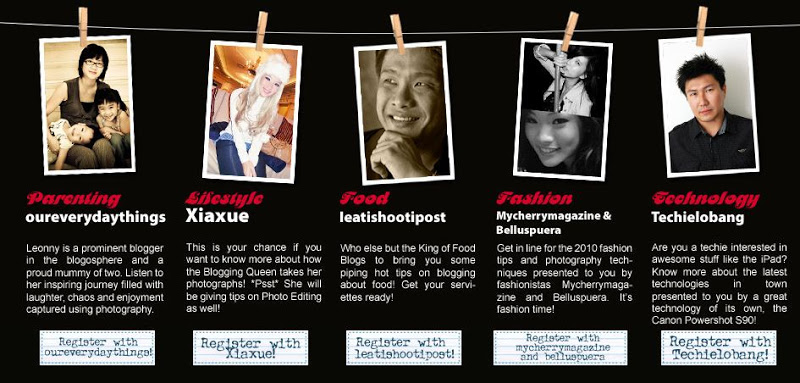 Good news for all aspiring bloggers. For the very first time in Singapore, Nuffnang are organizing a blogger's symposium where bloggers of different genres can get tips on how to write better blog!
The event, which is sponsored by Canon, will take place in April and there are three Canon Powershot S90 cameras to be won! The symposium will consist of 5 breakout sessions where participants can choose to attend the genre of their choice. The five categories are:
1. Lifestyle: Xiaxue.
2. Parenting: Our Everyday Things
3. Technology: Techielobang
4. Fashion: My Cherry Magazine
5. Food: ieatishootipost
All participants will enter a lucky draw to win a Canon Powershot S90 camera. But if you are the first 150 registrants your chances of winning the Camera will quintruple! (increase 5X). In addition, there will be a mini-photo competition which will be held on the day itself. All you have to do is to register and submit a photo on that day that fits the theme "Happiness". The winner will be announced at the end of the symposium and walk away with a brand new Canon Powershot S90 camera! There are altogether three Canon Powershot S90 cameras to be won!
For those who will be registering for "Food", let me just give you a little heads up on what I will be covering.
I plan to divide my session into two parts. For the first part, I shall be sharing with everyone what I learnt from writing ieatishootipost and tips on how to build a better blog. For the second part, I will cover aspects on food photography and share with you tips on how to make your readers salivate with the photos you take!
Here are the registration details:
Date: 3 April 2010
Venue: SMU School of Accountancy Level 2 Kong Si Auditorium
Time: 1.30pm to 5.30pm (registration starts at 12.30pm)
Price: Free!
You can register by logging onto: www.nuffnang.com.sg/symposium
You can read my review of the Canon Powershot S90 camera here.