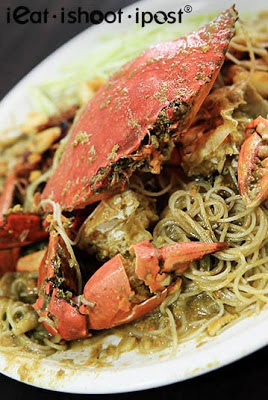 Crab Bee Hoon $28 per plate
The Ah Chek at Seng Kee Bak Chor Mee has been busy experimenting with Cze Char dishes ever since Seng Kee Bak Chor Mee decided to open for the evenings. In many ways, he is doing what our friend Jason at Ya Kwang was doing before he migrated to Perth. For those who have been reading since the Ya Kwang days, you would know how our kakis went to Ya Kwang almost every week to try out his new dishes. These two men are simply passionate about cooking and are sticklers about the quality of the dishes that they serve.
News of Seng Kee's Crab Bee Hoon came by way of a very excited SMS from Holydrummer who claimed that Seng Kee's Crab Bee Hoon was the best he had ever eaten. For those of you who know Holydrummer, you would know that the guy has eaten a lot of Crab Bee Hoon. So for him to declare this to be the best means something.
It did not take me long to make my way down to Seng Kee. It is one of my family's regular haunts. The kids love the Nam Joo Fried Pork Strips there and the Fish Maw Soup is one of the most "tok-kong" around.
I watched the way the Ah Chek made his Crab Bee Hoon and it is hard to imagine how it could not be good. The bee hoon was fried first over a hot wok to give it a smokey wok hei flavour. Then the crabs were fried in ginger, shallots and given a splash of a special crab stock which by itself was already very sweet. The resulting Crab Bee Hoon was something to be savoured. Best of all he charges per plate. So each plate of Crab Bee Hoon costs $28 and comes with a medium sized Sri Lankan Crab. 4.5/5
Conclusion
If you enjoy Crab Bee Hoon, this is certainly another place to put on your list. Currently, he still does not stock so many crabs so if you plan to go, do ring up first during the day so that he can make sure there are fresh crabs waiting for you!
Click here to read the previous post on Seng Kee.
Update 2 Oct 2014

Pls note that they don't sell crab bee hoon anymore and their new address is as follows:

This is the old address

Seng Kee Mushroom Minced Pork Noodles
316 Changi Road
6345 7561
Opened 8am to 10.00pm daily
Closed on Alt Mondays
Please ring up to book your crabs before 3pm!