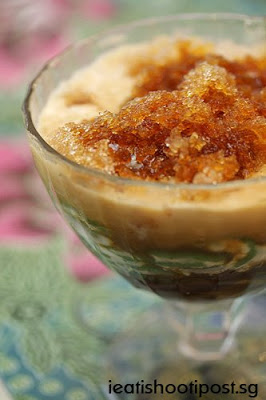 Peramakan: Still the One to Beat! – ieatishootipost
Peramakan has been my gold standard for Peranakan food since I blogged them back when they were still in Joo Chiat. Since then they've moved over to Keppel Club and I heard rumours that perhaps the standard of the food had dropped. So it is time to revisit them again to find out the truth. I am glad (and very relieved) to report that all is well with my favourite Nonya's cooking!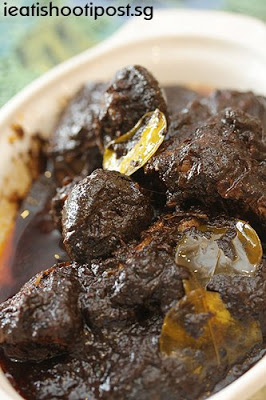 Ayam Buah Keluak $14 Extra Buah Keluak $1.50
The first thing I asked for was the Ayam Buah Keluak which I raved about the last time. It's still the best version of this dish that I have come across. They actually go through the effort of scooping out the kernels and cooking them until they are wonderfully fragrant before stuffing them back into the nut. Besides that, the gravy is also chock full of finely ground nuts as well. So if you are a fan of Buah Keluak, you will love this. (I am not a big fan and I still loved this!)
Truth be known — and please don't tell my mother-in-law — This is the only Ayam Buah Keluak dish that I really truly enjoy. My father-in-law also loved this, I think more than the version my M-I-L cooks, but no one around the table would dare to say so. One thing I find about Nonyas is that they are all fiercely defensive about their own cooking and most of those I speak to think that they have the best Nonya recipes in the world! You agree?
Anyway, it takes 3 to 4 kernals to fill one shell, which is why they sell the extra nuts for $1.50 each. The dish itself comes with only 2 shells. Do yourself a favour and order at least two for each person. The other wonderful thing is that the chicken meat here tastes really fresh and comes in large chunks as compared to some of the other places where the chicken becomes overly soft after staying in the pot for too long. After tasting and blogging several versions of this dish, I am now upping the score for Peramakan's Ayam Buah Keluak to 4.75/5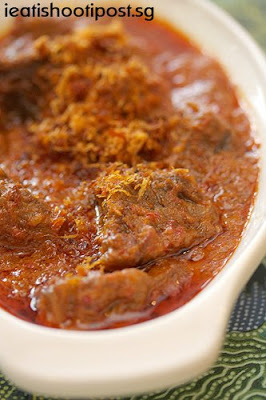 Beef Rendang $12
The other dish I remembered was really good the last time was the Beef Rendang. The standard is still much the same except this time I felt it was just a fraction less tender as I remembered on the last occasion. Still it is a beef rendang that is a cut above the rest. The great thing about the beef here is that they use shin beef which has all that nice tendons which turn into gelatin after spending several hours over a slow fire. 4.5/5
The thing that I have always liked about Peramakan is that they don't compromise on food quality, which is why their prices are just a bit more than other places. But I think the small premium is worth the quality of food you get.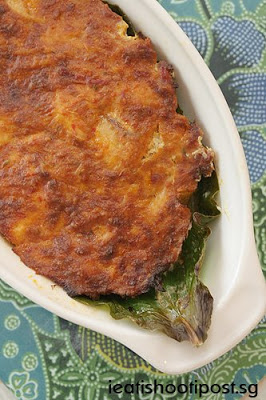 Otak Otak Makanan Laut $14
The seafood otah was good though I still prefer the type that is wrapped in banana leaf and BBQed over charcoal. Baking it like this tends to dry it up a bit. However the rempah is still very good and you get real chunks of seafood in the otah. And instead of using banana leaves, they use kunyit (tumeric) leaf instead, so the flavour of the dish is a little different from your usual Nonya style Otah. 4/5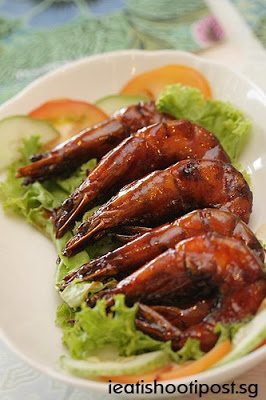 Udang Goreng Assam $16
The Prawns might not look like much but the assam sauce was really shiok and its the kind of thing that makes you want to eat more rice. And for a change I could also taste the "prawniness" of the prawns. A lot of restaurants use the cheaper farmed prawns nowadays which really lack that wonderful sweetness of wild prawns. Kelvin confirmed that they use wild caught Sea Prawns which are so much better that I could tell the difference even with all that marinade. 4.25/5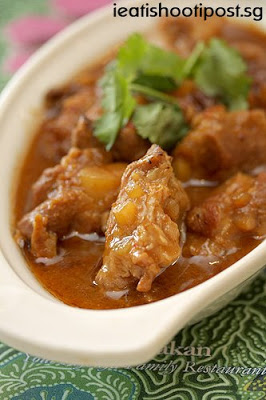 Penang Nonya Pork Ribs $12
The Nonya Pork Ribs is another of their signature dish here. I didn't really like them all that much the last time and my taste for it hasn't changed much. They were good, but maybe I haven't acquired the taste for dishes made with Tao Cheo (Salted Beans) just yet. 3.75/5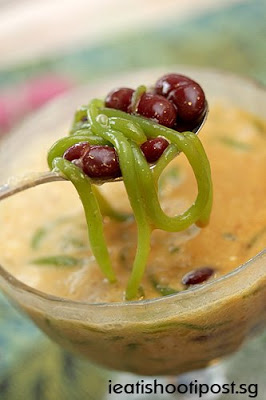 Chendol $4

Do save some room for desserts as they are all very good here. The Chendol is one of the best around. They make their own Chendol (those green wormy things) here and I must say that they managed to get it to the texture I like. A lot of other homemade chendols tend to be a little on the powerdery side. But this one has more of that udon like consistency. The kidney beans are also cooked to perfection with each bean soft on the inside and the skin is soft enough to be easily eaten while still resilient enough not to break apart. That's how I think the beans should be and not cooked until its all mushy. The fresh coconut and gula melaka is excellent and will satisfy any Nonya dessert connoiseur! 4.5/5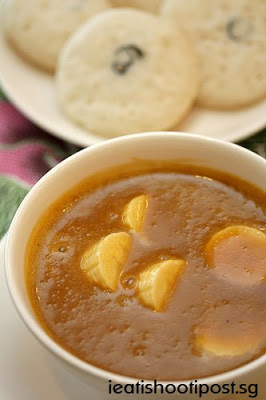 Apom Berkuah $6
The other really special dish is their Apom with banana sauce. Very sweet, very rich, very sinful and very good. If you are coming specially for this dish, do ring up to ensure that they reserve some for you and they are very popular with the regulars. 4.25/5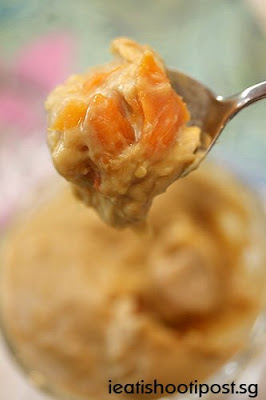 Durian Pengat $5
And Durian lovers must try their Durian Pengat which is a kind of Durian Mousse served with sweet potato and yam. It's that deadly combination of Gula Melaka, Coconut and Durian… make sure you don't drink XO after that or according to the urban legend, it might be your last meal. 4.25/5
Conclusion
Peramakan is still my gold standard for Peranakan food. The best thing is that now the restaurant can seat 140 people comfortably and parking is so convenient. So don't let the fact that it is located in a Club get in your way of a great Peranakan meal!
They have just opened another branch at Santa Grande Hotel along East Coast Road!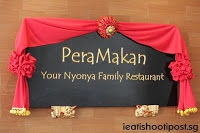 This meal was hosted by Peramakan