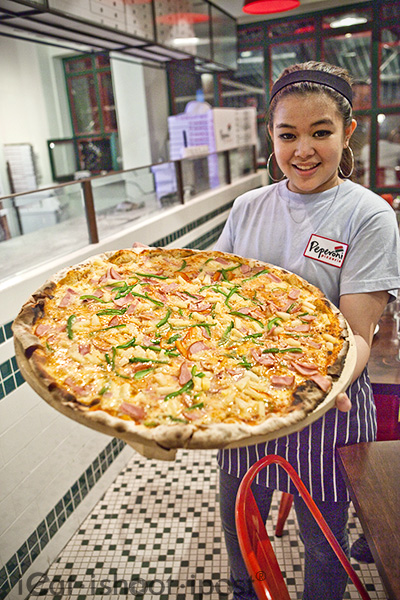 The XXL 21″ Pizza $50 nett
There was only one place for pizzas when I was growing up and that was Pizza Hut. Back in those days, I remember they used to have a super big family sized pizza that could feed our whole family of three hungry boys. I even remember that they came up with a pizza called "Bigfoot" which was a huge rectangular pizza that could feed football team! (The junior school team that is). Remember this?
When you have a family with kids, one big pizza is really what you need. Unfortunately Pizza Hut doesn't make big pizzas anymore. Their family pizzas used to be big enough to feed a family of five. Nowadays their largest pizza can barely feed 3. Maybe they think that the size of the family has shrunken compared to 20 years ago? Now when you have a family with young kids, you don't want to spend all that money on sophisticated gourmet authentic pizzas because most kids would not care if the ham was from Parma or Prime Mart. All they want is pizza and lots of it. And as a dad, you want to bring them to a laid back pizza parlor, order a huge pizza and see their faces light up. And here's the most important thing, the pizza must be good too or else it is just a waste of calories for Dad!
If you fall into the "dad with kids" category, or even the "hungry students gathering" category, then one of the places that is really going to suit you is Peperoni Pizzeria. I made the mistake of ordering two large pizzas which cost $23 each rather than one Family XXL sized one that cost $50. I only realized when I saw a family on the next table with the XXL pizza which looked like it was around 4 large pizzas combined! Plus, when your kids don't eat the crust, they can choose the pieces in the middle!
Now, I don't want to give you the wrong impression. You don't just come here for the big XXL pizzas. Prior the the opening of the latest pizza joints which I have blogged about previously, Peperoni Pizza had consistently came up tops as serving one of the best pizzas in Singapore. So it has been on my list of places to blog. The opportunity came up when a fellow doctor (yes, many doctors love to eat fattening food too) told me that Peperoni had opened a new joint in Bukit Timah. Now, when you have to spend the night in camp eating combat ration, the thought of a piping hot pizza was a little too tempting to resist. So I found myself there one evening with my kids.
I think Peperoni serves a pizza that resonates with most Singaporeans. From the feedback that I get, most Singaporeans like a crispy thin crust pizza which is what Peperoni serves. Personally, I have developed a taste for a more more Neo-Napoletana style pizza because I enjoy a soft and chewy crust, but that being said, the wood fired pizzas here are still quite enjoyable. The crust is more akin to a water cracker than to a flatbread, so you do get to enjoy a lot of cheese and toppings before getting too full. The toppings are your standard fare, nothing too fancy or gourmet. You do get your parma ham and rockett pizzas which is probably the favourite topping amongst Singaporeans at the moment, but the old favourites, pepperoni, Hawaii, 4 cheeses are all there and you won't get any ingredients which you have to google about. Being an establishment opened by the Les Amis group, you can expect a certain standard when it comes to the toppings. The tomato sauce was tasty and not overly zesty which again is catered to the local taste and the mix of mozzarella and cheddar cheese has got that wonderful stringy texture when melted. 4.25/5
One of the things I like about the place is the laid back environment and the fact that there is no GST or service charge. The booth seats are a nice touch as it really comes across as a family style restaurant. However, if you are there with friends, there is an open bar which you can order a beer to go with your pizza. If you are there with a date, you might want to opt for the tables outside the restaurant for romantic evening. And, best of all I found that they are opened for breakfast on weekends where you can get an American breakfast for $15 or pancakes with maple syrup for $8!
Conclusion
Peperoni's crispy thin crust will appeal to a wide audience, from kids to adults and the XXL pizza is especially good for families and groups. The laid back environment, bar counter and Al Fresco area plus the fact that there is no service charge and GST makes it an easy option for anyone looking for a quick pizza fix.
Special for ieatishootipost readers
Print out the voucher below and present it prior to order to upgrade your 9″ pizza to a 12″ pizza for FREE! Valid till the end of Mar at their new outlet at Binjai Park.
Please note that you need to print the coupon as they need a copy for their accounting.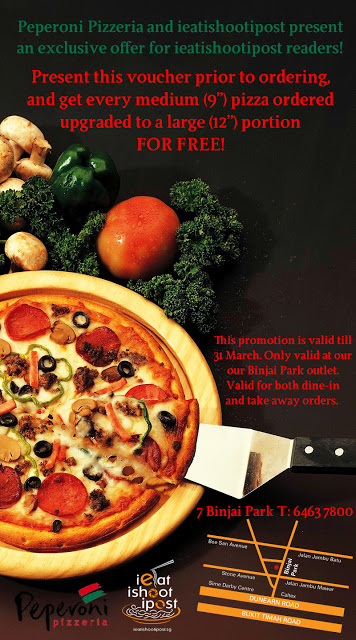 View Larger Map
Peperonis is where Teck Hin Eating House used to be