Puay Heng Bak Chor Mee: The one that used to be at Capitol theatre
Have you ever considered that Bak Chor Mee is an uniquely Singaporean dish? Yes, you do find dried noodles with various types of toppings in Malaysia, Thailand and even China, but you don't find the same combination of minced pork with stewed mushrooms, laced with a generous dash of black vinegar and a chilli made with candlenuts, pounded dried shrimps and fried sole fish anywhere else in the world. Yet, how many of us would bring foreign visitors to eat Bak Chor Mee? It's always Chicken Rice, Chilli Crabs and Laksa, right? But you know what, my Japanese friend, Yoshie considers Bak Chor Mee to be the perfect hawker dish. Oh and since we are on the topic of what hawker foods the Japanese like, it might be interesting to note that the Japanese love our Nonya Kaya as well.At least this is what the boss of Ya Kun tells me. (They have one shop in Tokyo).
There is no doubt that Bak Chor Mee is one of our nation's favourite dishes. Amongst the chinese hawker food, it is one of those that you can eat 24 hours a day. It's good for breakfast, lunch, dinner and supper and that is not something you can achieve with Chicken Rice or Chilli Crab. As far as I know, there aren't any places that sell Chicken Rice 24 hours a day, at least not any of the famous ones. But if you are hankering for a nice bowl of noodle goodness to warm your tummy at 2am in the morning, I could point you to a few places.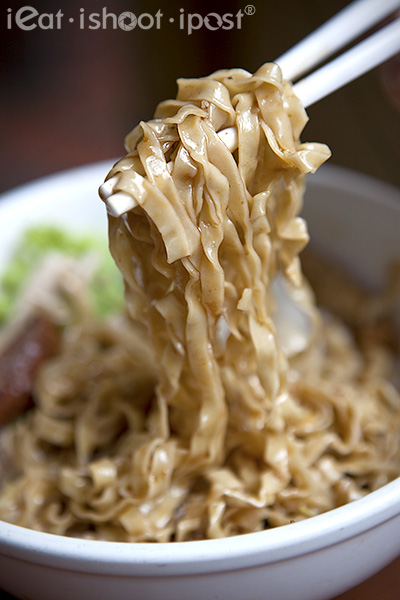 Having covered three of the heritage hawker restaurants in Far East Square along China Street, I just had to finish the task by adding Puay Heng to the equation. All these restaurants were specially hand picked by the Chief Foodie of Far East Concepts, Mr Chia Boon Pin, who managed to pursuade his favourite hawker stalls to set up restaurants at Far East Square. In so doing, he had played an important part in preserving the likes of Ya Kun and Hock Lam Beef Noodles, both of which have progressed from being a hawker stall to being a hawker restaurant. And this has meant that it is attractive enough for the next generation of hawkerpreneurs to take over the family business. This is certainly the story for Ya Kun, Hock Lam Beef Kway Teow, Nam Seng Wanton Mee and our stall today, Puay Heng.
I have been wanting to blog about Puay Heng for a while, but it looks like I have missed the boat somewhat since the founder, Mr Ng Chew Puay just passed away last year. Does anyone here remember him from the days he used to sell his Bak Chor Mee behind Capitol Theatre? I certainly missed the chance of trying his noodle tossing skills. His daughter, Siew Ling, a graduate, who has taken over the running of the business recalls the uphill task of matching her late father's skills.
"The ingredients might all be the same, but somehow, when dad makes it, it just had that special touch", she tells me fondly. As with most of the way the hawker masters cook, the ingredients are usually put together with a copious amount of agarism (estimation) rather than measuring cups or timers, so turning art into science is not something that can be done overnight.
Having not had the chance to eat her father's bowl of noodles, I really can't say how good my bowl was in comparison to the old master's bowl. However, I can tell you that the noodles were just right and they had the ability to soak up just the right amount of the black vinegar, chilli and mushroom gravy. I also love the way the chilli was made with pounded dried shrimps and fried sole fish. It wasn't fiery hot for the sake of just inducing pain, it was designed to create a umami tickle on the tongue as well. There was just enough vinegary zest to get your salivary glands going without causing your eyes to cringe. As with all things, its all about balance and this bowl of Bak Chor Mee is very much in equilibrium. Pity the giao (fish dumpling) wasn't handmade, and I have not really made up my mind on the piece of fried imitation scallop. It is tasty but, hmmm…. it is neither real nor traditional… your call. 4.25/5
Speaking of black vinegar. I know of guys who just love that extra splash, nay, deluge of black vinegar in their Bak Chor Mee. These are guys that like to "Jia Chou" (lit "Eat Vinegar" which means to be jealous in the Teochew dialect). Anyway, speaking of black vinegar, I was told that the best Chinese Black vinegar is the Zhe Jiang vinegar which comes from China. Bak Chor Mee stalls that pride themselves in serving a good bowl of noodles would invariably be using Zhe Jiang Vinegar. So if you spot any other types of vinegar, you might as well eat something else.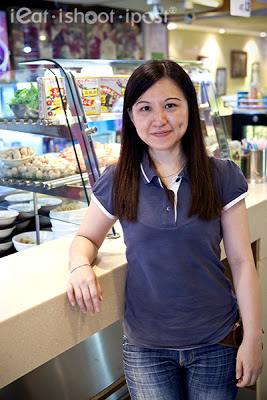 Yet another hawker with a degree
Those of you familiar with Puay Heng will remember that they used to have franchised stalls in a couple of food courts all over the island. However, they have all shut down now so that they can focus on maintaining the quality of the noodles. You have to give it to Puay Heng for opening an air conditioned eatery in the CBD and still charge $3.80 for it. This is definitely one of the more comfortable places to bring your foreign visitors to enjoy a great bowl of Bak Chor Mee.
Conclusion
So, have you eaten at the original stall in Capitol Theatre? Tell us a bit more about it!