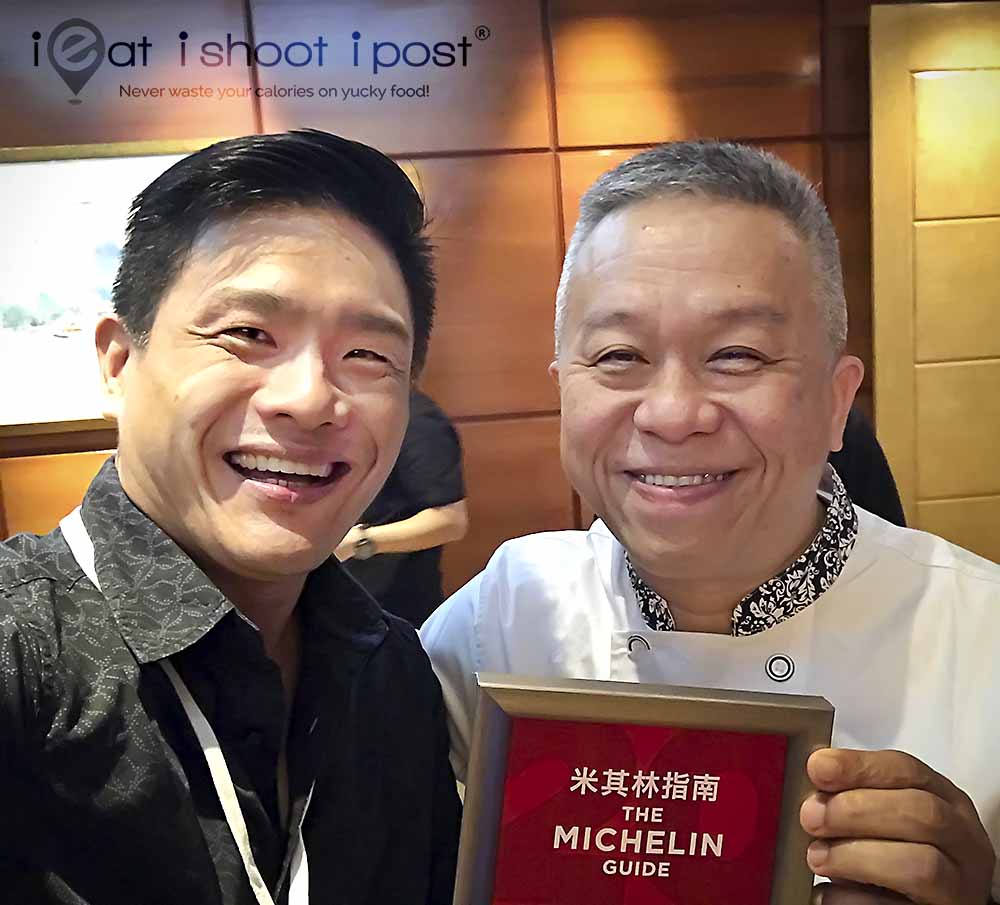 Now that the Michelin Awards have been announced and I have had some time to mull over it, I must say that I am quite disappointed that the Michelin Inspectors really did not seem to have made enough effort to really dig into the heart of our Singapore food culture.
Last year, we had Hillstreet Tai Wah Bak Chor Mee and Liao Fun Soya Sauce Chicken winning Michelin Stars.  That news was exciting as it had suddenly put Singpore cuisine on the world map.  I thought that this year they would add a few more hawkers to the list, but unfortunately there was none.  Even with the Bib Gourmand list, which was announced last week, the inspectors did not seem to have made much inroads into our hawker culture.  Where's the nasi padang?  Where's the oyster omelette?  How about our famous banana leaf curry fish head and sambal stingray?  Where are the zi char stalls? How about fishhead steamboat?
They also seem to have missed out on a lot of the other great Food Centres like Old Airport Road, Golden Mile, Hong Lim and East Coast Lagoon, just to name a few. It was forgivable last year since it was their first edition, but after one year in Singapore, you would expect that they would have time to hire some local inspectors and really get to work on discovering what our heartland hawkers have to offer.
The only consolation for me last night was the news that my friend Chef Kang of Chef Kang's Kitchen  and Chef Han Li Guang of Labyrinth managed to win Michelin stars.  Together with Chef Jason Lim of Corner House and Chef Malcolm Tan of Candlenut , they form the cadre of local born chefs who have won Michelin Stars.  But you and I know that there are many more talented local chefs out there who are waiting to be discovered.  Hopefully, these guys would be an inspiration to our young aspiring chefs.
There was hardly any movement in the two and three Michelin Star category.  Waku Ghin won a 2nd star with a veiled apology from Michael Ellis that they should have won it last year. I found that quite amusing.  Hopefully, we will see more local restaurants winning 2 stars in the future.
All in all, I was pretty disappointed with this year's results.  There is hardly anything to be really excited about.  I don't think that Michelin has done enough to capture the spirit of our local food scene and much more work needs to be done for next year's edition if they want to keep us interested.
Here is the full list of winners:
3 Stars
Joël Robuchon
2 Stars
André
L'Atelier de Joël Robuchon
Les Amis
Odette
Shisen Hanten 四川飯店
Shoukouwa 小康和
Waku Ghin
1 Star
Alma
Béni
Braci
Candlenut    Peranakan
Cheek by Jowl
Chef Kang's 江师傅
Corner House    Innovative
Crystal Jade Golden Palace
Cut Steakhouse
Garibaldi    Italian
Hill Street Tai Hwa Pork Noodle
Iggy's
Imperial Treasure Fine Teochew Cuisine
Jaan
Labyrinth
Lei Garden 利苑
Liao Fan Hong Kong Soya Sauce Chicken Rice & Noodle
Meta    Innovative
Osia 澳西亚
Putien (Kitchener Road) 莆田
Rhubarb
Saint Pierre
Shinji (Bras Basah Road)
Shinji (Tanglin Road)
Summer Palace 夏宫
Summer Pavilion 夏苑
Sushi Ichi 鮨一
The Kitchen at Bacchanalia    Innovative
The Song of India
Whitegrass