This stall has closed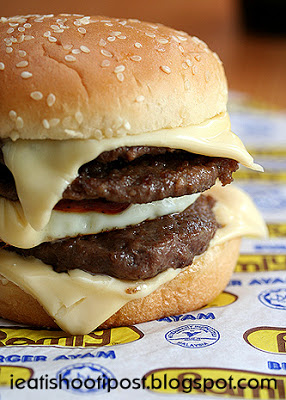 ieat Special Ramly: $3.50 Double pattie, double cheese, egg
Unless you have eaten a real Ramly Burger in Malaysia, you might not think much of it. But I remember my first Ramly enlightenment experience which occured 30 years ago in Pekan, a town just before Kuantan in the East Coast of Malaysia. Pekan's a little fishing village where my grandfather settled to open a grocery store when he came from Swatow carrying only a little bag of clothes. It was the sleepy little town where my father grew up. The old grocery store is still there in its original condition doing essentially what it has been doing for almost a century.
Anyway, I remember visiting my cousin in Pekan as a kid, and on one occasion he brought these "burgers" wrapped in pink tissue paper. Being the city boy, I thought little of a Kampung burger. We had afterall the latest advancement in Burger cuisine in Singapore, namely MacDonald's. So what do these Kampung folks know about Burgers?
I remember he bought like 6 burgers in a plastic bag for afternoon tea. I got hungry after a while so I decided to have a bite of this Kampung Burger. WOW! Damn Shiok Man! I finished like 3 burgers at one shot.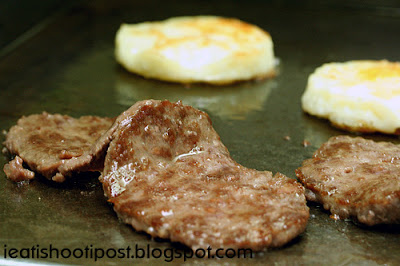 Ramly burgers are always split into two and seasonings are added
Fast forward 30 years.
As you know the standard of Ramly Burgers in Singapore is pretty dismal, which explains why guys like carnineviand did not get excited when I told him I found this cafe that sells Ramly Burgers. I don't blame him. After tasting Ramly Burgers in Singapore a few times, I gave up thinking that I would never find a good Ramly Burger here.
Then one day, I chanced upon a Ramly Burger stall in a Pasar Malam. It looked quite promising so I tried one. WOW! THIS is the Ramly I remember! Shiok shiok! I took some pics and posted them in the forum. (I had not started blogging then). I was pretty excited that I had found my "original" Ramly at last. Not only I say, but the Baker also concurred that this was one shiok Ramly. But there was only one problem. Being a Pasar Malam, you had to track them as they move around the island.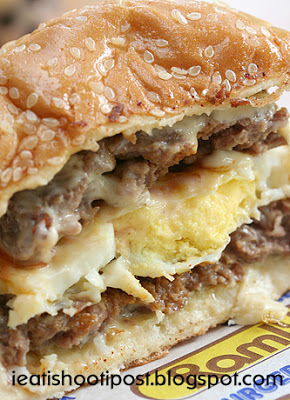 But as fate would have it, I met this Chinese lady recently who told me she ran a little cafe and that she makes a pretty mean Ramly Burger. She seemed quite confident of her burger, so I decided to pay her a visit. After all, a Chinese Lady (who happened to be an ex-secretary) making a Ramly Burger is like a Chinaman making prata. Must go investigate, no?
We tried the standard Ramly burger which I found was quite good. The pattie was actually juicier than the usual Ramly and having the eggs done over easy was better then the usual way of wrapping the pattie with the egg. The great thing about her bread is that she actually steams it so that it is really soft like a "fillet o fish" bun. But there was something still missing.
So I asked her to do a special one for me with 2 patties, 2 cheese and with the addition of curry powder when the patties were split. Ohhhhh, yes! Almost there. The only other missing ingredient was worchestershire sauce and I think we got the perfect Ramly. No, the perfect Doubly Ramly! 4.25/5 Should be a 4.5/5 with the additional tweaking!
Conclusion
Ramly burger moves upmarket! For $3.50, I got 2 patties, 2 slices of cheese, 1 egg, mayo, chilli and BBQ sauce in soft steamed buns. This is what I specially ordered, so if you want the same deal, just ask for the ieat Special Ramly. Tastiest $3.50 burger in town! POWER!
Price of Normal Ramly is $2.50. With egg and cheese is $3.