When you look at the mound of freshly sliced fish at this stall, you immediately know that you are dealing with a man who cares about fresh ingredients. Especially with the monsoon rains causing a shortage in supply of fresh fish, it takes a real passionate Teochew Ah Hia (Typical Teochew Man) to bid top dollor for the fish and still sell it at the same price.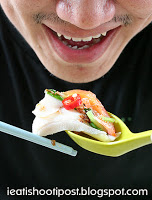 This is one of the few hawker stalls around which sells sliced Pomfret fish soup with Szechuan Vegetables. You can of course get this dish at a Cze Char. But over here you get a nice bowl of Slice Pomfret Soup from $5. (The portion shown here is $8) The fish was super fresh but we had to request a bit more Szechuan vegetables to give the soup more kick! 4/5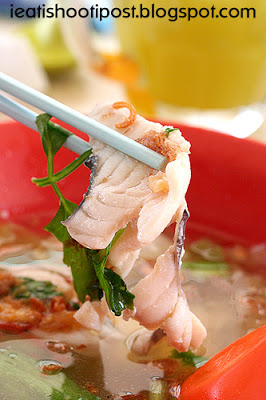 The Batang Sliced Fish soup on the other hand was really tasty. Compared to the Pomfret, the Batang soup was more potent and definitely one of the tastiest fish soup I have tasted. 4.5/5 Pity you can't get the delicate flesh of the Pomfret and the potent Batang soup in the same bowl! The stallowner emphasized that the soup stock is prepared from fish bones and Old Mother Hen and they don't use any Pork bones at all.
I can understand the Teochew Passion for Fresh Fish since the Teochew's live in a region of China close to the river where Fresh Fish is readily available. But why Duck and Goose? Eating Goose is like eating the family dog since they are often used as "Watchdogs" at the farm.
Anyway, you should try the braised duck here. It is very shiok. The taste of the Lengkuas (Blue Ginger) really comes through neutralizing any "fowl" smell and the duck has been braised to the extent that the braising sauce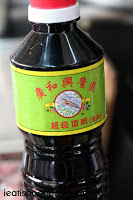 has permeated right through to the bones. $3 4.5/5
For those who like to try braising duck at home, the stallowner was kind enough to share his "Secret" brand of Dark Sauce with us! ——–>
Conclusion
If you like fish soup and you have not tried this one then you really need to add it to your fish soup resume!