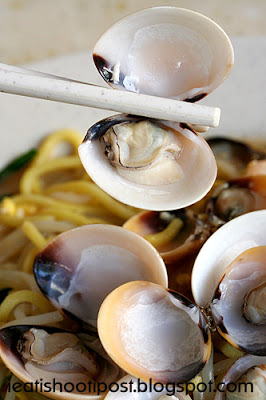 This stall is no longer in operation

With iwatch_ueat, tamago, smart and liverpool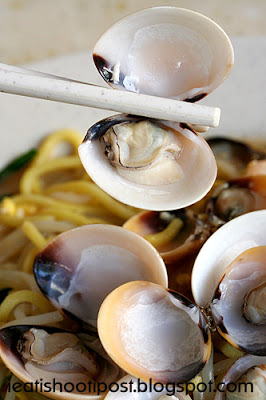 Now this is an interesting twist to the good old Hokkien Mee! What do you think Hokkien Mee would taste like if you add some La La (Clams) to it? I remembered having the KL style Hokkien Mee with La La at the Old Hokkien and I really loved it, but this was the first time I came across the Singapore version of Hokkien Mee with La La! Must at least give it a try right?
The first thing you notice is the characteristic bitter sweet taste that the La La adds to the Hokkien Mee. The noodles itself could have done with more Wok Hei but overall the taste is quite acceptable. Note that this comes from a Cze Char Stall, so for $3 a plate, it is unexpectedly good value given the addition of La La. Worth trying if not just for the sake of it. 3.75/5