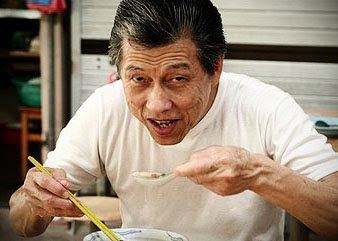 Hokkien Mee Man from Nam Sing

Well it was a real close fight between Nam Sing and Geylang Lor 29) but in the end Nam Sing (32.3%) still beats Geylang Lor 29 (29.2%) by a mere 3.1%. There were 909 votes, so that translates to only 28 people.
If we were to be pedantic, we could calculate the stats to see if this difference is significant. But since one of the reasons I chose medicine is because I don't like stats, I am just going to crown Nam Sing the Best of the Best Hokkien Mee in Singapore.
Since Nam Sing's Hokkien mee is the thin bee hoon dry type whilest Geylang Lor 29 is the thick bee hoon thick and gooey type, another thing that we can also gather from the poll is that more foodies prefer the thin bee hoon style hokkien mee. Then again maybe not, since the Hokkien Mee in 3rd place, Tian Tian Lai scored a pretty strong 20.1% of the votes. So if you put Tian Tian and Geylang together, there would be more people who prefer the wet type of Hokkien Mee.
Perhaps our resident statisticians can help shed some light on how to interpret the results?
Read about Nam Sing Hokkien Mee