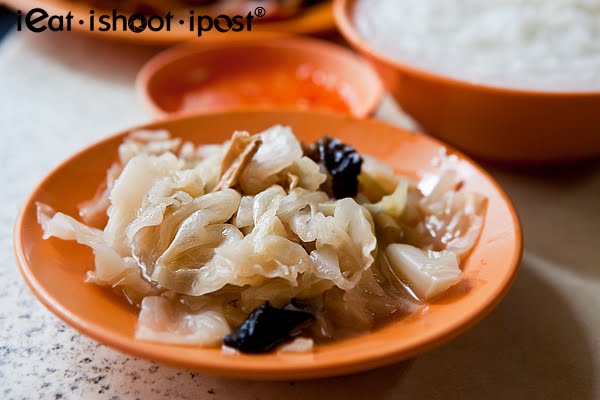 Stewed Cabbage – Simple Teochew Food
Teo Heng Teochew Porridge is a favourite amongst Teochew Porridge fans and this venerable stall at the Hong Lim Food Centre is always packed from the time they start selling at 7am till they run out of fish at around 1 to 2pm. Ask a handful of people where to eat the best Teochew Porridge in Singapore and most of them will point you to this particular stall.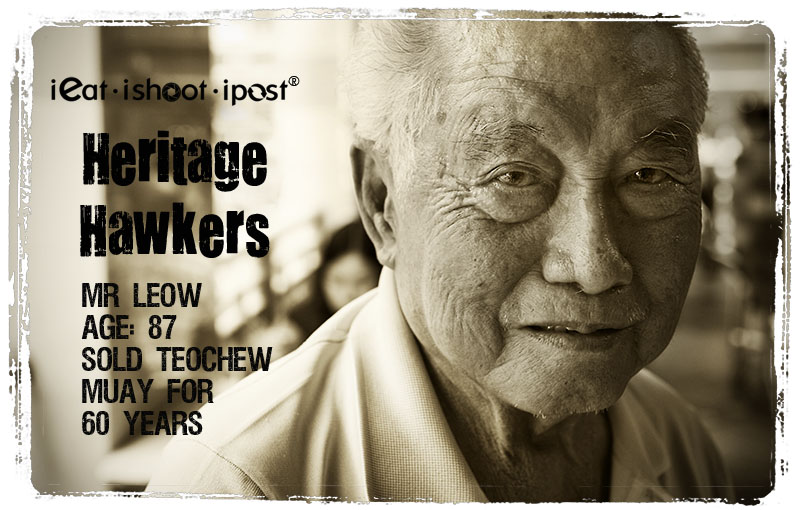 At the heart of the stall is a Teochew Ah Pek who has been dishing out hawker food for 60 years. Mr Liew started selling food at the age of 17 and can still be seen serving Teochew Muay at this stall. The old man still looked remarkably fit and still has a keen mind. Perhaps mom was right after all and eating fish is good for your brains!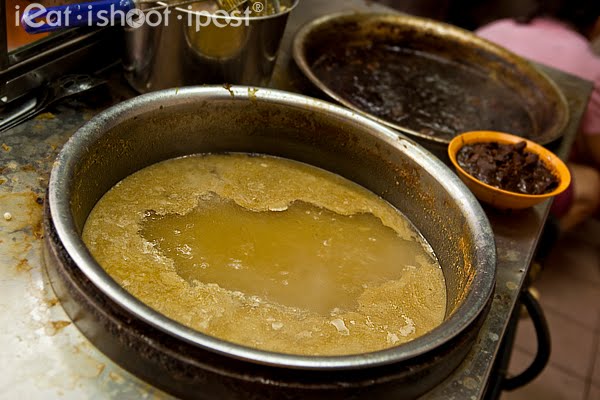 Simmering Chye Bueh
We Teochews are probably most famous for our fresh fish which we cook by simply steaming it or alternatively, boiling it quickly in a cauldron of preserved vegetables (Chye Bueh). If you go at around closing time, the vat of simmering "Chye Bueh" would have been used to as a spa for hundreds of fresh fish and has turned into a really sweet and tangy soup. You can imagine what a bowl of this soup can do for you especially if your boss had just given you a whole stack of work to do in the afternoon!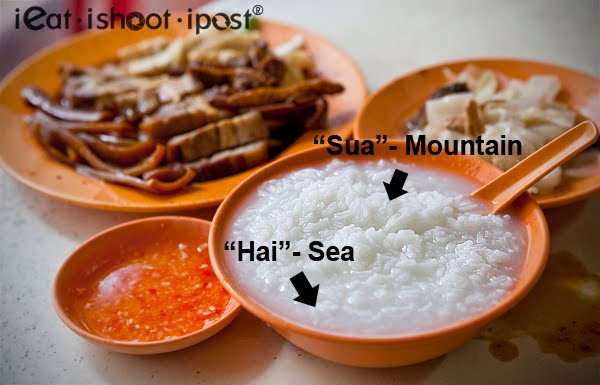 Teochew Porridge must have the "Mountain and the Sea"
A good bowl of Teochew Porridge has got to have just the right proportion of water and rice. The Teochew Muay connoiseur can tell you immediately if a particular Teochew Muay stall is worth eating at by just eyeing the bowl of porridge. Firstly, what we want to see is the "Swa ga Hai" (Mountain and Sea) which basically means that the porridge is watery but not overly watered down. Secondly, the rice must remain whole and unbroken. The best Teochew Muay places throw away the pot of porridge when the rice breaks.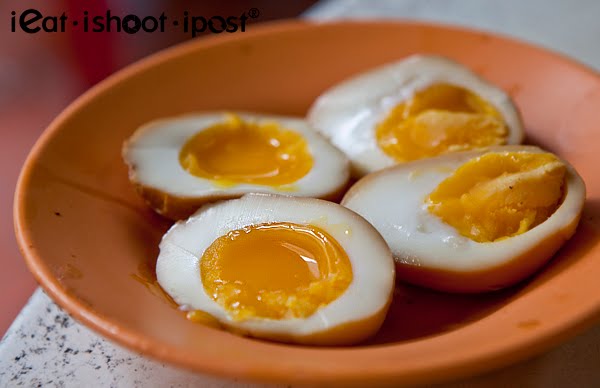 Lou Nerng (Seasoned Eggs)
If you think that those Japanese Rutan (Seasoned Eggs) with its watery yolks are new to the Singapore food scene, think again. This stall has been selling this style of eggs for over a generation! I don't know why but this is the only Teochew Porridge stall that sells their Lou Nerng (Seasoned eggs) this way. What is commonly seen is the hard boiled version which often has that ugly, smelly green grey ring around it because they have overcooked the yolks. Most of the time stallholders actually buy the eggs already hardboiled and then put them into the braising sauce. So if you love the Japanese Charshu Ramen eggs, then here is where you can get it cheap! 4.25/5
Another must have at any Teochew Porridge place is that vat of braising sauce with various poricine parts stewing in its goodness. A perfectly balanced and fragrant braising sauce is not easy to achieve and once you have it, you could use it for lot of stuff and it would all taste good. I jokingly asked if Ah Pek's braising sauce has remained in the pot for the years that he has been in business and he curtly told me that he washes it out completely at the end of the week. Well, there goes that urban legend! 4.25/5

Conclusion
If you love Teochew Porridge, this is one of those stalls that you just have to visit because you can't really discuss Teochew Porridge if you have not eaten here. It's too bad I got there after 1pm so the steamed fish have all sold out. Many of my kakis tell me those are the die die must try dishes!