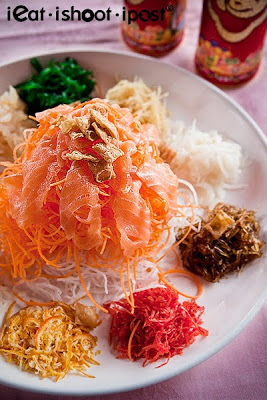 Fa Cai Yu Sheng from $18
It is the time of the year when it is ok to throw food around a make a big mess all in the name of prosperity!
Yu Sheng is so popular that even our friends at Cafe de Hong Kong are selling it though it is really a Singapore dish which you don't see this in Hong Kong. Once upon a time, raw fish was something that is not very common. You pretty much only get to eat Ikan Parang (Wolf Herring) which is what they used in Yu Sheng. But since the introduction of the Sushi culture and the availabililty of Salmon, you seldom get to see Ikan Parang nowadays as everyone has switched to using Salmon instead.
Anyway, I am sure you would agree with me that eating Yu Sheng is more about the celebration of togetherness rather than for the taste. The few slivers of fish in the dish is hardly enough for anyone t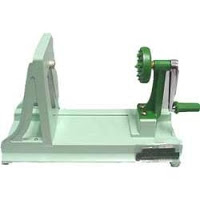 o really savour the fish. The most enjoyable bits are usually the fact that you get to shout "Lou Ah! Lou Ah!" and enjoy the togetherness while munching on the crunchy crackers covered with the sweet sauce and dried fruits.
I know a lot of people try to make Yu Sheng at home, but what most people lack is the special radish and carrot shredder that makes those nice long noodle like strips. I managed to pick up a Japanese made slicer from Sia Huat, so this year I will be eating lots of Yu Sheng at home!
But if you are too lazy to do this at home, then one place where you can get a good Yu Sheng is at Cafe de Hong Kong. We found that all the ingredients are very nicely balanced which really is the key to a great Yu Sheng. Also the sourcing of the dried ingredients and the sauce is very important. Cafe de Hong Kong has their own recipe for the sauce which is made from a blend of plum, pineapple, orange and apple sauces which was excellent. Apart from that, their dried ingredients have also been very carefully sourced from different suppliers so that you can be assured of a really good plate of Yu Sheng. 4.25/5

Lup Mei Fan
One of the things that I really enjoy eating at Cafe de Hong Kong is the Lup Mei Fan. This is basically their Hong Kong Style Claypot Rice which is topped with their homemade gourmet Lup Cheong (Chinese Sausages), wax duck, preseved pork belly etc.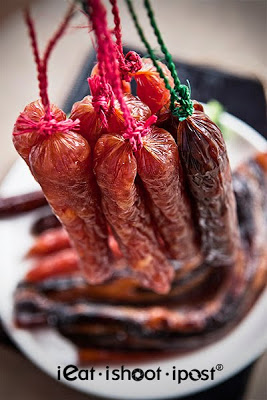 The main ingredient for the Lup Mei fan is this lucious Lup Cheong which Cafe de Hong Kong uses. They specially source their Lup Cheong from a Chef from Hong Kong who travels to Singapore before Chinese New Year to specially make the Lup Cheong. The Lup Cheong is so fragrant that you only have to hold it in your hand and have a sniff to know that it's going to be good. A lot of our kakis are also raving about the Pork Liver Lup Cheong which is also available. These preserved meats are on sale during the Chinese New Year period and are priced at $32 per 600g (1 kati). 4.5/5
Eating Pen Chai for Chinese New Year seems to be a recent phenomenon as I can't remember eating this as a kid. Pen Chai is a Hong Kong dish which is usually served at events where there are lots of people to feed. Essentially it is a braised dish made up of all the good stuff like dried scallop, mushrooms, abalone, seafood etc. The one at Cafe de Hong Kong also has stewed Goose web which were excellent. Overall, the kakis all agreed that the Pen Chai here was very good. I haven't eaten enough of this to be able to compare it with others but it was very tasty and really makes you want to eat more rice. 4.25/5
Conclusion
Good place to consider for a reasonably priced Hong Kong-Singapore style Chinese New Year feast!
The Pen Chai start from $188 for 6 persons and is available for take away together with the claypot. Do check out their Chinese New Year set menus at www.cafedehongkong.com.