This Stall is Closed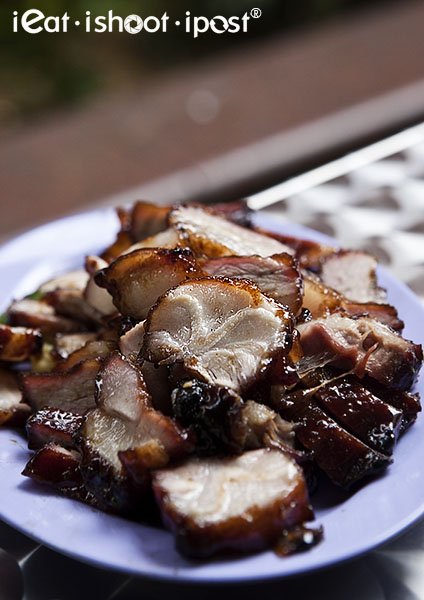 Now that is what I call 5 flower pork! (Wu Hwa Rou)
Fatty Cheong's Charsiew
has remained almost unchallenged since I blogged about him in the early days of the blog. We did come across one Char Siew that was even more "Tok Kong" (superlative) but that was Ming Kee which is in Kuala Lumpur.

Now our makan kaki, Liverpool has just recommended a stall to us which might just rival Fatty Cheong. Actually, he did not actually recommend the Char Siew. Instead he was telling us about their heavenly Sio Bak which has that melt in your mouth quality about it. But as luck would have it, we went on a day when the Sio Bak was just about to run out. So, we discovered their Char Siew instead.
The photos would tell you what I cannot describe in words. The Char Siew was so good it made me made me close my eyes to fully concentrate on the sweet savoury aroma of the pork. At one stage the kakis were even discussing if it could even be better than Ming Kee! 4.75/5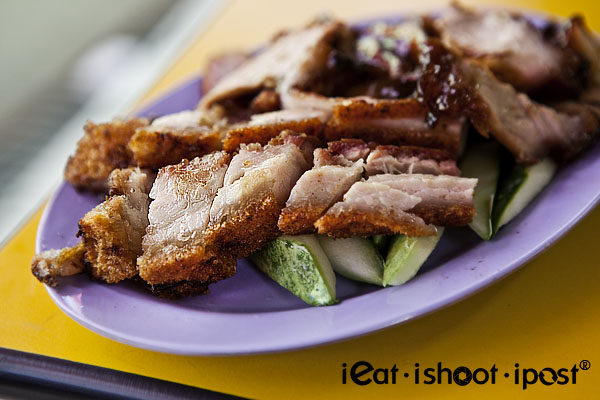 Their Sio Bak was very good but not what we were expecting based on Liverpool's glowing review. However, as I alluded to earlier, we had gone on a day when the Sio Bak had just about run out, so we did not get the best piece. It was still very good but we just have to come back to try it again another day to get a more accurate picture. 4.25/5
Conclusion
One of the best Charsiews I have tasted in Singapore. The Sio Bak that day was not that great but I think it is because we went late. I will definitely return another day to try it.
Update 16 July 2012: The Stall has moved to Hong Lim Food Centre
Update 12 Nov 2012: It seems that the standards of the stall has dropped significantly since they moved to Hong Lim Food Centre. I tried it recently and the Char Siew was no where near what we had when they were in their old place!