Notice is hereby given for our next Makan Session!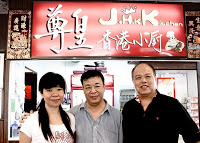 At last we managed to get Gen Shu to come out of retirement to cook us a banquet. Our ieat Team have been enjoying private sessions at Gen Shu's place where he cooked up some Hong Kong classics for us to sample. But we have always felt that such talent should be shared with the rest of our readers. However, the problem is that Gen Shu's place is much too small to host so many people. What we needed was for someone to offer him access to their kitchen so that Gen Shu could make a guest appearance. This makan session is almost a year in the making and I am so glad that we finally managed to get Gen Shu to make a guest appearance at Chef Ip's J.H.K kitchen.
Here are the details:
Venue: J.H.K Kitchen, Pasir Ris East CC, No. 1 Pasir Ris Drive 4, #01-07
Date: 25 June 2010
Time: 7.30pm
Cost: $35 per pax
To register write to [email protected] and in the Title write JHK Makan Session. In the first line indicate Name, Nickname, Hp number and no. of pax.
Please note:
1. Once we confirm your seat, please be responsible and find your own replacement if you can't make it.
2. Chef Ip and Gen Shu will generously donate $10 per pax to our ieatishootipost Van project to help the kids in Sandakan.
Here is the menu
1. Sichuan saliva chicken (This is spelt correctly! Its a Gen Shu dish)
2. Oat flake prawn balls
3. Fried crispy beancurd
4. Steamed Patin fish
5. Black-bone chicken soup with cordy ceps
6. Dongpo pork
7. Vegetables with dried beancurd (soup)
8. Fried Yee Mee with mushrooms
9. Durian snow skin moon cake and Black sesame snow skin moon cake