With Damien and smart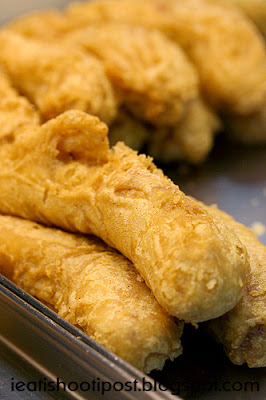 Those of you who wonder whatever happened to the goreng pisang (Banana Fritters) at Somerset House will be happy to know that they are right here in Maxwell Food Centre. Yep, I even checked the newspaper cutting on the wall and it is the same person frying the goreng pisang albeit with a few more white hairs.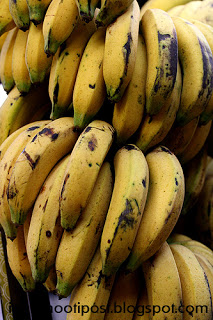 There used to be 3 branches of this stall but now this is the only one left. I guess with the increased emphasis on healthy eating, stuff that are deep fried have sort of been out of vogue. But then again that does not explain the recent doughnut fad. It could just be that the humble goreng pisang needs a makeover in marketing in order to spruce up renewed interest in this very traditional local snack.
Actually what would be great with goreng pisang is to eat it with Maple Syrup and Vanilla Ice Cream. Whooooooooahhh! Perhaps that should be the next stage in the evolution of the pisang goreng?
The pisang goreng here is still very good. The owner insists on using only Pisang Raja so you get a nice creamy and sweet caramelized banana within a light crispy coat of batter. 4/5 Come to think of it, cooked banana is the only other "creamy" fruit aside from durian and avocado. Are there any more, you think?
Conclusion
Anyone out there also want to see Goreng Pisang with ice cream and maple syrup?