Who in the world would think of putting XO into Fish Soup?
A guy who loves XO, that's who. It turns out that the inventor of the XO Fish Soup was none other than an XO salesman who loved his drinks so much that he added it into Fish Soup. And as it turned out, it worked!
Come to think of it, there is no reason it wouldn't work. If you think of the creamy fish soup like any European cream based sauce, putting a dash of brandy in it actually does make sense.
But as luck would have it, our man Ricky struck gold when he came up with the very first XO fish soup some fourteen years ago and sprouted lots of copy cats ever since. (So he claims) According to Ricky, you can't just simply add the XO into the soup at the end. Firstly, you don't just use any old XO, it must the best grade. Then it has to be added into the soup while it is boiling and allowed to cook for a little while (the timing is a trade secret). The dash of XO just prior to serving is but the garnishing at the end of the cooking process.
This stallowner is the type of person who believes in only using the best and freshest of ingredients. Well, there's really no point in wasting good XO on 2nd rate produce is there? So he brags about how he sources his snakeheads (Loi He) from Malaysia and how he only uses the top grade MSG so that it doesn't cause the bad aftertaste. The result is a tasty fish soup with that extra XO kick! One little word of reservation. It's been a while since I ate here but I could have sworn the soup was a little more tastier in the past. Might be just that day's batch. 4.25/5
The other dish that I always order when I am there is the Har Cheong Kai (Prawn Paste Chicken). It's always freshly fried, crispy on the outside, juicy and fragrant on the inside. Again, the use of good prawn paste and MSG with fresh (not frozen) chicken wings really makes a difference. I love to dip the wings into the fish soup for just a quick soak before biting into the piping hot mid wing. Heavenly! 4.5/5
Conclusion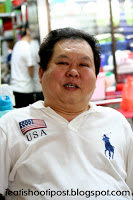 It is written that
The race is not to the swift or the battle to the strong, nor does food come to the wise or wealth to the brilliant or favor to the learned; but time and chance happen to them all. Ecclesiastes 9:11
Ricky himself admitted that he knows nuts about cooking, but somehow the addition of XO into fish soup became an instant success story. Really goes to show that a lot of success in life has to do with chance and opportunity doesn't it?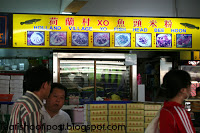 Holland Village XO Fish Head Bee Hoon
Blk 46, Holland Drive
#01-359
67783691
11.30am to 2pm
5pm to 11pm
Ricky Lau 98331003
Update: 17 May 2010
The stall has relocated to:


Dover Coffee Hub
Blk 19A Dover Crescent
#01-05
Singapore 131019
67783691