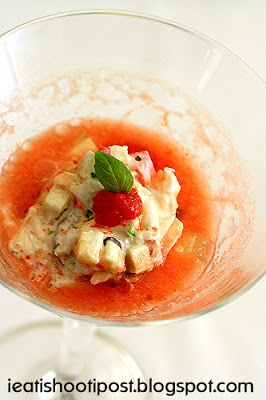 Fresh Green Crab Salad with Tomato Fondue, Gazpacho Espuma and Basil Oil
Presentation of food is an Artform that is done relatively well by most chefs. I seldom hear of anyone trying to grade the presentation of dishes (though I am quite sure they do). I have to say that presentation must be easier to master than taste as all the food I had over the last 2 weeks (I had 3 Menu Degustations) rated high on presentation but none actually got my taste buds resonating. The relationship between presentation and taste is like a typical computer game. Most offer incredible eye candy, but only a special few has got gameplay that gets you hooked! At the end of the day the crux of computer games is the gameplay and similarly when it comes to food, the "be all and end all" is the taste.
Our starter was a good indication that this meal wasn't going to be just eye candy. I was hooked after my first mouthful of the Green Crab Salad. Now, one can rarely go wrong with the combination of Tomatoes, Basil and Olive Oil, but under expert hands, the same stuff that you make pizza sauce from can be transformed into something exceptional! The combination of the sweetness of the crabmeat with the tang of the frothy Gazpacho was already a delight, but wait till you hit the crescendo that was the aromatic basil oil right at the bottom of the martini glass….ohhhh mama! 4.5/5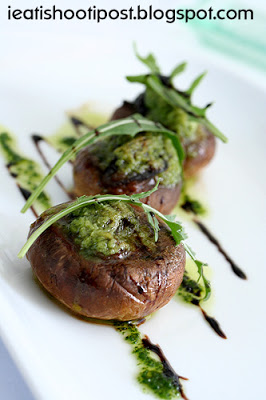 Escargot with Herb-Garlic Butter Crust on Button Mushroom Gratin茅e, Parsley Oil and Arugula Salad
I have never thought much about Escargot. It is rubbery and salty and most of the time you taste mainly the Garlic Butter. However, this time I thought the Escargot combined quite well with the button mushroom. There was a natural sweetness then you bite into the mushroom that was really delightful. But again, I am not sure how much the snail actually added to the whole taste experience. 4/5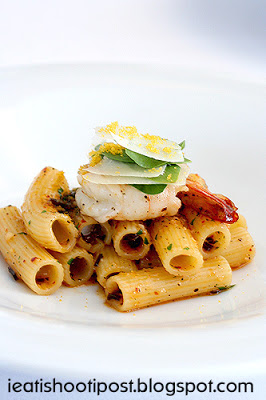 Rigatoni Pasta Tossed in Crustacean Oil, Shaved Bottarga, Tiger Prawns, Seaweed and Baby Spinach Salad
The Rigatoni Pasta is one of Chef Anderson's signature dishes and it is not hard to understand why. It's got that, "I am planning to come back very soon to eat this again" quality about it. Chef Anderson doesn't overdo the fusion bit. Instead he takes what is distinctively European, adds just a dash of Asia and transforms it into something vaguely novel, yet not so foreign that your brain has difficulty interpreting it. In this case, finely chopped Konbu was added to the Crustacean Oil to gave the dish that extra Umami boost. (Konbu has the highest concentration of naturally occurring MSG). It works really well! The only problem was that I had only a tasting portion! 4.5/5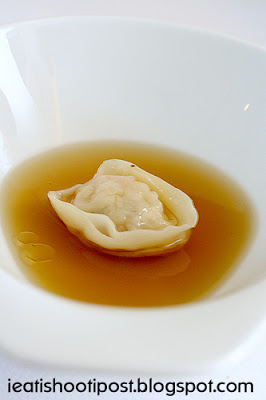 Silk Hen Consomme with Crabmeat Tortelinni
Translated to Singlish, this dish is "Wanton in Chicken Broth". I liked the unique taste of the Consomme which was made from Silk Hen (posh name for Black Chicken). It had that sweet, herbal with a slightly bitter bite to it which was quite refreshing. I just couldn't decide if this was more Asian or European dish. 3.75/5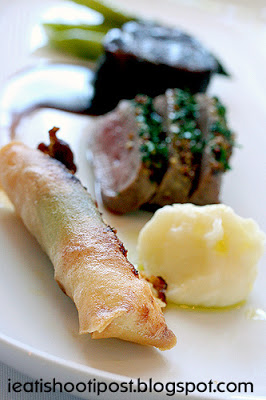 Medallion of Lamb Crusted with Pommery Mustard and Chopped Herbs Slow Cooked Lamb Neck in Red Wine, Goat Cheese, Pesto and Tomato Jam 鈥淐igar鈥?lt;/span>
Lamb neck is not something I come across often. The meat is akin to lamb shank and tastes really great when its cooked till all the sinews have gelatinized. You might be relieved to know that even though gelatinized sinews (tendon) tastes really smooth and "fatty", they are actually denatured collagen fibres and are not high in calories or cholesterol (like fat). In fact, people with Osteaoarthritis often take supplementary collagen for their condition. (Please don't start eating lots of Lamb neck for your Osteoarthritis!)
The lamb medallion could have been more tender and I would have liked the "Cigar" (Singlish: Poh Piah) to have a little more Tomato Jam to sweeten it. 3.75/5

Mixed Seasonal Berries and Stone Fruits with Rum Sabayon
Rose Water Scented Orange Jelly
Dessert was a light Rum Sabayon (Frothy egg, sugar and rum) over Seasonal fruits which was a light yet satisfying way to end a great meal! 4/5
Conclusion
I am very happy that Chef Anderson had decided to "Chuang Hui Jiang Hu" (Make a comeback onto the local food scene) after a 6 year stint as Executive Sous Chef for SATS Catering. It's a crime to restrict his talent in culinary metamorphosis to those who fly First Class!
Enough said, I am heading back soon for a big serving of the Green Crab Salad and Rigatoni!
Note: Le Papillon is French for The Butterfly.
The 7 course Prestige Menu is $80, Starters $14-$26, Mains $26-$38. The photos depict a tasting portion and not a full portion.
8.5/10 (T3.5 +V2+S2+E1)